The L.A. Gay & Lesbian Center's annual Women's Night benefit was given an elegant makeover in 2009 largely in thanks to one woman – Linda Perry. Her vision and rolodex of creative contacts (she's written & produced major hits for Pink, Christina Aguilera, and Gwen Stefani) re-energized the gala, now named An Evening with Women: Celebrating Arts, Music and Equality, and it attracts some of the biggest names in entertainment.  The money raised goes to benefit the women-specific services of the L.A. Gay & Lesbian Center's women-specific services including women's health and medical, legal assistance, domestic violence prevention & education, cultural programs, self-enrichment courses, social events and discussion groups.
Despite being held on the same night as the White House Correspondent's Dinner, the Evening With Women 2010 was a star-studded event featuring dinner designed by Top Chef's Jamie Lauren (which included lesbian vegan cake FYI), a show and silent auction. Gina Gershon (Bound) hosted and performed an opening number wearing a pair of the most glamorous boots ever with re-sexually-oriented lyrics to the old '60s song "Is That All There Is?" to reflect lesbian life in LA, with references to The Abbey and Girlbar. All told, the evening raised $379,000 for the L.A. Gay & Lesbian Center.
+
So here we go, the top 5 moments at
An Evening with Women 2010:
+
5. Best Auction Ever
Somewhere between Linda Perry auctioning off a day with her in the recording studio and a tattoo by Kat Von D, Pink strolls up on stage, smoking a cigarette and drinking a glass of red wine and she sits her hot ass down on a Vespa, auto-straddling the hell out of that $12,000 unit. Pink was not advertised as a performer prior to the event so everyone pretty much lost their shit and started looking around for hidden trapeze equipment that might suggest an impromptu performance.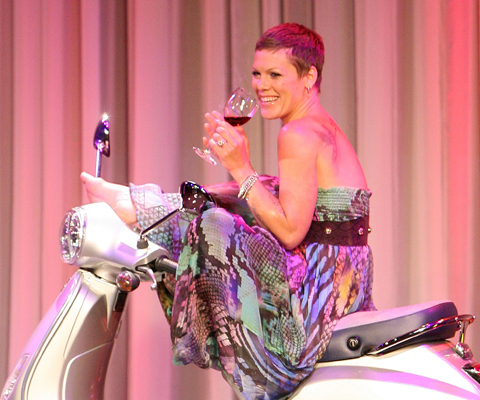 4. L.A. Gay & Lesbian Center Success Stories
Linda Perry explained how she became involved with the event through her friend (and event co-chair) Shannon Del. Shannon shared her story of being disowned by her family after coming out and turning to the Center where she found a therapist who offered homeless teens five dollar sessions, which is genius.
We all experienced a sobering communal womyn moment watching a video featuring interviews with young people who's lives had been saved by the Center.
3. Gina Gershon introducing Sarah Silverman
"I love her not only because she's Jewish, but because she has great tits. When she sang the song I'm Fucking Matt Damon, she was really talking about me."
Sarah then told the crowd that Gershon's full name is "Va-Gina."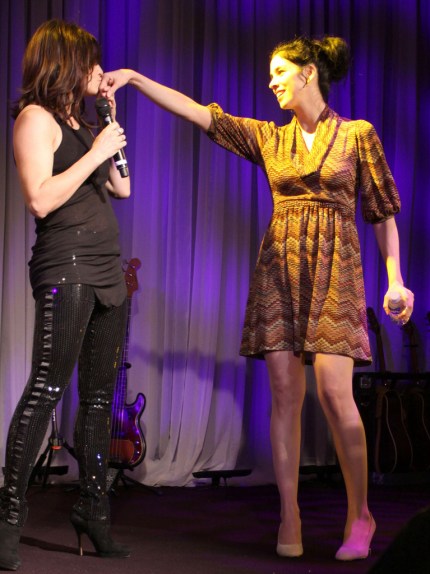 2. Heart.
The band performed Barracuda and Crazy on You (omg, remember when Jenny went to their concert in season 2 and then went home and cut herself? Memories!) as well as a few new songs from their upcoming album, Red Velvet Car. It was around this time of the evening that I realized I had been sitting at the same table as Cherie Currie from The Runaways… (like, the REAL one – not Dakota Fanning or Brandy Howard).
1. Pink buries the hatchet & performs with Linda Perry
I'll spare you the details of the decade long estrangement between these two obvious soul mates (okay fine, Pink felt Linda–her mentor–was disloyal by going on to work with Christina Aguilera after she rediscovered her career in 2001). We sat approx three chairs away from Pink as she was totes in the zone of Linda's re-worked acoustic version of her 4 Non Blondes hit "What's Up?" before surprising everyone and jumping on stage to perform it AGAIN with Linda accompanying on guitar.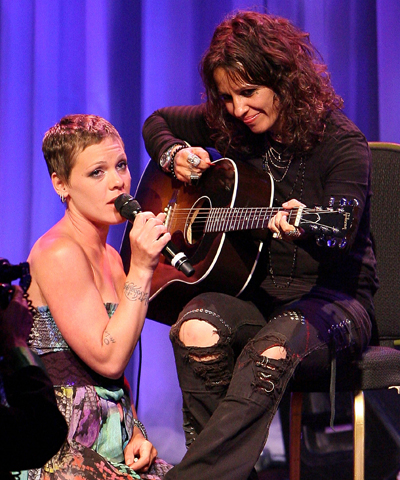 +
---
+
The "Straddle This" Series
+





+
Stay tuned for AutoNatic's interviews with Heart, Linda Perry, Clementine Ford and more!