KRISTEN STEWART:
Kristen Stewart is the new Elle covergirl! Her cover photo is kinda stupid, but whatevs. In the interview, Kristen acknowledges her reputation for being all dark & twisty:
"People say that I'm miserable all the time. It's not that I'm miserable, it's just that somebody's yelling at me…I literally, sometimes, have to keep myself from crying…It's a physical reaction to the energy that's thrown at you. I hate it when they say I don't give a shit, because nobody cares more than I do. I'm telling you I don't know anybody who does this that gives a shit more than I do."
Also, on her love life:
"I would never cheapen my relationships by talking about them. People say, 'Just say who you're dating. Then people will stop being so ravenous about it.' It's like, No they won't! They'll ask for specifics."
The photoshoot was done by Carter Smith: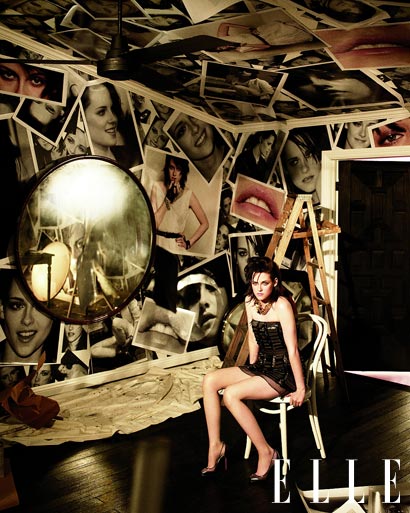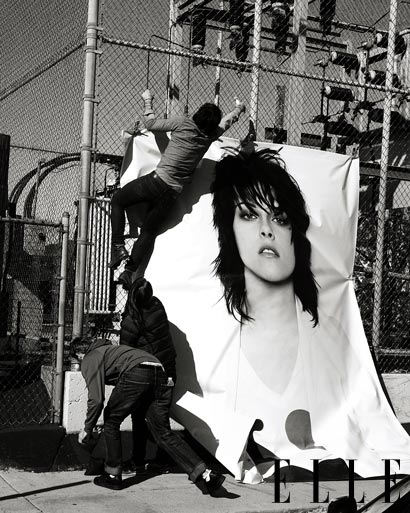 (@elle)
LINDSAY LOHAN:
Lindsay Lohan ain't missbehaving, y'all:
It's confirmed that Lindsay Lohan will play ex-porn star Linda Lovelace in a biopic about the performer best known for her role in the 1972 porn film Deep Throat. MTV has more:
"Linda Lovelace" was the stage name Linda Susan Boreman adopted before starring in "Throat," the 1972 flick about a frustrated woman exploring (and exploring, and exploring again) her sexuality. Lovelace became a household name after "Deep Throat" arrived as a full-fledged pop-culture phenomenon that had stars like Johnny Carson and Jack Nicholson attending showings. Porn became chic, and the film has to date grossed more than $600 million worldwide (some believe it is still be the most profitable movie ever made).
In the years that followed, however, Lovelace reinvented herself as an anti-porn crusader, toiled in poverty and insisted that she had a gun held to her head off-camera during those infamous "Throat" scenes, blaming the experience largely on her manager/husband Chuck Traynor. She died in 2002 at the age of 53 from injuries suffered in an automobile accident.
Um, this sounds like a really good idea! I mean, sure, it makes for a scandalous headline, but who better to play the role of a pretty girl in hell than Lindsay Fucking Lohan? If Charlize Theron can win an Oscar for playing a lesbian prostitute serial killer… yannow?
GLEE: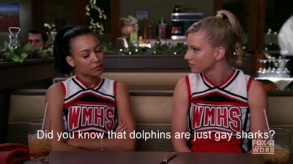 The Advocate has an interview with Naya Rivera, who plays Santana on GLEE. Rivera told Maxim that after the infamous "If sex was dating, then Santana and I would be dating," her director assured her that it wasn't just a stupid joke — "Oh, no, you hooked up!" Rivera's response:
Well, my initial reaction was that it was hysterical. I was laughing because I thought it was just another stupid thing that Brittany says. It's kind of like a joke that the writers play, but the fans actually really love it. I think it's awesome.
And so on…
Santana and Brittany have been doing a lot of pinky-holding in recent episodes. Are the writers still joking around, or is this Brittana flirtation actually going somewhere?
We definitely always hint at it, but I don't know what will happen with that. Maybe they'll fall in love. I do think they're soul mates. Brittany just gets Santana, even though a lot of people don't like her. The guys are crappy, so maybe Santana should just be with Brittany.
Could Santana be bisexual?
There's always a chance on this show. Everything's always twisting and turning, and you never know what the writers and Ryan Murphy are going to do next.
She also told The Advocate that she doesn't know if they could actually make out because "it's such a family show" but that "if it does happen, I'm up for it. I'm really up for anything, so maybe I'll make [the fans] dreams come true."
GAGA:
Lady Gaga performed an acoustic version of Bad Romance and her new single Alejandro on American Idol last night (actually taped last week):
In realty, she was in NYC partying with DJ Lady Starlight and Justin from Semi Precious Weapons and looked like this:
GLEE:
Reports from the Time 100 event in NYC are coming in (Gaga blew it off to hang with her peeps in the pic above) and there is a hilarious anecdote regarding Lea Michele from Glee.
According to a disinterested witness, at her table at the Time 100 gala last night, Glee star Lea Michelle spends the entire dinner hour making out with her boyfriend at her table, ignoring the other high-profile guests. Legendary celebrity photographer (and Intel friend) Patrick McMullan approaches to take a picture. He snaps away, she poses.
Patrick McMullan: What's your name?
Lea Michele: [Rolls eyes.] Sarah Palin.
Patrick McMullan: [Laughs.] No, really, tell me your name.
Lea Michele: Taylor Swift.
Patrick McMullan: Fuck you.
One day when we accumulate enough stories like this, we'll be legally able to share our own (remember puppies, Team AS has lots of Broadway friends/connections!)
(@nymag)

QUEEN LATIFAH:
Queen Latifah has written a new show for VH1 called Single Ladies. Revolving around the love lives of three female friends in Atlanta, the cast includes Lauren London, LisaRaye McCoy and Stacey Dash (Dionne from Clueless). The story revolves around the romantic relationships of three friends and is meant to fulfill fans of The CW's Girlfriends and HBO's Sex In The City.(@vibe)
GLAMBERT:
An Adam Lambert mega-post containing pretty new pictures various photoshoots, his trek in London and his performance on the X Factor Finland. (@ohnotheydidnt)
JAMES FRANCO:
Lesbian fave James Franco – a homo?  At a screening of his documentary at the Tribeca Film Festival an audience member asked James a few things that alluded to his sexuality, in regards to Franco's on-camera kiss with Will Forte on SNL. According to The Daily News, "Franco's rep stopped him from answering, and the crowd got really uncomfortable."  He has always pinged for me – am I alone here? (@dailynews)
LINDSAY LOHAN & MICHELLE RODRIGUEZ:
Check out the trailer for Machete starring Michelle Rodriguez and Lindsay Lohan in a nun's habit.
ELLEN:
Ellen apologized to Apple for her video pointing out the iPhone's lack of ability as a communication device on her show. Apparently, Steve Jobs' team lodged a complaint with Warner Bros. or whoever, and helped turn the story into an even bigger one, by having Ellen apologize on her show! It's pretty hilarious (and pretty accurate, just sayin'). Also Melissa Etheridge was on her show this week & performed "Fearless Love." (No breakup talk).
PROP 8 FILMS:
Check out the latest PSA starring Nikole from Fly Girls for Til Death Do Us Part, the first film by Prop 8 Films, a production company focusing on social justice documentaries. The first film is on gay marriage and follows the NOH8 Campaign and Prop 8 trials. (@prop8films)
KE$HA:
Tells Rolling Stone that though she has kissed girls, she prefers the wiener. Really this whole line of reasoning is getting sort of boring.