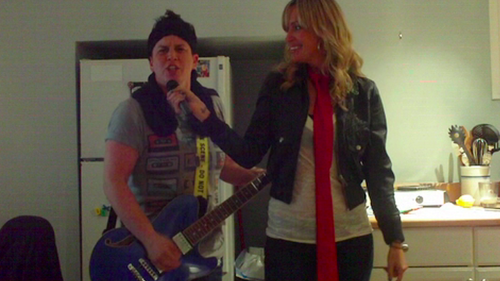 Julie Goldman & Brandy have something they want you to do. They want you to go see a really, really, really good movie, and they're gonna tell you why. And it's gonna be dirty, sexy, dirty dirty dirty dirty dirty dirty lesbian dirty, 70's.
Also this week: Brandy studies fisting, Julie saw Joan Jett at a sex club, and cocaine is better in giant freezer bags, right? Sure it is. Welcome to the raunchiest/funniest show on the entire internet:
Julie Goldman and Brandy Howard are the Matt and Ben of Lesbian Movies.  They are a sensational acting/writing duo that are trying to cause a sensation with their sensational, lesbian romantic-comedy, Nicest Thing.
Since no one wants to make their movie or cast them in anything, they feel it is their duty to harshly judge everyone else's work; based on a sliding scale of rage, bitterness, lesbianisim, and lack of any real significant training.