Over the last few years, sex toy companies and stores have asked us to review their toys in exchange for, you know, their toys. Today we're reviewing The Shameless Slim Player Thrusting Vibrator.
---
So, duh — I have tried quite a few different sex toys. I have a couple of straps, got really into suction toys for both partnered and solo sex, love my good old standard bullet vibes and dildos, and of course ropes/clamps/collars galore right? But I have been looking for something new, not just for me but for when I am inevitably hooking up with the hotties on the summer roster.
I've been hearing about thrusting vibrators making their way onto the market and immediately wanted one. A thrusting vibrator is one where it mimics the thrusting motion of penetration. I thought that would be cool because of two reasons — sometimes I want penetration without being strapped down, and other times I'm too lazy to use a dildo to fuck myself. In comes the Shameless Slim Player Thrusting Vibrator!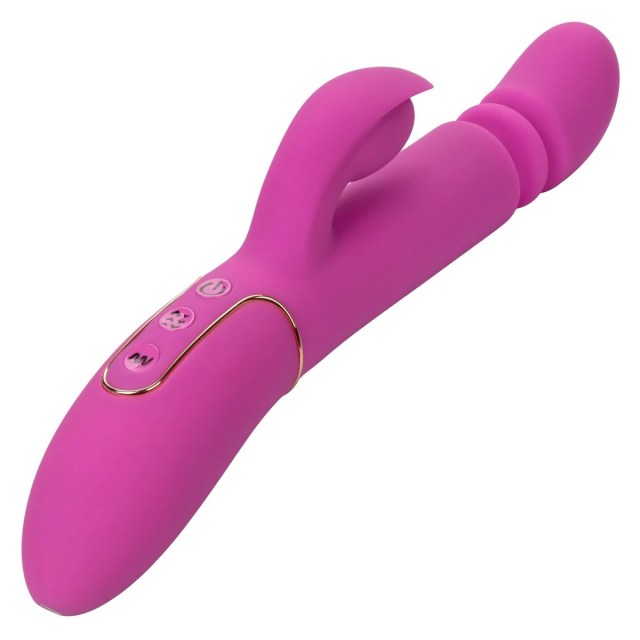 First things first, this toy is a whopping $215 — GOTDAMN! I don't come from the school of thought that just because a toy has a higher price tag, that automatically means that it's going to be any good. I've seen toys come in all kinds of sexy packaging, with gold foil letters on the box, and a handy dandy silk bag, and end up being absolute trash. In the case of The Shameless Slim Player, the price didn't match my orgasm, but it wasn't a total disaster.
I'm going to chalk the high price point to all the motors and moving that come with this toy. It has a curved shaft, gold-plated details, an external stimulator, and an accordion-style thruster to cap it all off. The external vibrator is pretty strong and the sort of nubbin shape it has rested on my clit perfectly. My favorite part about the external vibe is that it has this sort of hood peeking out on top of it. It actually gave my clitoral hood a really good sort of tickle while the nub was working on my clit and that felt amazing. You can control the external vibe without having the thruster going, which kinda turns it into a rabbit-esque dildo. It has seven settings; the first one is pretty powerful and just goes up from there.
At this point, I was pretty turned on just by using the external, but that's not what I was there for — it was time to thrust. There are three buttons on The Shameless Slim Player: the power button, the button that controls the vibrations for the external vibe, and the button that controls the thrusting action. They were pretty easy for me to maneuver, which I had actually been pretty worried about. Some of the fancy toys have buttons that are hidden or so deep inset that you can't really find them when you're playing; these float on top just enough so you can feel them when you wanna change up things while you're in the moment.
I pressed the thrusting button and at first, it felt a bit off. The toy has a five-inch insertable length and it was all inside me at the time and was close to hitting my g-spot — which is something The Shameless proudly boasts — so I pulled it out a bit 'cos although I was turned on, I wasn't ready for that kinda stimulation just yet. So once I did that the thrusting motion felt a bit better; it definitely didn't fully mimic the kind of penetration I was hoping for but it felt nice. It can go up to 850 thrusts per minute, starts slow, and then works its way up with four thrusting modes in total. I thought it would feel like it does when a partner is fucking me with a dildo in their hand, but it felt very much machiney — which is fair, 'cos it's a machine. I had to get out of the mindset of wanting it to mimic some form of penetration that comes with human interaction and just let it be a machine that was fucking me, and when I did it was pretty good!
I did come, but I'm going to chalk most of that orgasm up to the external vibe. When the thrusting was on its highest setting it took me there but if it weren't for the external, I feel like I'd just be a wet mess with a somewhat sore labia. It does hit the g-spot but the thrust action felt a little aggressive for g-spot play for me, and I got the most pleasure from having it not so deep inside me.
It's got an 80 minute run time, which I think is pretty great for a good solo session; it's waterproof, made with body-safe silicone (it felt soft as hell), and can be used with a water-based lube. I'm definitely going to tell you to make sure you clean this toy really, REALLY well, making sure to get into all the crevices of the accordion thruster (and under the hood of the external vibe) with a toy cleaner or warm water and soap.
I liked The Shameless Slim Player but it is very much so a fucking machine. If you're looking for something new for penetration this could be the toy for you, but the $215 price tag just makes me want to avoid it. I really do think that as more thrusting toys start to come on the market the price will drop, and I super think the high price tag is just due to all that goes into making a new type of toy like this. So when that happens I'll be ready to try more, but for now, I'll just stop being lazy and jill off with my dildo or ride my suction toy on the edge of the bathtub.