Right now I am waiting to get 4 dollars so that I can buy the April issue of GQ. The "Style Bible" is definitely going to be the best issue of the year, because Drake is on the cover.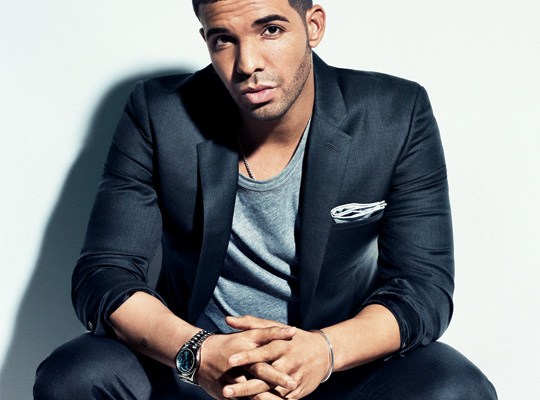 In Drake's interview, he opens up about his life, his career, and his writing. This one particular quote is being reposted everywhere in the wake of the issue's release:
"I'm trying to find the same feelings that I had for women when I had very little going on, which is tough," he says. "When I was in my mom's house, I had nowhere to go, no real obligations. My girlfriend at the time, if she was mad at me, my day was all fucked-up. I didn't have anything else. And that made for some of the best music, I think, to date. Records where I felt small. That feeling is hard to capture when you're sitting out here in a space like this." He gestures to the pool, the tennis court, the volleyball court, the stables. "It's really difficult for me to find something that makes me feel small."
But the thing is, Aubrey Drake Graham has come a very long way in a fairly short time, and along the way he's said a lot of really great things that will make you kind of want to start collecting Drake cover issues at the grocery story like me. #YOLO!!
(And did I mention following Drizzy on Twitter changed my life?)
TOP 10 DRAKE QUOTES UP UNTIL RIGHT NOW
1. "I've never been reckless—it's always calculated. I'm mischievous, but I'm calculated." – from the April issue of GQ mentioned above
2. "Good is always a good thing." – on Twitter on December 6, 2011
3. "Who was gonna tell us not to? We would've been like, 'Why not? Are you gonna give us money? Are you going to do something for us? Because if not, fuck off.'" – from his December 2010 "Breakout of the Year" cover issue of GQ
4. "I'm inspired by the make-up of a woman, you know? Their mind, their conversation, the feelings that they, you know, exude, and that pour out of them. I love women." – for CNN in May 2010
5. "I don't really take much time to relish the accolades." – from Interview magazine March 2012
6. "Who can I trust in 2012? No one not even myself." – on Twitter on November 19, 2011
7. "My biggest thing was I don''t like when you talk about people I love. People that I know for a fact are working very hard and are very respectful people. I don''t like that. That pushes my buttons more than anything you can say about me." – from a June 2010 AllHipHop Interview
8. "Throw em a bone and they want a steak." – on Twitter on November 2, 2011
9. "I'm sure people took it that way and that's good, man. That's great. Wake the fuck up. I hope it makes you go harder. I hope it makes you get mad at me and write a song with me in mind." – from "The Long Way Home (2011/2012 Cover Story)" for Complex Magazine
10. "I wish that we lived in a time and a generation where people would stop viewing my honesty as overly emotional. People always act like I spend my life crying in a dark room. I don't, I'm good. I'm a man. I want to be remembered as an artist that gave you a piece of me, as opposed to some surface bullshit. I don't think people realize that we die, we leave here, and either they forget about you or remember you. And how they remember you is up to you. I just want to be remembered as a poet that was open and honest because I wake up every morning and I'm me." – GQ&A November 2011
And if you can't get enough, you can head to YouTube for a daily dose of "Shit Drake Says." But also in the end, collecting those cover issues will be a good investment. Promise.