=+
+


0. 2/20/2012 – Here/Queer Call for Submissions, by Riese
1. 3/02/2012 – Queer Girl City Guide: Montreal, Canada, by Sid
2. 3/05/2012 – Playlist: Here/Queer, by Riese
3. 3/05/2012 – Queer Girl City Guide: Portland, Oregon, by Lesbians in PDX
4. 3/07/2012 – Queer Girl City Guide: Brighton, United Kingdom, by Sarah Magdalena
5. 3/07/2012 – Oh But To Be A Queer in Sicily, by Jenn
6. 3/08/2012 – City Guide: Seattle, by Marley
7. 3/11/2012 – City Guide: Washington DC, by Keena
8. 3/13/2012 – Here/Queer: Sydney Mardi Gras Is On Your To-Do List, by Crystal
9. 3/14/2012 – Queer Girl City Guide: Spokane, Washington, by Ana
10. 3/15/2012 – Queer Girl City Guide: Cleveland, Ohio, by Lora
Have you seen the 30 Rock episode "Flee to the Cleve," in which Liz Lemon almost moves to Cleveland because everyone is so friendly? Well, it's pretty much like that. Clevelanders are genuine, working-class, down-to-earth people. You probably won't get Portlandia-like waves on the sidewalk, but you'll definitely get some hardcore Midwestern hospitality. Clevelanders that live in the city and inner-ring suburbs are fiercely loyal to (and sometimes a little defensive of) this rust-belt city that has seen its fair share of ups and downs. Visitors or recent transplants can expect people they encounter to be psyched to share their favorite spots around town and general love for the city.
I've lived in the Cleveland area for nearly all of my 25 years. This may not be known as a gay mecca, but we recently surprised everyone when we were chosen to be the host of the 2014 Gay Games, so things are about to get real gay, real quick.
+
Drinking and Dancing
+
Bounce (2814 Detroit Avenue, Cleveland) is the go-to gay dance club in Cleveland. It's your best bet for a diverse taste of the Cleveland gay scene: shirtless gay boys, sporty dykes, and everyone in between. They have drag shows every weekend and dancing afterwards. Go to the bathroom before you leave your house.
Church Bar (13751 Madison Ave, Lakewood) just opened last year and is a great add to Cleveland's queer bar scene. It's really just a great neighborhood bar with a splash of gay: cozy and laid-back with friendly bartenders.
Women's Happy Hour (WH2) takes over a different bar once a month and brings out a multi-generational crowd to their events.
If you have the time and the means to take the 45-minute drive to Akron, definitely check out Square and Thursdays (306 East Exchange Street, Akron).
+
Snack Time
+
Happy Dog (5801 Detroit Avenue, Detroit-Shoreway) — Hot dogs, not-dogs, 50 gourmet toppings, and tater tots. BOOM.
Tommy's (1824 Coventry Road, Cleveland Heights) — A Cleveland vegetarian institution. Make sure you try their milkshakes!
Felice
Latitude 41 (5712 Detroit Avenue, Detroit-Shoreway) — Lesbian-owned cafe/diner
Melt (Cleveland Heights and Lakewood locations) — Not your mama's grilled cheese. Unless you get The Kindergartner.
West Side Market (1979 W 25th St., Ohio City) — Indoor market that's celebrating its 100th anniversary this year. They have every food-thing you can imagine.
Nate's Deli (4116 Lorain Avenue, Ohio City) — Adorable family-owned middle eastern eatery
Lilly's Handmade Chocolates (761 Starkweather Ave, Tremont)

+
Caffeine + Cute Baristas
+
You need coffee and you definitely need a nice place to be. All of these places could be your place:
Phoenix Coffee (Downtown, Cleveland Heights, and South Euclid locations)
The Root Cafe (15118 Detroit Ave, Lakewood)
Gypsy Bean (6425 Detroit Avenue, Detroit-Shoreway)
BonBon (2549 Lorain Avenue, Ohio City)
Lucky's Cafe (777 Starkweather Avenue, Tremont) — Great brunch, too!

+
For The Love Of The Game
+
Oof, Cleveland sports. A story of heartbreak, barely mended hearts, followed by more heartbreak. If you're into that kind of thing, check out the Browns (football), Indians (baseball), Cavs (basketball), and Monsters (hockey). Otherwise…
Burning River Roller Girls — Roller Derby!
Cleveland Out and About — LGBT Outdoor Recreation Group
Front Runners NEO — LGBT Running Group
North Coast Softball — LGBT Softball League
+
Your Friendly Neighborhood Colleges
+
Case Western Reserve University's LGBT Center — The adorably awkward pictures on their website do not do justice to the adorable awkwardness of Case students.
Cleveland State University's GSA
Nearby Oberlin College is a queer oasis and is definitely worth a visit if you have an hour to spare to drive through some cornfields. Drag ball, women's rugby, etc. etc.
+
HomOrganizations
+
The LGBT Center of Greater Cleveland (6600 Detroit Ave., Detroit-Shoreway) — Lots of great youth programs and support groups
TransFamily — Transgender support groups
Parents, Families and Friends of Lesbians and Gays (PFLAG) Cleveland
Planned Parenthood
MetroHealth LGBT Pride Clinic
Free Clinic
Cleveland Stonewall Democrats
Equality Ohio
HRC Cleveland
Colors of Cleveland Pride — Providing outreach services to all communities of color in an effort to bridge the racial divisiveness locally and nationally within these communities.
+
Pride!
+
I'll be frank here: Gay Pride in Cleveland could use a bit of a face-lift. Still, it's awesome and heart-warming and endearing to see so many queers doing their queer thing in Downtown Cleveland. The take-home is that you should volunteer to make Pride awesomer if you have some time on your hands.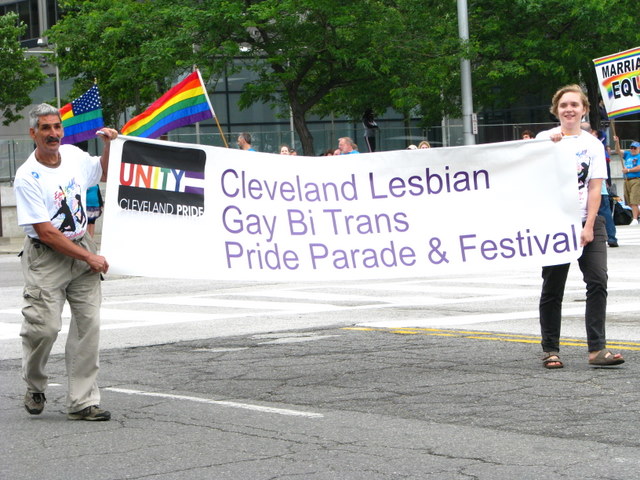 +
Les Artistes
+
Playhouse Square (1519 Euclid Avenue) — touring Broadway shows, comedians, and musicians
Cleveland Public Theater (6415 Detroit Avenue, Detroit-Shoreway) — locally produced, avant-garde goodness, often with LGBT themes
Cleveland Playhouse (1407 Euclid Avenue, Downtown)
Dance Cleveland
Verb Ballet
Big Dog Theater (2781 Euclid Heights Blvd, Cleveland Heights) — comedy theater
SPACES (2220 Superior Viaduct)
The Cleveland Cinematheque — Classic, independent, and foreign films
+
We Built This City On Rock and Roll
+
Rock and Roll Hall of Fame (1100 Rock and Roll Boulevard, Downtown)
Beachland Ballroom and Tavern (15711 Waterloo Rd.)
Grog Shop (2785 Euclid Heights Boulevard, Cleveland Heights)
Bela Dubby (13321 Madison Avenue, Lakewood)
+
+
Big Gigs
+
Cleveland International Film Festival — not an LGBT event in itself, but it definitely brings out the gays every March and features a bunch of queer films
Annual Womyn's Variety Show — Every February
Dancin in the Streets — Block party and fundraiser for AIDS Taskforce of Greater Cleveland
Cleveland LGBT Events Calendar
+
Dyke-a-dos
+
Crazy Mullets East and west side locations: Cleveland Heights (1830 Coventry Road) and Lakewood (14807 Detroit Avenue).
+
Mo Money
+
Here is the thing: Cleveland is so so affordable. PBR Tall Boys cost $2.50. You will take your lady friend out to a fancy schmancy dinner at your favorite organic, locavore restaurant and (almost) feel bad for paying so little. Super-nice apartments rent for $700/month.
+
The Law and You
+
Cleveland is a progressive town stuck in a swing-state. While gay marriage isn't legal in Ohio (in fact, there's a constitutional amendment against it), the City of Cleveland and Cleveland Heights have domestic partner registries and the City of Cleveland and Cuyahoga County offer domestic partner benefits. Work with what you got, right?
+
Parks and Recreation
+
One of Cleveland's nicknames is "The Forest City," largely because of the networked park system that surrounds the city referred to as the Emerald Necklace, maintained by the Cleveland Metroparks. You won't have to travel far to find yourself in a green oasis.
There are also a lot of amazing urban parks, especially along the shores of Lake Erie.
Edgewater Park (1200 West 76th St.) — It's a beach! It's a park! It's nestled between two gayborhoods and Lake Erie, you can see downtown, bring your dog and have a cookout! Summersummerfuntime!
Lakeview Cemetery (12316 Euclid Avenue, Little Italy) — Presidents are buried here!
Wade Oval (Wade Oval and East Boulevard, University Circle) — Nice big greenspace in the middle of a bunch of Cleveland's museums that hosts the amazing Wade Oval Wednesdays every week from June to August
Wendy Park (2800 Whiskey Island Drive) — A hidden gem with great views of Downtown and very popular volleyball leagues.
Mentor Headlands State Park — This is a 40-minute car ride from the city, but the expansive beaches make it totally worth it.
+
Etc.
+
Gay People's Chronicle
Glorious Gay Ladies Local Food Cooking Club — Do you like gay ladies? Local food? Cooking? Come hang out! Monthly-ish gathering organized by Elyse, Jess, and a bunch of other amazing ladies you should probably be friends with. Email ggllfcc [at] gmail [dot] com
This is just a taste of what Cleveland has to offer. If you're looking to leave no rock unturned, definitely check out New to Cleveland by Justin Glanville.
Part of an ongoing series of Queer Girl City Guides.