+


0. 2/20/2012 – Here/Queer Call for Submissions, by Riese
1. 3/02/2012 – Queer Girl City Guide: Montreal, Canada, by Sid
2. 3/05/2012 – Playlist: Here/Queer, by Riese
3. 3/05/2012 – Queer Girl City Guide: Portland, Oregon, by Lesbians in PDX
4. 3/07/2012 – Queer Girl City Guide: Brighton, United Kingdom, by Sarah Magdalena
5. 3/07/2012 – Oh But To Be A Queer in Sicily, by Jenn
6. 3/08/2012 – City Guide: Seattle, by Marley
7. 3/11/2012 – City Guide: Washington DC, by Keena
8. 3/13/2012 – Here/Queer: Sydney Mardi Gras Is On Your To-Do List, by Crystal
The Sydney Mardi Gras (formerly the 'Sydney Gay & Lesbian Mardi Gras') is a once-in-a-lifetime Pride event that I'm fortunate enough to experience year after year.
There are Pride events all over the world, many of which are probably closer and more affordable than traveling to Sydney, Australia. However if you've never been to the Sydney Mardi Gras, I highly recommend it. It's probably the only place you can witness a Police band playing Katy Perry covers, two hundred Kylie Minogue impersonators, and a truck towing a giant penis-shaped ice carving – all in the space of fifteen minutes. Who wouldn't want that? Mardi Gras aside, Sydney is a pretty wonderful city to visit.
The Sydney Mardi Gras started to take shape in 1978 when a few hundred pro-gay rights protesters marched down Oxford Street, in Sydney's queer district. Australia still hasn't yet legalised same-sex marriage but as far as queer visibility and community acceptance goes, we've come a long way, baby. The Sydney Mardi Gras parade now attracts over 9,000 participants and 300,000 spectators from every corner of the world. It's become New South Wales' second largest tourist attraction, and with the Lord Mayor of Sydney counted among its most vocal supporters, you could say we're a city that wholeheartedly gets behind Pride.
The Sydney Mardi Gras season spans February and March, and includes huge drawcards such as:
Fair Day: 70,000 people descend on Victoria Park, Broadway for musical acts, market stores and general market day fun-ness. Held in mid-February.
Mardi Gras Film Festival: An international LGBTIQ film festival featuring over 50 films and documentaries. Commences in mid-February, held in various locations across Sydney.
Mardi Gras Harbour Party: A harbour-side dance party featuring international and local DJs and a fireworks display. Held in late-February.
Mardi Gras Parade: Up to 10,000 paraders and 300,000 spectators take to Oxford Street, Sydney's most popular queer hotspot. Held on the first Saturday in March.
Mardi Gras Party: Up to 20,000 people hit up the Horden Pavillion for a giant dance party featuring international superstars – Adam Lambert, George Michael, Olivia Newton John and Boy George have all been past guests. (This year the Queen of the Queers, Kylie Minogue, made her return to Mardi Gras after a 14-year absence. It was a BFD.) Held on the first Saturday in March, straight after the parade.
A Report From The 2012 Mardi Gras Parade & GiRLTHING Party
Due to some uncharacteristically shitty weather of late, 300,000 parade viewers got glammed up in their favorite sailor suits and leather chaps, only to cover up with tacky plastic ponchos. The rain, however, did not keep the crowds away, and it certainly didn't dampen anyone's pride.
Mardi Gras viewers bring just as much character to the event as those who march. Watching the stream of people walking up Oxford Street is a Pride parade in itself; there are full body fishnets, cod pieces, gimp masks, PVC nurse outfits, and more than a few hotpants and sequined cowboy hats. Service uniforms are especially a hot favorite, and after a few vodka sodas it becomes difficult to separate the police from the people with uniform fetishes. The viewing area is like extremely queer Disneyland, where glow sticks and rainbow flags are sold from street vendors and everyone in costume is stopped every few metres to pose with Japanese tourists.
Last year at Mardi Gras, I showed up two hours late and missed all but the very last float. Then, upon seeing a 100-line of people waiting to get into GiRLTHING, an outrageously popular Mardi Gras after party, I went home. To recap, I saw one float and almost went to an after party. I promised that this year I would do Mardi Gras better.
'Doing better' meant arranging to attend Mardi Gras with people who are more organised than I am, specifically a team of Autostraddle readers — Dina, Desiree, Breanna and Rose. For the very first time I had things like 'tickets' and 'a plan.' It was a good move. The people you attend the parade with will hold you accountable for making the most of the experience; they'll prevent you from leaving when your feet start to ache or ditching the after party when you spot the massive queue.
We arrive two hours early, at 6PM, thinking that we could secure some prime Mardi Gras viewing real estate. That was false. Not only were we competing with 300,000 people for a good line of sight, we were also competing with 300,000 umbrellas. (I'd like to think that if I ever stood in the front row at the Mardi Gras, out of courtesy I would resist opening up the largest fucking umbrella ever made. But apparently that's just me. Apparently no-one in the front row felt this way.)
After a few minutes of deliberation most of us decide to hand over a month's salary to sidewalk entrepreneurs in exchange for disposable rain ponchos and used milk crates. Totally worth it.
With the parade still over an hour away, the crowd is getting restless. The guy standing behind me begins pointing out passers-by that he's slept with and yelling out things like "show us your baton, officer!" to the laughs of no one. You don't get to be obnoxious unless you've been waiting in line longer than I have.
45 minutes before official parade kick off time the Dykes on Bikes come roaring up Oxford Street, we hear them long before we can see them. The Dykes are hands-down my favorite part of the Mardi Gras, you can always count on them to deliver the goods. By 'goods' I mean leather and flesh. Shortly after, the parade officially begins.
Early highlights include the Asian Marching Boys & Friends, as well as the grandparents leading the PFLAG float aka the most adorable thing I've ever seen.
The GiRLTHING float is also stand out. It features about 20 cute queer girls dressed up in wedding attire, walking down the aisle, which is actually a flat-bed truck. I spot Autostraddle contributor Tully getting hitched. Hey girl, hey.
There's a huge roar from the crowd when a handsome guy in a tuxedo passes by in a convertible. I'm pretty sure it's the actor from that Marriage Equality ad that "went viral" last year. Cool. Google+ has the flashiest, most expensive float by a far mile. Show offs. Comparatively what the religious groups lacked in float funding, they made up for in numbers and spirit. Solid efforts from the Jewish GLBT Group, Gay and Lesbian Catholics, Muslims Against Homophobia, and the LGBT Christians float (complete with Adams and Steves).
About an hour into the parade the downpour momentarily stops, affording everyone an opportunity to whine about how severely their hands had pruned up. Or maybe that's just me. The rain starts up again a minute later and at this point my nearest milk create neighbour Rose, who is usually obliging when I drag her to events that I want to report on for Autostraddle, pretty much wants to murder me.
"You picked a shitty year to write about the Mardi Gras"- Rose
You know what I really love? Mardi Gras floats that entertain and educate at the same time. Did you know that Sydney has a Femme Guild? It's true, I saw their float. I was equally delighted to discover the existence of Dykes on Bicycles, Oz Fag Hags ('Girls Who Love Boys Who Love Boys'), the Sydney Homotones (brass band), the Queer Cheerleading Association, and Gay Skydivers. Gay. Sky. Divers.
Just before 10PM there's a long gap in the parade and people start to leave. I think they think the parade is over. The parade isn't over. We know this because this person with this hilarious sign is still holding their position on the parade path.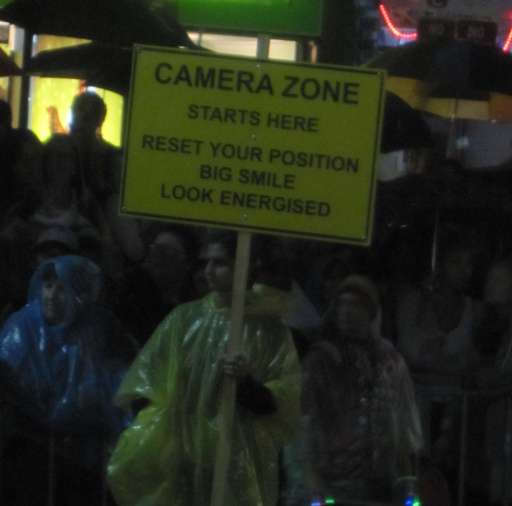 We stand steadfast on our milk crates, some of us (me) doing this weird dance to get the circulation back in our feet and hoping that Kylie Minogue is about to come around the corner. She isn't. (I don't think Kylie was actually scheduled to participate in the parade, I think that was just the wishful thinking of, well, everyone.) It didn't really matter though, 'cause a few hundred incredibly impressive and convincing Kylie Minogue impersonators come dancing down the parade path instead, many dressed in those gold hotpants and that white hooded dress.
I asked "Is that Kylie or a drag queen?" at least a dozen times. At this point everyone has stopped listening to me anyway. Next up, GiRLTHING!
GiRLTHING
The Exchange Hotel – Oxford Street, Darlinghurst
We decided against attending the Official Mardi Gras Party because we wanted to surround ourselves with cute queer girls, and anyone who has ever stalked cute queer girls on social networks knows that GiRLTHING is where they're gonna be. Facebook told me that 1200 girls will be in attendance. 1200 GIRLS.
The Girlthing Mardi Gras party, which sold out in a flash and always does, is one of those multi-theme events where each room features a different musical style or vibe. It's run by Snatch & Grab, a collective that does fantastic work in keeping the Sydney scene alive.
This year's Mardi Gras Party consisted of a House room, a Dance room, a Bump 'n Grind room, a Silent Disco room, a Foam Party room, and the rumour is, even a ball pit. Unfortunately there isn't also Bath or Spa room, which is the only thing I feel like after standing in the rain for 4 hours. (Girlthing organisers, call me! I have suggestions).
I arrive at the Exchange Hotel on Oxford Street about an hour after the parade finished, hoping that I would have avoided the crowd. I didn't. I see at least a million queer girls lined up outside the venue and consider fleeing, and probably would have if Team Autostraddle weren't already inside waiting for me. I reluctantly join the queue and make two new friends, Jo and Stef/Steph. We enjoy a significant amount of bonding time. I learn that Stef/Steph is a lifeguard and Jo works at a finance firm. Neat.
At last, I get into the party and I'm blown away by just how fucking huge it is. The Exchange Hotel is really five different venues connected by the same wall, and there are girls EVERYWHERE. Queer girl utopia right here. (Do you wish you could see photos of this queer girl utopia? I didn't take any, but thankfully there's an entire GiRLTHING Mardi Gras album for your viewing pleasure.)
I get out my compass and eventually locate Team Autostraddle, who are sitting in a booth at the back of the… Dance Room? I don't know what room it was, but there were people dancing in it.
"I think this is an old school dance room, like 80s hits and R&B. They just played "Push It".
– Breanna
Dina tells me she heard that the view of the parade from inside Girlthing was fantastic, or something. I couldn't hear her from all of the rain water that has pooled in my ears. Next year I'm getting a Parade Viewing ticket.
I leave the booth for a solo lap of the venue, an activity which felt like it took half an hour but more realistically only took ten minutes. This place is like a rabbit warren; rooms run off rooms which run off even more rooms. There are staircases and nooks and crannies and dark corners fit for making out, which girls are taking advantage of.
A girl informs me that the room we're about to enter is the 'Hard House' room. Or maybe she was telling me that she is a DJ who plays Hard House? Not quite sure. It was really loud. I did a lot of nodding and smiling. I took three steps inside and couldn't go any further, the place was packed with wall to wall ladies. It probably had something to do with the dozen or so hot girls dancing on the podium up front. Probably.
I can't find the foam party or the silent disco, which I'm fine with. I don't see the rumoured ball pit, either, but have dodged enough stray balls to assume that it's around here somewhere. Those stray balls, by the way? Excellent conversation starters.
I abandon the search for other rooms and settle in a large, comfortable space that features pool tables and music from the Empire Records soundtrack. The music selection becomes extremely eclectic and it suddenly hits me that this is the room where the DJ only plays songs that refer to loving or kissing females. It's THAT room. I love that room.
There are a lot of girls dressed in ties, vests and fedoras, all who seem to be doing cool handshakes that I secretly wish I knew. I run into "Roxy", who featured the last time I wrote about Sydney's queer scene, and then have another conversation with another girl about the displaced balls from the ball pit.
In retrospect the queuing outside was character building, it prepared me emotionally for the even longer line at the bar. I pay $4.50 for a bottle of water.
"That's going in the article." – me, to no-one who is interested.
Nearing 1AM, two DJs dressed in Wonder Woman costumes start blasting T.A.T.U.'s "All The Things She Said" and given I'm now stone cold sober and it's a few hours past my bed-time, I take it as my cue to leave.
Nicely played, GiRLTHING. If you're ever in Sydney for the Mardi Gras, dear reader, you must go.