Today's Girl-in-the-World feature comes from our regular writer Team Autostraddle Member Crystal! Here she is …

I used to be a regular in Sydney's gay scene but then dropped off the grid a few years ago. I'm not sure why, exactly. Maybe it was because I married my job, or bought a TV, or started falling for straight and closeted girls. Whatever the reason, I'd left and never looked back — until a few weeks ago, when I began my preliminary research for this piece on Sydney, Australia's Girl-on-Girl culture. It's been an interesting exercise in passing off drinking and befriending girls as "reporting" and though I couldn't get to every girl bar and event in town, I hope to give you a look at the things that occur in the city every week. That way, when you travel to Sydney (and you must!) you'll know exactly where to go and when. Or where NOT to go, depending on how well I sell this in. Part One will cover "The Bank" in Newtown.
For those of you aren't familiar with my hemisphere: Sydney's gay culture is quite prominent and on par with cities like San Francisco, Paris, Barcelona and Amsterdam. Sydney hosts one of the largest Pride events in the world, the Sydney Gay and Lesbian Mardi Gras, and this queer-loving city fits in quite well with our relatively queer-tolerant country. Well … tolerant unless you want to get married. Of course there's always the option of having a commitment ceremony, but it would be as legally binding as the weddings I used to throw for my Teenage Mutant Ninja Turtles figurines. Australia isn't perfect, but I still feel fortunate to live here.
Going into this adventure, I did wonder what's changed since the heydey of my sparkling youth. Nervous about being around lesbians en masse, I called my friend "Roxy" (alias used upon request) to see if I could tag along to some girlbars with her "crew." That's what the kids are calling their cliques these days. Roxy's a scene regular, a young, bright-eyed and less cynical reminder of myself a few years ago, except more hip. Thankfully she obliged, and now I'm going to take you there.
For the ladies in Sydney, most of the girl-on-girl action happens in or around Newtown, an alternative inner-city suburb where I've lived in or near for most of my adult life. Its draw card is King Street, a busy strip lined with cafes, pubs and all the vintage clothing, record, art and book stores that you can handle. I was drawn to Newtown as a teenager because it was one of the few places I could go where I could just be me. No-one ever judges in Newtown, no-one ever looks twice.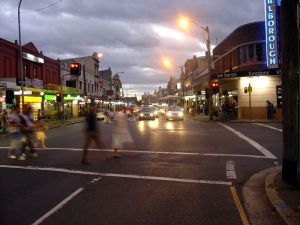 Velvet Wednesdays @ The Bank Hotel – King Street, Newtown
Many years ago, The Bank hosted the first girl-on-girl event I ever attended — unintentionally. I was meeting my straight friends for drinks on a Wednesday night, unaware that there was a weekly girls-who-like-girls party happening in the upstairs space. After twenty minutes of watching hot girl after hot girl pass by my table, I abandoned my group and headed upstairs to join them. I kept going back.
Sure enough, Wednesday nights at the Bank are still thriving.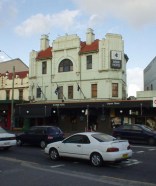 Twenty pairs of eyes follow me as I walk through the door, giving me a quick once-over before moving on to the next newcomer. It feels somewhat predatory, I half-expect David Attenborough's voice to replace Beyonce's over the PA system any moment now: "With fresh prey in their midst, the predators' senses are heightened. They've been playing the waiting game for several hours."
When I first walked into the Bank as a slightly cocky 20-year-old, I liked the feeling of being stared at by so many girls at once. Now it just makes me feel self-conscious.
Upstairs in the Velvet Room ("where out is always in"), my senses are assaulted by Everybody's Free (To Feel Good) and equal proportions of Hugo Boss and CK Eternity. The place is jam-packed except for the very centre of the room, which is occupied by the few girls who were not prompt enough to have secured a piece of wall or a railing that they'll casually yet pointedly lean on for the remainder of the evening.
I scrawl in my notebook: The Lean. I love the lean. You know who has a nice lean?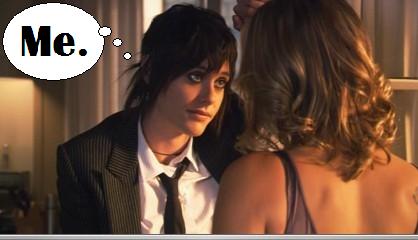 Roxy and co. scatter, and honestly, I try to blend in but this place is kinda cliquey. There are clear divides: there are thirtysomething women in power suits sipping wine in booths, the Shanes standing sulkily in the corner with skinny jeans & skinny ties appropriately hanging from their skinny frames. Jockish looking girls with popped-collars are standing by the bar, chain-smoking model types in designer denim & stilettos are out on the balcony, and indie girls are decked out in their cowboy shirts & faded jeans are standing along the back wall. Here and there in between are the strays, girls of all descriptions standing alone, trying to look busy with their iPhones while their friend/s hook up nearby.
I've been there, I feel for them.
Charlie, a straight girl from Roxy's 'crew', points out that this scene is like the high school dance, but instead of girls on one side and boys on the other, you've got girls and girls and more girls and a whole lot of space in between them. She's bang on. As we stand there we observe each girl sticking to their own group of friends or piece of wall, but throwing come-hither looks to other girls across the room. Here, being able to hold a conversation while looking over your friends' shoulders is a must-have skill. I point this out to a girl named Mel, who laughs and agrees, "We've been having a conversation for about ten minutes, but the whole time I've been looking over your shoulder." She points behind me, to one of the Shane girls in the corner. I'm not at all offended, I was too preoccupied with checking out one of the power suit ladies to even notice.
Charlie, a straight girl from Roxy's 'crew', points out that this scene is like the high school dance, but instead of girls on one side and boys on the other, you've got girls and girls and girls and a whole lot of space in between.
I've only been here for an hour but I've been quick to acclimatise; I've stuck to my clique, I've found my wall to lean on, now I'm no different than any other girl here.
My notebook says: When in Rome.
Mel claims she doesn't come to the Bank very often because she's not really into the scene. She won't elaborate, and I get the feeling I've just been humoured. But she does clue me in to one highly amusing fact: the girls in Sydney have their own Chart. Yep, like the Alice Pieszecki Chart. None of the girls would hand over the web address, but some intensive computer searches eventually produced it. I'm not going to link to their Chart for (probably) the same reason they wouldn't have wanted me to see it – it's an invasion of privacy, no-one asks permission or fact-checks before adding names to the list.
I move to the balcony and start talking to a group of tall blondes who are visiting from New Zealand. When a lone male approaches, they all clap and cheer enthusiastically.
My note says: Unexpected! underlined just as enthusiastically.
I venture out to the balcony to relocate my new crew and I'm surrounded by girls making out with reckless abandon, including my pal Roxy, who's being auto-straddled by a girl she met approximately one hot minute ago. In the far corner, two young baby dykes suck face like they still live at home and they probably do. At the table next to me, an overly confident girl struts up and kisses one of its occupants, her friends' shocked reactions quickly morphing into audible sighs. Heartbreaker.
I should probably note that I'm not drinking or even really talking to anyone tonight – I'm just sitting and observing and scrawling like a weirdo.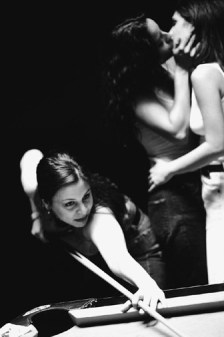 But no-one cares, because as cliquey as this place may be, it's full of good and accepting people and it always has been. These people allow you to create an atmosphere that is exactly what you want it to be. Exciting. Relaxing. Strange. Sleazy. Fun. Sexy. Trashy. Classy. Dirty. It's the thing I love most about this place.
It approaches 11pm, the time that all the girls from the Bank migrate to a pub called The Sly Fox, in the neighbouring suburb. I seek out Roxy, who is now at the bar making out with a new girl in exchange for shots. When she comes up for air she declares we need to "gather the crew and bounce!" before charging off towards the door.
My note says: Drunk is more fun than sober.
As I'm about to exit, I see Kendall. She's a musician who I used to hang out with here, and I notice her walk in because it's impossible not to. Like so many girls, we met because we had either made out, dated, dated each others exes, or all of the above. I follow Roxy out the door but not before telling Kendall that I'll return later in the night to catch up …
… and the rest of this story  — as well as our trip the next night to the uncomfortably-titled Snatch 'N Grab — will have to wait for Part Two …