Welcome back to No Filter, where we take time we could have spent thinking about philosophy or politics or how to save the last Northern white rhinos on the entire planet, and instead we puzzle over the relationship status of Cara Delevingne. We're all very proud of ourselves. This week, Laura Jane Grace has a huge surprise for us, Tegan and Sara are giving us a big box of trash, and Miley Cyrus is doing suggestive things to a dessert food. Let's get to it!
---

Internet rumours are trying to tell me that Cara and Annie broke up recently, but that can't be true because Cara just won the girlfriend award to end all girlfriend awards. I used to think it was Cara who'd fuck this up somehow but Annie, girl, hang onto this one. She's a KEEPER.
---

Turns out Laura Jane Grace has been Beyoncé this entire time; nobody is surprised.
---
https://instagram.com/p/5L5SAwwzL3/
Miley Cyrus and Stella Maxwell are having a wholesome time with this delightful churro. Miley, I just want to love you; you need to stop with the cornrows.
---
At long last, Laverne Cox met Caitlyn Jenner.
---

At long last, Laverne Cox met this dinosaur.
---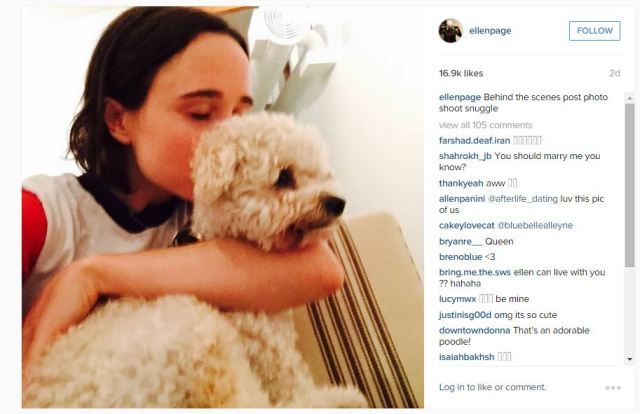 Just Ellen Page snuggling a dog.
---
All of your favourite queermos at one restaurant, where Leisha Hailey awkwardly eats a sandwich.
---

SEASON 4 IS SO FAR AWAY AND I DON'T KNOW HOW I'M GOING TO LIVE.
---
https://instagram.com/p/5K9e8SmFQD/
If you were very, very fast, you could have picked up a bunch of priceless Milo and Otis VHS tapes and discarded Ace of Base albums. Cannot imagine the joy of whatever nerds biked over there fast enough to sort through these treasures.
---

Samira and Lauren being the best humans, hands down.
---
Join us next week, when Miley Cyrus hosts a garage sale full of pizza sheets, glitter shakers, discarded kittens and gold leaf rolling papers.