Happy Wednesday, spicy pickle chips; you have made it to the middle of the week and another installment of the Pop Culture Fix!
---
Fade Away and Radiate
My inability to adhere to Riese's paradigm of Not Caring About The Future really kicked me in the shins this week w/r/t the world's most important princess — Xena the Warrior one. One day it was like, "Lucy Lawless says she wants to see Xena on TV again," which: yeah, of course, she's been saying that for years. And the next day it was all, "NBC is rebooting Xena." That was a much bigger deal. A huge one. I was so hyped! And then the next day, Lucy Lawless had to be like, "Actually, calm down, not really."
Sorry, friends! news of a #Xena reboot is just a rumor. I'd love it to happen one day but it's still in the wishful thinking stage.

— Lucy Lawless (@RealLucyLawless) July 20, 2015
I mean, FINE. It's better that when this thing happens, it doesn't happen with NBC. They're terrible at lesbians.
+ Sarah Shahi is coming back to Person of Interest for a multi-episode arc, so pass around the chakram and gird your Root/Shaw loins, kittens.
+ This Friday is the Zoie Palmer/Ruby Rose showdown on Syfy's new show, Dark Matter.
+ Leisha Hailey's Chasing Life episode is next Monday. She's playing the crazy ex-girlfriend of Margo, the new film club sponsor/Brenna's new love interest.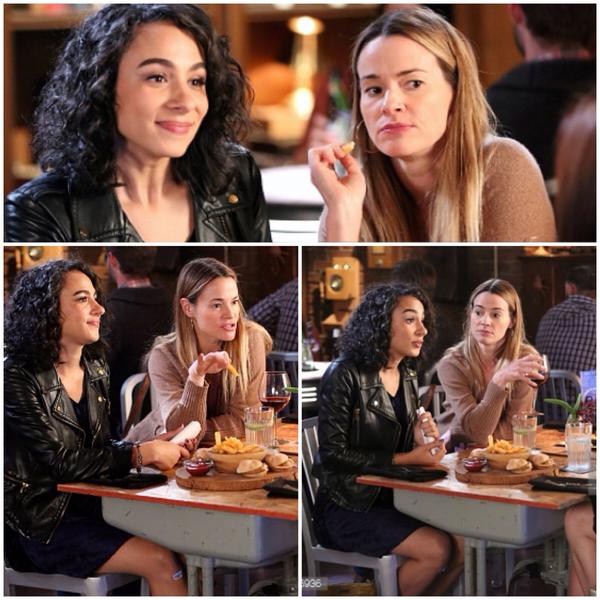 Man, remember when Alice was going to be in prison for murdering Jenny on that The L Word spin-off? Aren't you glad we got Orange Is the New Black instead?
+ Bojack Horseman returned to Netflix for its second season on Friday, and lesbian director Kelsey Jannings, who is most famous for her critically acclaimed indie drama Women Who Love Women Who Love Recycling, is back for a bigger role in season two. She's directing BoJack's Secretariat film. (New facts: She does the crossword in Sharpie, she makes a thousand dollars a minute.)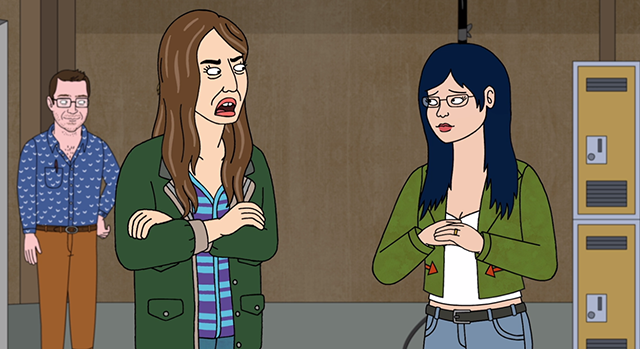 + DC is prepping a new Batman animated movie called Batman: Bad Blood, and apparently Batwoman is going to be in it! And Yvonne Strahovski (who I remember lovingly from Chuck and you remember scornfully from Dexter) will voice her and her alter-ego, Kate Kane!
+ Vulture is shaking down the the history of Lesbian Kiss Episodes in their "Secrets of TV" column this week. There's a video. It is of kissing.
---
Movies Is Magic
I'm going to say some words to you. Jamie Babbit. Natasha Lyonne. Clea Duvall. Aubrey Plaza. Judy Greer. It sounds like But I'm a Cheerleader, except for even better, right? Let's hope so! What it really is is Babbit's new film, Addicted to Fresno, in which Aubrey Plaza and Natasha Lyonne play gal pals. Here's the first trailer. (It's mildly NSFW.)
Here is a photo for your eyeballs.
But wait! There's more! Clea DuVall is making her directorial debut this year in a film that hasn't been named yet, and guess who's in it? Natasha Lyonne and Melanie Lynskey! It's two But I'm a Cheerleader reunions in a single year. Also, Alia Shawkat is in it. I expect to hear news of Ellen Page teaming up with Lyonne any day now.
+ Amy Schuemer's Trainwreck crushed the Box Office last weekend, launching Schuemer to A-List status and proving once again that women like to spend money at the movies. My favorite review of the movie is from The Atlantic because they say the word "ladyjerk" like a hundred times.
Amy of the movie is, like the Amy of standup and sketch, confident and insecure and knowing and confused and hilarious and sweet and vulgar and singular and symbolic and sorry and not sorry. But she is also, maybe even more meaningfully, kind of a jerk.
+ Badass angel-human Emma Thompson continues to speak out against Hollywood's sexism. She says its even worse now than when she first started her career.
I don't think there's any appreciable improvement, and I think that, for women, the question of how they are supposed to look is worse than it was even when I was young. So no, I am not impressed, at all. I think it's still completely shit, actually … When I was younger, I really did think we were on our way to a better world. And when I look at it now, it is in a worse state than I have known it, particularly for women, and I find that very disturbing and sad.
+ The trailer for Pixar's The Good Dinosaur is here, so get ready to cry until your eyeballs are out of water.
---
Professional Queers Being Professional (And Queer)
+ Ellen's got a new clothes line for kids. It's pretty adorable.
+ Lea Delaria has some feelings about bangable presidents.
+ Miley Cyrus is going to host the VMAs, since she's been banned from performing at them. Probably she will use the opportunity to raise awareness for trans issues like she has been doing a whole lot lately.
+ My sister's new novella, Complementary and Acute, is out and it's free and it's about lesbians in boarding school. I'm telling you about it here because she is queer and she is my sister and #nepotism.
+ Tig Notaro went on a bender with Jimmy Fallon and he totally forgot about it!
+ Laverne Cox keeps graciously answering everyone's questions about Caitlyn Jenner. This week, James Cordon's:
My experience as a black transgender woman who was working-class and struggling to make it in New York City is completely different from Caitlyn's very public experience … just thinking about the paparazzi life she has, I don't want that life. Diverse representation is important.
Here's the video:
---
Also.Also.Also.
I love you; have a good Wednesday!