A Prairie Homo Companion is a regular column that celebrates the Canadian prairies, canola fields and big skies, and the paradoxes of being a fine-ass lady prairie homo.
Header by Rory Midhani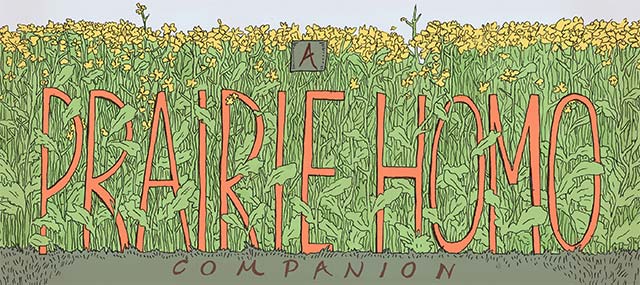 Early last week I was sitting and crying not necessarily because I was sad, but because I had so much work to do and I didn't know how I was going to get it all done. All of my feelings of being overwhelmed needed somewhere to go and so I sat and I cried, softly, thinking no one would hear. I was wrong though. My dog heard me, and she came running up to me as I sat on my bed, her tail wagging excitedly, a chew-toy in her mouth. She jumped up — paws on my knees, pushing the chew-toy in my face as if to say, "Don't cry. Play! How could you feel overwhelmed when there're so many fun things to do in the world? So much to chew."
This is a post about dogs, because this prairie homo wouldn't be who she is today if it weren't for dogs. It's a well-known fact that cat-lover is synonymous for lesbian. I mean, pussy and cat can mean the same thing and queers girls love both; but I think there's enough on the internet about the strange and wonderful connection between lady homos, boi homos, bi homos, and their feline obsessions. Remember that time I wrote about lady-loving-lady writers and the dogs who've inspired them? Well, I'm not finished with writing about dogs for the internet. I don't think I ever will be. Virginia Woolf said that no woman can ever write enough. I wholeheartedly agree, and would like to add on that a woman can never write enough about her dog. I'm sure Woof would agree with me as well — after all, she did write a whole novel from a dog's perspective.
Dogs are very important to a prairie homo. Sometimes it can be hard to find other lady-loving-prairie-ladies who share your taste in books, are fantastic cooks, enjoy political debates, are addicted to CBC, are adventurous and edgy but not so adventurous and edgy it scares you, will teach you how to cross-country ski, speak a language other than the one you do so you can learn new words, are full of serenity to counteract your anxiety, are able to connect with you on all the levels, enjoy your quirky sense of humour, and are willing to dance badly with you in the kitchen (I have certain requirements, you know). Or maybe all of those perfect-for-you women are out there, but you want to stay inside because it's cold, or it's too hot and staying in to read Why Be Happy When You Could Be Normal while eating ice cream and then French bread soaked in olive oil while drinking wine is your activity of choice because while you know you can drink that wine just as well as any alcoholic vineyard owner, flirting with women in crowded spaces (or even one-on-one) is not an activity on which you'd write an advice column. Your dog doesn't care that you're an anti-social drunk bookworm. She just tries to get in on the French bread and olive oil situation, and even when you tell her, "No! My food!" she stares at you with adoring eyes as if staying at home to eat and read is the best activity and you're the best human for partaking in it.
I once had a very environmentally conscious roommate who insisted on keeping the heat turned incredibly low even in the middle of the winter. I spent a lot of time typing, then pausing to rub my hands together, or typing while wearing gloves, and my bed had about 7 blankets under which I shivered. My roommate suggested putting a water bottle in the bed, like they did back in the day before they used heat made from oil obtained by digging up the boreal forest, poisoning the rivers, and mutating the fish. "Y-y-yesss?" I agreed, and a water bottle did help, but you know what is even better? A woman obviously, but let's not forget dogs! I admit, I am one of those people who lets her dog sleep in her bed, and if you think that's gross or something, we're probably not going to get along. The thing is, there have been many-a-night when my dog's body heat is responsible for keeping me warm and asleep, as opposed to shivering and awake.
It's finally warm now. I don't need my dog as a heater, but last week, as I sat and cried, and she pushed her chew-toy into my face, I came to an important realization: I need to channel my inner dog. Sometimes it's not enough to love dogs; it helps to kinda be like them too. Now, I'm not going to start saying hello by sniffing butts and pulling dead squirrels out from the ravine with my teeth, but I can appreciate the fact that however overwhelmed I may be feeling, there are still games of chew toy tug-of-war to be had. There are so many ways to play; so many fun things to do. When my dog gets mad, she'll express herself in a healthy way by barking, but then she'll let it go and either sleep or run in a circle and chase her tail. Nothing miserable is worth holding onto in her world because it only takes away from all the fun times to be had. Life is good. Now if you'll excuse me I'm going to continue reading Why Be Happy When You Could be Normal? while my dog snores at my feet.