One of the primary concerns for a lady-loving-lady is her relationship with other lady-loving-ladies. But while these lady-on-lady relationships are important, they should not take attention away from another crucially important partnership in a queer lady's life – her relationship with her dog. Girlfriends will love you and leave you, but your four-legged friend's desire to wake you each morning with an enthusiastic lick will never waver.
Our furry partners in queerness deserve much attention and praise. For example, there's my lab, who's a wonderful asset to the gay blogosphere. While she doesn't have the literacy skills of Tinkerbell, she nonetheless inspires me to write. All I need to say is, "I'm going to write an article for Autostraddle!" and her tail will start to wag enthusiastically as she runs to my desk. It doesn't matter that to her, the verb "to write" has more to do with the pre-work belly-scratches I give than with the typing itself. Her excitement eventually gives way to contented snoring at my feet. Let me tell you that writing to the sound of dog-snores is, hands-off-the-keyboard, the best way to write.
All of this musing about queer ladies, dogs, and writing, got me thinking that I needed to make a list – a list of famous lesbian and bisexual lady writers who had (or have) dogs. So here you have it, the one and only list in the whole world wide web honouring the unique relationship of lady-loving-lady writers and their four-legged sources of dogspiration.
1. Rita Mae Brown
Rita Mae Brown has not only written about the adventures of the ambitious lady-loving Molly in Ruby Fruit Jungle. She also penned a lesser-known book, Animal Magnetism, in which she pays homage to the animals who've made her who she is, dogs included. She has this to say about her first dog, Chaps:
Chaps loved me, even when I was distant and just walking down a dirt road, oblivious to his overtures. He loved me when I was mean, which wasn't often. He didn't require that I be beautiful (good thing), smart, witty, or a fascinating conversationalist. He loved me and I loved him.
Later in her chapter on Chaps, she writes, "Chaps, while he taught me to communicate with dogs, taught me most about love. I can't live without the love of dogs. I don't know how anyone can."
+
2. Mary Oliver
When it comes to poet Mary Oliver, I have so many feelings. Whenever I doubt myself, I re-read and re-read and re-read her poem Wild Geese. I've probably read it a gazillion-million times, and I don't even know if a gazillion-million is a real number.
You do not have to be good.
You do not have to walk on your knees
For a hundred miles, through the desert, repenting.
You only have to let the soft animal of your body
Love what it loves
Tell me about your despair, yours, and I'll tell you mine.
Meanwhile the world goes on.
Meanwhile the sun and the clear pebbles of the rain
are moving across the landscapes,
over the prairies and the deep trees,
the mountains and the rivers.
Meanwhile the wild geese, high in the clean blue air,
are heading home again.
Whoever you are, no matter how lonely,
the world offers itself up to your imagination,
calls to you like the wild geese, harsh and exciting —
over and over announcing your place
In the family of things.
You guys. I know this is an article about dogs, but I had to include this poem about wild geese, just because it's about so much more than geese, you know.
But Mary Oliver has not ignored dogs in her work. Her poem Percy speaks for itself about the importance of dogs to the whole wide world:
Percy
Our new dog, named for the beloved poet,
ate a book which unfortunately we had
left unguarded.
Fortunately, it was the Bhagavad Gita,
of which many copies are available.
Every day now, as Percy grows
into the beauty of his life, we touch
his wild, curly head and say,
"Oh, wisest of little dogs.I have a little dog who likes to nap with me.
He climbs on my body and puts his face in my neck.
He is sweeter than soap.
He is more wonderful than a diamond necklace,
which can't even bark.
I would like to take him to Kashmir and the Ukraine,
and Jerusalem and Palestine and Iraq and Darfur,
that the sorrowing thousands might see his laughing mouth.
I would like to take him to Washington, right into
the oval office
where Donald Rumsfeld would crawl out of the president's
armpit
and kneel down on the carpet, and romp like a boy.
+
3. Eileen Myles
Riese wrote about her here . And then there are articles about her here and here. If you haven't already noticed, we here at Autostraddle love Eileen Myles. I loved her even more when I found that there's an  entire section of her website devoted to her writings on animals. Here she is writing about caring for her late dog Rosie:
I begin our ritual. Washing her ass first. With a small silver bowl and warm water and special dog medicated shampoo so her belly and legs and ass won't get red and sore. I rinse her next, pat her ass dry, settle her down onto a clean mat. I do this again and again. Dog, water, soap, mat, mop, bucket. Dog craft is as close as I get in my life to devotion. Which is made of love.
+
4.Virginia Woolf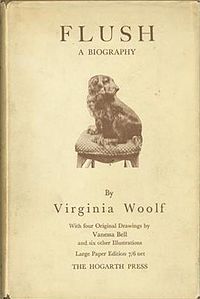 Woolf was involved in a love triangle. No, I'm not talking about the one she was in with her lover Vita Sack-ville West, and both of their husbands. Besides, that's more of a love square if we're going to be specific. I'm talking about the love triangle between her, poet Elizabeth Barrett Browning, and Browning's dog, Flush. Browning described herself as a "philo-dogist," and believed Flush was remarkably intelligent and well on his way to literacy. It was claimed that the cocker-spaniel could recognise the letters A and B and had the brain power to eventually master the entire alphabet. He didn't, but that didn't stop Woolf from penning "Flush: A Biography" after Browning had already written a poetic eulogy in the dog's honour, "To Flush: My Dog."
+
5. Tinkerbell (and Riese)
But we can't talk about highly-intelligent queer-tastic canines without honouring Tinkerbell. Unlike Flush, Tinkerbell is actually literate. Tinkerbell's command of language goes far beyond the letters A and B. She has proven her wit in many an Autostraddle article. Also this genius is, in fact, trisexual. Riese would like you to know that Tinkerbell was born in Miami, is thin and beautiful, clingy and needy, and might be an alcoholic. Being a queer-tastic literary canine genius with a multi-faceted personality can drive one to alcoholism, you see. There are so many dimensions to Tinkerbell it's hard to do her justice with this brief description. But hopefully, if you guys raise enough money, a tattoo artist will do her justice on Alex's behind.