What do queers love more than brunch and body modification? Pets, obviously. If you're in that post-U-Haul stage, or feeling a furry best friend-sized gap in your life, you might be ready to adopt your very own dog.
Adopting a dog from a shelter offers a lot of perks, including, but not limited to:
+ Sticky kisses as wake-up alarms!
+ Fuzzy cuddles when you're feeling sad!
+ Unconditional love when the stupid bigoted world is just too much!
+ Dog outfits for themed photoshoots, like Batman Dog or Drag Queen Dog or Chef Dog!
+ One million karma points for giving a needy dog the perfect home!
+ Plus, dogs are chick magnets and once you reveal that your dog is a rescue, you will need chick repellent. I'm serious.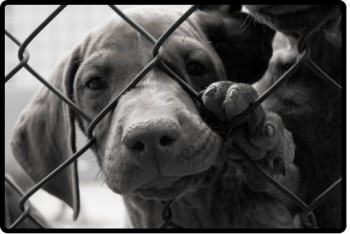 Why adopt instead of buy from a breeder or a pet store?
There are between 6-8 million animals in shelters every year. The sad truth is that 3-4 million of these animals are euthanized. More programs are moving towards non-kill practices, but no-kill shelters are not the majority in the United States. Why is euthanasia such a common practice, and why are there so many animals in shelters? Practices like puppy mills, not getting pets spayed/neutered, and the unnecessary demand for purebred dogs contribute to the problem, as well as potential owners not being fully educated on the needs of their animal. Millions of the animals in shelters have been turned over by irresponsible owners, if not found abandoned or abused. This means that there are many more pets already in need of homes than there are in pet stores. It's also significantly less expensive to adopt a best friend from the shelter than it is to purchase a purebred from a breeder or store.
So, are you ready for your best friend? Here are some questions you need to ask yourself before getting ready for adoption:
+ If you rent, does your landlord allow dogs? Are there any special circumstances in your building regarding pet ownership?
+  Does your lifestyle fit a new dog? If you're always on the move, work away from home for long hours, or are planning on moving cross country after adopting, you might not be in the right place for adoption right now. Shelter dogs have already undergone difficult changes and need their new homes to be as stable as possible.
+ Is your living space big enough to comfortably accommodate a dog? Even the smallest dogs need space to play and do their business.
+ Do you have the financial means to cover food, collars, leashes, toys, medical expenses, and anything else a new dog might need? If your new best friend is special needs, he will require more medical help and therefore more financial resources. If you don't think you'll be able to afford medical care, there are ways to get help!
+ If you have roommates or live with your partner, have you checked in with them about their responsibilities to the new dog?
+ Are you willing to do the research to make sure you've found the right dog for you and your living situation? Make sure you consider factors like small children, time and space for exercise, and how often the dog will have to be alone. Different breeds have different needs, and you owe it to your best friend to make sure they're met!
+ Are you ready to take on the huge responsibility and lifelong commitment that is owning a dog? Dogs are more than chick magnets and Instagram subjects. They are loyal animals who need your attention and care, and sometimes your discipline.
+ Are you ready to give your new best friend your very best love all of the time?
If you answered "yes" to all of these questions, or are willing to make adjustments to the ones you answered "no," then congratulations! You're ready to start looking for a dog.
Sites like Petfinder allow you to search through multiple shelters at once to find the perfect match. Entries will give you pictures, videos, and important information like vaccinations, behavior, and whether or not the dog can handle other pets or children. Shelters make sure they know their tenants inside and out, and they want their dogs to go to the right forever home. Most shelters will have you fill out an application before you can adopt, with relevant questions about your lifestyle, your living arrangements, and prior experience as a pet owner. They're not trying to psych you out, I promise. They just want to make sure you and your new best friend are the best match possible.
Okay, have you found your best friend? Sweet! Before you can bring him or her or hir (dogs can be queer, whatever) home, make sure you've got a few things on hand first:
+ collar, leash, and ID tag – it's okay if you haven't picked out a fabulous name yet, you just need your telephone number.
+ dog bed, kennel, or similar safe/sleeping area – ask the shelter what your best friend prefers for sleeping arrangements!
+ dog food appropriate for size and age
+ water and food bowls
+ toys – FYI, you don't need to buy expensive toys from the pet store, especially since those don't tend to last very long. Tennis balls, knotted socks, and old jeans tied into ropes all work super well to keep dogs from chewing on things they shouldn't.
And most importantly, don't forget to dog-proof your home before your new best friend gets there. Even the mellowest dogs can be stressed by the move, which might mean higher energy behavior like chewing or scratching. How do you dog-proof a house? Imagine you have a baby, but the baby has sharp teeth and claws and likes to chew through electrical cords and knock over fragile things. Pretend that image is not totally terrifying, and proof the house accordingly.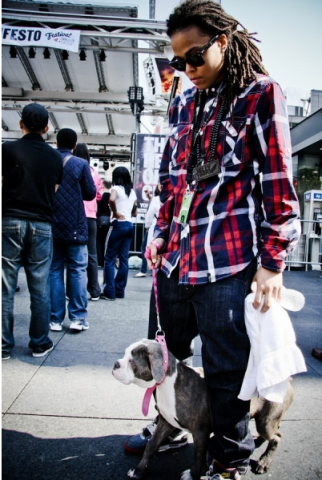 Once your best friend comes home, expect the move to be a bit stressful for them. They might have been housebroken at the shelter, but switching environments might mean they forget to go outside for a while. It's kind of like how people sometimes pee themselves or throw up during standardized testing. It's okay if your best friend seems a little shy or uneasy. Transitions are super hard for everyone and adjustment takes time. Before you know it, you'll be cuddling and dog kissing and waking up in each other's arms just like it's the day after a lesbian one night stand. Brunch, anyone?
When you're both settled in, there's one more set of steps to follow. Last one. No more bullet points after this, I promise.
+ Spay or neuter your dog! I cannot stress this enough. Spayed/neutered animals live longer and healthier lives, and they're not contributing to the problems that got them in shelters in the first place. The difference between a fixed and non-fixed dog is incredible in terms of energy and behavior, and it's so much safer for the dog. But I want puppies, you say. You are not a breeder. Don't try to be one.
+ Train your dog! Take the time to teach your dog a set of commands. Get your roommates or partner involved so everyone is using the same commands and directions. Tricks are fun and cute, but it's also important that your best friend comes when they're called, and can sit and stay for safety.
"Autostraddle Freaking Loves Shelter Dogs" Testimonies
Kate: This is Cooper. Coop is a lab/pitbull mix and the love of my life. Coop was abandoned by his owner in the White Mountains of New Hampshire when he was a few months old. Neighbors called animal control to report the dog being left behind, but Cooper was off and running. The local shelter kept an eye out for him, and got reports of him in and out of the woods. He was a charming scalawag, though, so families liked to leave scraps in their backyard, and restaurants reported him showing up to steal some leftovers before running out. He lived on his own in the wilderness and miraculously survived the winter all by his lonesome. When he was finally brought to the shelter, they removed over 200 ticks from his body. He was bone thin from tapeworms, but still incredibly strong. He has the pittie build — low to the ground and super muscular. People stop me when I walk him to remark on how jacked he is. Cooper was my Christmas present after a really shitty year, and I named him after James Fenimore Cooper because I was writing my thesis and whatever, I am lame. Cooper sleeps on my pillow next to me every night. He cuddles me, gives me wake-up kisses every morning, and literally never stops wagging his tail. I've been through a lot of rough shit and Cooper has been there with me, putting his head on my lap when I cry, letting me spoon him when I'm too upset to sleep. I cannot imagine my life without Coop. I rescued him, but Coop saved me.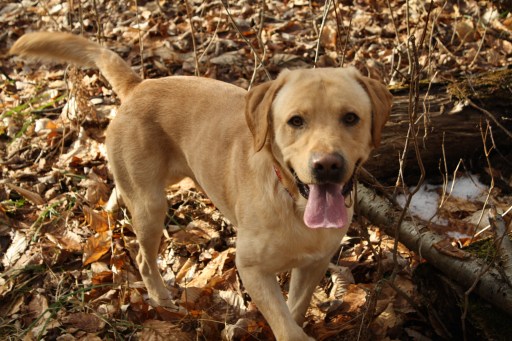 Carmen: Eli and I have been together since August 19, 2011. Not even one year when I write this, but we're already at this point where I can't imagine what it was like not to have Eli. Eli is a Chihuahua-Terrier mix and he's been described as "perfect," "soft," "sweet," and "really soft." He's a small 15 pounds with a lot of spirit and a huge heart. He was abandoned by a family in early July of the year we met and I took him home because the night before I watched a documentary about C-List celebrities and their dogs called My Dog: An Unconditional Love Story. When they put him in the play room at the shelter there were three other people with me and Eli ran directly over to me and jumped into my arms and kissed my face. I love Eli more than anything else in the world.
Someone once described adopting a pet as "taking something someone else didn't want," and I got upset, really upset. I saved a life last year and ever since it has brought me deep joy. My life is different. Eli and I both have each other and we both have someone and that is so sweet and amazing and such a miracle. It didn't matter that he was a mix, that he was potentially not trained, that he jumps on furniture and pulls on the leash. I love him. And so I gave him somewhere to sleep.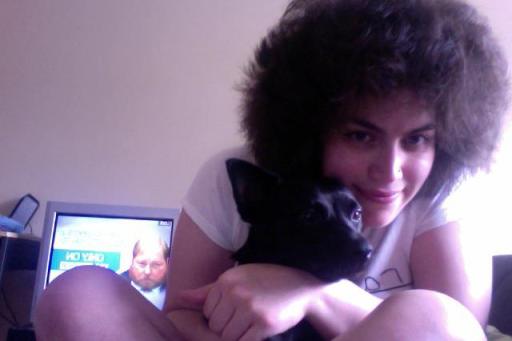 Gabrielle: Hey guys, this is Kimberly. She only had the party hat on for this picture, because it was my birthday, I promise. I've had her for about a year, and she's nine years young. My girlfriend and I adopted her from a local rescue where she was anonymously dropped off by someone running an illegal backyard breeding operation. Kimberly had been in a cage for her entire life, and since she's kind of a fancy dog, a toy poodle bichon, she probably was forced to have like, a million puppies. Sometimes I think about how they were taken away from her and sold to rich people and I cry. Anyway, when we first got her, she was in really bad shape. She had such a bad mouth infection that we had to have most of her teeth removed (now she only eats wet food). She could barely walk, and she wouldn't eat or drink water. She wouldn't even defecate until several days after living with us. We essentially had to teach her how to be a dog. It was really challenging but also really rewarding. She didn't even know what grass was! And now one of her favorite things is rolling in it. Since she didn't understand how to play with toys, we put them in a bag of treats over night to entice her with the smell, which worked like magic. Since she was never house trained, she pees up to 10 times a day, so we've had a lot of luck with wee wee pads rather than trying to take her out every hour. Also, she's a bundle of anxiety, and is afraid of things like black garbage bags, noise in general, the dark, stairs, solitude, the outside, strangers, rain, etc. But recently she's been getting much braver and will approach the things that scare her while making a noise that sounds kind of like a telephone ringing while wagging her tail. She's also the cuddliest creature of all time, which is how she earned the name Colonel Cuddleton. In the past year, she's gained 2.5 pounds (which is a lot considering she was only 5 pounds a year ago). She still can't walk up stairs or jump on and off furniture (she doesn't know how to land, she literally just catches herself with her face on the ground) but she's grown into the sassiest, sweetest, most lovable little bear in the world.