Hello Nation. It's time for another episode of The Real L Word, a show about a group of teenage detectives who go around solving neighborhood crimes and mysteries with the help of a very secretive friend: Ghostwriter!
Hello lesbians, lesbian allies, and people who have strong feelings about lesbian erasure and welcome to the very last recap of the worst show in the whole wide world besides I Want a Famous Face, The Real L Word. As I've mentioned in the past, it's a show which follows young sapphics as they have sex, talk about sex, talk about Whitney, and wrestle in various liquid food items.
Number one feeling about this episode?
[Sidenote: Because I'm supposed to be in a car right now on the way to San Diego to talk about something important, I feel insecure about the quality of this recap which I wish I had four more hours to obsess over than I do.]
ARE YOU READY !?!
+

We open with The Real L Word getting all Suddenly Sundance with about 45 seconds of avant garde to the skippy sounds of a song my intern tells me is called "New Little Girl" by Kimberly Nichole, a singer apparently as famous as the cast of this show. Guess Tempted was too expensive.
Romi's very year-of-her-birth today with a 1981-inspired morning routine which includes ancient arts like shaving one's legs in the bath-tub, listening to records on a record player, and wearing tri-pink-colored bras from The Limited Too.
Romi's all like, bla bla sober sober getting my life together, no more Kelsey, bla blah, whitneysex was fun but won't let the Mixterator get in the way of her career goals with Love and Pride Jewelry etc etc blah blah.
Speaking of the Jewels, Romi's prepared like a Boy Scout for this Day Out. Lest a hapless midwestern lesbian attempt to wear a necklace as a feather earring, Romi and Vanessa are putting together a "look book" because in order for them to succeed, they need an visual explanation of "who the girl is and how you wear the jewelry."
You know how America's Next Top Model gets more & more irrelevant every season as they dangle anorexic 24-year-olds from helicopters and dunk them in dry ice and paint their faces into other people's faces and then stick jungle leaves in their tits and tell them to model through a flesh-eating bacteria epidemic? I wish this part was an episode of ANTM where Romi had to do a shoot on a rooftop in this Futuristic Dominatrix Monk tunic thing and she was afraid of heights. You know?
Romi: "There's more love, there's more passion, and there's gonna be more heartache that comes to it too if things don't work out."
The camera loves her. It's never really loved someone like this before.

Over to Whitney, who's driving my dream car through my television nightmare, declaring her hookup with Romi "a mistake" 'cause of Kelsey & Romi's recent split, which is so very whatever.  "Romi and I will always be friends." Yawn yawn black swan.
Whitney's jitney's heading to LAX to snatch the exotic brunette Whitney ordered on ErosGuide this morning, Jaq.
Jaq is Whitney's San Francisco Treat, second only to Rice-a-Roni.
Maybe I'm just unable to wrangle through Jaq's battalion of accessories and multifaceted jingly pirate apparel to hear her words or thoughts, but I'm 85% sure she's spoken maybe five words this season. She's a body, Whitney will fuck it, next!
"Jaq's coming to town to help with the pants vs pumps event," says Whitney, which makes as much sense as anything ever has in Whitney World. Palm trees!

Francine's mother, adorned in a silk leopard-print blousey thing and the largest most amazing sunglasses in the Sunshine State, has arrived.
Francine's dying on the inside with her big gay secret, but Momma jumps right on in to the boyfriend-pushing and cassette-mongering. By the way: love her. Wish this show was Date my Mom instead of whatever it is, I Want a Famous Face or something.
Fun fact: Francine's Mom was apparently a "famous actress and singer" in Japan in the 60's, which I'd like to see an entire documentary about but instead I'm watching this show. Continuing with the vintage audio device theme Romi established with her record player (she was listening to Frampton Comes Alive! if you must know), Mom's brought Francine "cassette tapes of me singing" which is so so very Little Edie (sans craziness/raccoons).
Yoko's talking about boys as Francine makes a face for every stage of  necrotizing fasciitis.
Mrs. Francine: "Yeah, if you're going to choose a guy, he has to be nice."
Francine: "Yeah."
Mrs. Francine: "Of course they need to have money, too, not just a pretty face. You'll get bored of the face in one year."
Francine, who's been bored of the face since grade school, manages, "It's important to be with a — good person."
Francine: "It always makes me a little on edge when she comes into town but this time I'm even more on edge because I want to come out to her."
Look at Yoko and Baby Francine:
I used to think Francine's look was Fancy Hobo but now I realize it's 100% Olsen Twins:
At the hotel, Francine retires to poolside where she vacillates between Foxtrot Posture and Pain Faces while staring at her phone and freaking out. Francine rings room service for two girly gaywads with a slice of lime and a cherry in hopes the grenadine or vodka will inspire her to reveal her gayself to Yoko, who I already have this like very deep tender love for that I can't explain.

Over at Rachel's Rock Bottom, our hapless heroine's submitting herself to therapy, 'cause the best way to really expose yourself emotionally is to do it on Showtime in front of the 400 people who still watch this show.
The Therapist, in all her therapeutic splendor, says things and then Rachel says this thing:
Rachel: "I've always had problems talking about my emotions and whatnot. I lost my father like ten years ago very suddenly and then I had to move in with my grandparents who just lost their son — their only son — you know at that time my Mom and me were not like, okay… I also hate crying so I don't do it, especially around my family, I never cry. I don't want them to think that I'm sad."
Rachel was close to her father. He went to PFLAG and was supportive, a regular Novotny (sorry I can't stop bringing her up, the woman just needs to be seen). He even let Rachel's kicked-out-of-her-own-home girlfriend shack up with them. Meanwhile according to Rachel, Mom is always "walking by" and telling her she's going to hell.
I love how I repeatedly have nothing in common with anyone on this show besides death. And I guess life.  Not even taxes, 'cause I haven't paid my taxes in two years 'cause I don't know how.
Upon leaving therapy, Rachel says she feels way better, like "a lot of pressure is out of [her] body." In a way it is —  when something terrible happens and you become the De Facto Capable Adult in your broken family you sort of store all that excruciating pain and sorrow in a drawer in the back reaches of your brain. And when people ask how you're doing about that death thing, you say "I just block it out," and they then they tell you it'll catch up to you one day, all that repressed sadness. One day everything beyond the blocks will hurtle forwards and eat you alive when you least expect it. So you do other things, like drink and do drugs and work all the time so everyone else's needs take up all the room in your brain, leaving very little space for your own feelings, which is just how you want it. But you fear the pit everybody's warned you about, you're still afraid that it's lurking and could unexpectedly explode. Will it kill you? Sometimes you feel like it could kill you.
And then somebody makes you go, pays for you to go, calls so you can go, does everything short of sitting there and explaining your life story to the therapist so you can go. Then it feels passive enough to not set off the alarm system you installed on every emotional wall. Then you sit down and you say all the things and you cry and then there it is. That thing you've been afraid of — taking out your sad little heart out of your anxious chest and holding it up to the light — has started. And you're still alive. More alive, even.
So anyhow, that's what I think she meant by "I feel like a lot of pressure is out of my body."

Cori & Kacy are sitting on the couch with chocolate milk and a dildo, talking about sperm.
Kacy and Cori make penis jokes and slap each other with the prosthetic, which I hope they stick in the dishwasher afterwards. Also, they say weird things like this:
Kacy: "Lesbians have this tendency to befriend guys with huge penises because they never have to ride that donkey."
Her lips, G-d's ears.
Cori: "That guy has the biggest dick ever!"
Kacy: "It's super ridiculous."
Long story way too long — Cori's strappin' up for the Great Gyno in the Sky again rather than using The Tugaboat Penis Machine, like a proper First Worldian Lesbian. More importantly, Kacy's hair in this scene is six degrees of sexy like Kevin Bacon: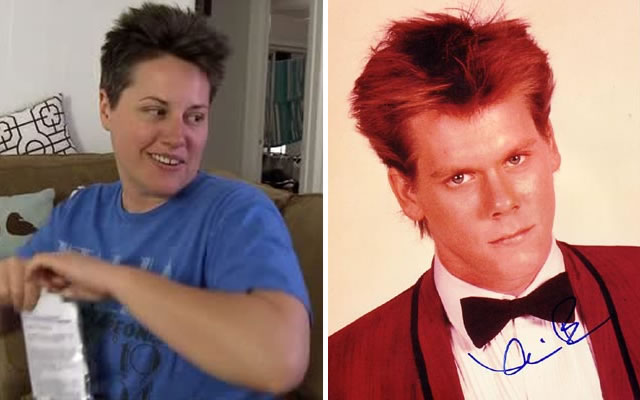 Over at Whitney's Whimsical Workshop, Whit-Brit's putting her hammer-swinging skills to good use, spray-painting and building shit with Jaq, who is suspiciously also operating various power tools.
The Pumps/Pants set pieces, inspired by Putt-Putt and high school productions of Guys & Dolls, are huge and ridiculous and unnecessary and also cute/oh.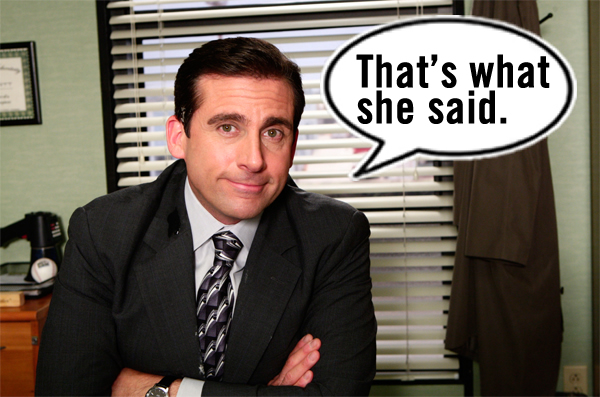 Hold your seasonably-inappropriate hats tight on your heads, ladies, 'cause Whitney's about to blow your mind by doing something totally unique and important.
And the Whitney tape goes round and round and the painted ponies go up and down, we're captured on a carousel of screentime. We can't look back, we can only look, behind from where she came, and go round and round and round in the circle game.
Whitney: "If we work this well together making props, could we work this well together in a relationship? It's possible."
Just to recap, Episode 201:
Whitney: "I mean, we've given it a shot before so I don't know if it's meant to be for the future. Casual hookup [with Rachel]? It's a possibility."
Also earlier this season:
Whitney: "Is [Sara] someone I could see myself lasting with? I don't know what the exact answer is."
Just leavin' all the doors open. Flapping in the breeze.
Cut to the shower, where Whitney and Jaq disrobe and make out in the red-light district of the Harem Bathroom. The lighting/music makes it seem like they're slathering each other in cooking oil in a post-apocalypse sauna/bomb shelter.
I'd like to quote the song playing during this scene:
Ahhhh
Ohhhhhhh
Yeahhhhhh
Turn the lights out
Baby
Did you like that
I know you did.
Top that, EZ Girl.

Pages: 1 2 3See entire article on one page