This is the week that John Boehner's bizarre personal crusade to use the House to continue defending DOMA in court despite another office of the same government, the Department of Justice, declaring it unconstitutional, comes to fruition. Paul Clement, the super-expensive lawyer who left his original law firm just to be able to take on this case, is presenting a pretty familiar argument in the case brought by Edith Windsor for paying over $350,000 in estate taxes that she would have been exempt from had she and her wife's marriage been recognized by the federal government. He's filed a series of motions in an attempt to have her case — which the Attorney General of New York recently joined — dismissed by the court, and in doing so is trying to cash in on every anti-gay argument every lawyer before him has used. The document itself is called the "Memorandum of Law in Support of Intervenor-Defendant's Opposition to Plaintiff's Motion for Summary Judgment." (Click to read the PDF.)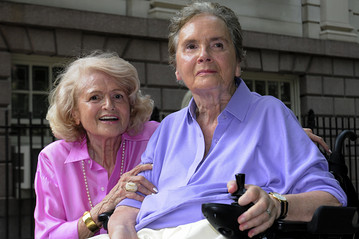 (If you'd like to be extra prepared, read the "Defendant's Brief in Opposition of Motion to Dismiss," which is our side's view on these issues, a good primer, and extremely validating.)
For anyone who's followed, say, the Prop 8 trial, all of Clement's arguments will be a deja-vu experience. Mostly, he maintains that for various reasons that are unabashedly based in religious beliefs and the cultural values of the Christian community, gay people shouldn't or don't deserve to be married — but even if they did, it wouldn't matter that much if they didn't get to, because at this point they have So Many Other Rights! Specifically, he says:
+ Same-sex marriage isn't an issue worthy of the court's heightened scrutiny.
Plaintiff is not entitled to judgment as a matter of law. Her claim to summary judgment fails at the threshold: Contrary to her arguments, no form of heightened scrutiny applies to Section 3 of the Defense of Marriage Act ("DOMA"). Pub. L. No. 104-199, § 3, 110 Stat. 2419 (1996), codified at 1 U.S.C. § 7. Rather, DOMA is subject only to rational basis review. And (as made clear in the memorandum of law simultaneously filed by the United States House of Representatives' Bipartisan Legal Advisory Group (the "House") in support of its motion to dismiss), DOMA easily passes the rational basis test and does not violate the Equal Protection component of the Fifth Amendment.
This comes off as bluffing at best and delusional at worst, given the various people and institutions in the judicial branch who have already weighed in on this.
…in the brief they filed Friday, Obama's DOJ lawyers provided an extensive argument for why sexual orientation should be protected as a suspect class, and so trigger heightened judicial scrutiny. And DOJ lawyers also argued that, under heightened judicial scrutiny, Section 3 of DOMA is unconstitutional. The DOJ made this same argument in their February letter to Congress (the letter in which they told Congress they would stop defending DOMA), but they ramped it up in this supporting brief. Like they REALLY ramped it up.
+ Gays make bad parents, and therefore shouldn't be allowed to marry.
Plaintiff's claim of a clear expert consensus is overstated.Indeed, the evidence relied upon by Plaintiff's own expert demonstrates that studies comparing gay or lesbian parents to heterosexual parents have serious flaws… Numerous studies have pointed to methodological flaws in those studies comparing heterosexual and homosexual parents.
This is sort of a confusing point to make, given that the last time this was tried, at the Prop 8 trial, the judge found in his conclusion that all of the researchers and witnesses who supported the gays-being-bad-parents theory (ex. Kenneth Miller, David Blankenhorn) were in fact unprepared, unscientific and unreliable – Dr. Lamb, who's also mentioned in this brief, was in contrast extremely well-prepared and supported all of his points thoroughly. Of course testimony from a different court case years ago can't actually be used here, but it doesn't bode well for what would happen if, for whatever reason, this court case wasn't dismissed and Clement had to try to argue this in front of an actual judge.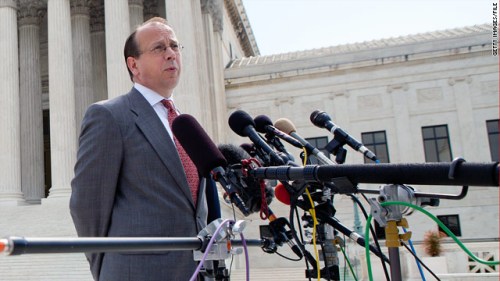 + Gays aren't real, or at least they aren't born that way, and therefore don't deserve having their relationships validated.
Plaintiff next argues that sexual orientation is immutable. Pl.'s Mem. Summ. J. at 17-18. She states that "the Attorney General has recognized[] 'a growing scientific consensus [that] accepts that sexual orientation is a characteristic that is immutable.'" Id. at 18 (second alteration in original) (quoting Feb. 23, 2011 Letter from Eric A. Holder Jr., Att'y Gen., to John A. Boehner, Speaker of the U.S. House of Reps. (Feb. 25, 2011) (ECF No. 10-2)) ("Holder Letter"). Whether a classification is "immutable" is of course a legal conclusion – not a scientific one – and the Attorney General's selective reading of scientific evidence warrants no deference from this Court. His conclusion and the Plaintiff's argument are also both wrong.
This is yet another point that's exhaustively addressed in Judge Walker's comprehensive 138-page ruling, but even besides from that, the question remains — even if sexual orientation isn't immutable, and Edith Windsor married Thea Spyer instead of a man even though it meant she had to travel to Canada to do so, face a lifetime of discrimination and then later be charged $360,000 by the federal government because they didn't think her marriage (and apparently sexual orientation also!) was "real" just for fun as a choice, why would that mean that she shouldn't be allowed to marry? Or to have the government recognize her marriage, and refund her the $360,000 they took from her during one of the worst recessions in American history? (Spyer passed away in 2009.)
+ Gays aren't really that discriminated against, at least not anymore.
…as Plaintiff's own expert has admitted, "[a]lthough . . . antigay discrimination is popularly thought to have ancient roots, in fact it is a unique and relatively short-lived product of the twentieth century." Moreover, whatever the historical record of discrimination, the most striking factor is how quickly things are changing through the normal democratic processes on issues ranging from same-sex marriage to "Don't Ask Don't Tell" and beyond.
Besides the incredible baldfaced bravado of this comment, given that the "historical record of discrimination" is ENTIRELY the fault of and perpetuated by Boehner, Clements, and people like them, and the fact that "things are changing through the normal democratic processes" is entirely because of their opponents, and in fact can be chalked up mostly to things EXACTLY LIKE THIS COURT CASE that they are, with this very brief, TRYING TO HAVE DISMISSED, it's also wrong. Hate crimes against queer people are actually on the increase, LGB teens are still five times more likely to try to commit suicide than their straight peers, and in Massachusetts, the first state to legalize same-sex marriage and one of the most gay-friendly places in America, roughly a quarter of gay teens are homeless.  Given that Boehner's administration, or at the very least set of values and principles, are directly responsible for either causing these problems or allowing them to persist, it seems like the kind of thing they wouldn't want to draw attention to, but I guess that's why Clement gets paid $520/hour and the rest of us don't.
In short, this brief reads less like a list of reasons the courts should dismiss Windsor's case, and more like a list of reasons that John Boehner might be obsessively focused on this case and pouring incredible amounts of government resources into it, despite the fact that Boehner's party also just created a financial debacle that makes it clear exactly how outrageous this kind of unwarranted spending for an openly discriminatory act on the behalf of the US government really is. It should be a consolation that the courts probably won't take any of these arguments seriously, just as they didn't when they were presented all the other times in cases like the Prop 8 trial — but if your rage around issues like the debt ceiling is somehow starting to wane, it's certainly good reading.