Hey remember all those threats from Speaker of the House Rep. John Boehner that he was going to use government money to defend DOMA in court? Which is confusing because the government, albeit a different part of it, was also responsible for deciding not to defend DOMA in court. I know. Anyways, good news, that is apparently not just a threat anymore! If John Boehner has his way, this is on like Donkey Kong.
Boehner and the House of Representatives have hired Paul Clement of the King & Spaulding law firm. Clement is a former US Solicitor General; interestingly, Prop 8 trial lawyer Ted Olson was the US Solicitor General that came before him, making for some neat symmetry. He's also shared a client – the NFL – with David Boies. It's a small world when it comes to high-profile litigation around same-sex marriage, apparently.
Clement has been referred to as "the LeBron James of law firm recruiting," and at one point was tapped by George W. Bush to be the future Attorney General. It was speculated that in a potential John McCain presidency, he might be a Supreme Court justice. His most recent high-profile case was defending the NRA in McDonald v. Chicago. It seems relatively safe to say that in addition to being a talented lawyer, Paul Clement has some genuine socially conservative leanings, and that his appointment to this case was not a coincidence in that regard. (Although it's worth noting that the website for King & Spaulding states that "King and Spaulding is committed to having the brightest and most diverse lawyers it can find, including members of the Lesbian, Gay, Bisexual and Transgender (LGBT)community," and also that for employees of its firm, "Domestic Partner benefits are offered for same-sex couples.")
Paul Clement's King & Spaulding law firm is objectively described as "blue chip;" Clement is rumored to be in the $5 million per year bracket. We probably won't be told how much the House is paying Clement, but we do know where Boehner wants the money to come from:
"The burden of defending DOMA, and the resulting costs associated with any litigation that would have otherwise been born by DOJ, has fallen to the House.Obviously, DOJ's decision results in DOJ no longer needing the funds it would have otherwise expended defending the constitutionality of DOMA. It is my intent that those funds be diverted to the House for reimbursement of any costs incurred by and associated with the House, and not DOJ, defending DOMA."
His idea seems, at best, willfully ignorant of the fact that the reason the DoJ has given up "the burden of defending DOMA" is because it has ruled the amendment unconstitutional and therefore an irresponsible use of the government's time and money. His whole scheme seems pretty willfully ignorant in general, in fact, given the fact that the government almost shut down because of a lack of funding, and is still limping along on a lot of talk about compromise. Just for the sake of full disclosure, here are some of the current headlines about John Boehner and the government's budget: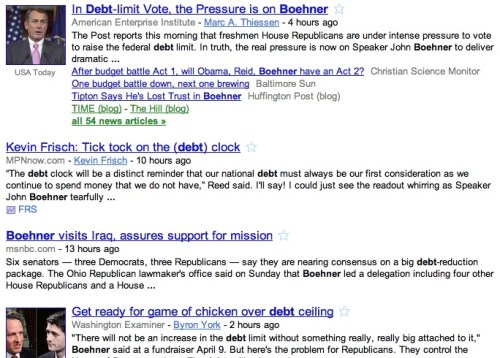 While Boehner's maneuvering in the budget negotiations in Congress have been lauded by some, others are harshly critical of his allowing more spending in the final budget than he originally promised conservative voters. Do those voters fear same-sex marriage enough to approve spending money we don't have in order to fight it? That's what Nancy Pelosi wants to know: she says that the House still hasn't provided an actual cost for hiring Clement, nor has anyone been allowed to see his contract. Clement will receive $520/hour for his services, and some reports indicate that this is a deal and the firm typically makes up to $900/hour. It seems like creating 50 new $10/hour jobs for American citizens would be a better way to spend that money, but I digress.
"Unfortunately, your letter did not respond to the central question in my March 11th letter: the cost to taxpayers of hiring outside legal counsel," Pelosi wrote. "Again, I am requesting that you disclose the cost of hiring outside counsel for the 12 cases where DOMA is being challenged."
This is just really special on so many levels!
After a few Presidential terms in a row of jokes about secession and dividing up the country between red and blue, it's still shocking to see this play itself out in Congress; bipartisanship is one thing, but the relationship between the House and the rest of the legislative and executive branches is starting to look like an all-out war within our own government. Which is maybe unsurprising; the current GOP has been identified as a party of warhawks for a long time now.
But it's never been so clear that winning what they've decided is a cultural war has trumped what's always been the basic tenets of the Republican party: reducing government spending, cutting taxes, and making sure that the White House stays out of our homes and our lives. When did that happen? And how long is it going to last?
P.S. Maybe go sign this petition real quick: Tell Law Firm King & Spalding Don't Defend Bigotry Against LGBT People