+


0. 2/20/2012 – Here/Queer Call for Submissions, by Riese
1. 3/02/2012 – Queer Girl City Guide: Montreal, Canada, by Sid
2. 3/05/2012 – Playlist: Here/Queer, by Riese
3. 3/05/2012 – Queer Girl City Guide: Portland, Oregon, by Lesbians in PDX
4. 3/07/2012 – Queer Girl City Guide: Brighton, United Kingdom, by Sarah Magdalena
5. 3/07/2012 – Oh But To Be A Queer in Sicily, by Jenn
6. 3/08/2012 – City Guide: Seattle, by Marley
I've lived in Seattle since 2004, when I moved to attend undergrad at the University of Washington. Since coming out, Seattle has proven to be an awesome place to live for a number of reasons: the people, the weather, the natural beauty, the nightlife, the outdoor life, and oh yeah- did I mention how queer-friendly this place is? I travel quite a bit for work and hands down, I think Seattle is the best place (besides New York) to be a queer lady.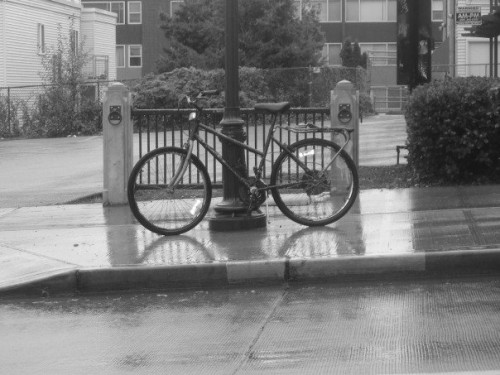 +
Lesbian Bars/Nights
If you do your Googlage, you'll find out that officially there's only one "lesbian" bar in Seattle, the Wildrose Bar. While this is technically true, there are a number of other bars that are either owned by lesbians or frequented by so many lesbians, they might as well be a dyke bar, including Jabu's Pub, OutWest Bar, and Tommy Gun Seattle. This isn't even counting the dedicated lesbian parties Seattle hosts on a monthly basis, such as Cherry, Lick, Girl 4 Girl, Hotflash/Inferno, and Chocolate Kisses.
Here's a quick rundown of each of the major players in the scene:
The Wildrose (1011 E Pike St- Capitol Hill): This Capitol Hill lesbian staple has been around for over 20 years- serving up cold beer, good food and eye candy to the Seattle lesbian community. It's not the nicest bar on the block and can feel quite divey, but the staff are friendly and most of the time it's a pretty welcoming place to come.
The Rose (as it's known) is the only dedicated lesbian bar in town, and as such, fills a variety of roles throughout the week. On Mondays you'll find trivia at 8pm which draws a pretty diverse crowd, including lots of non-lesbians. They also feature microbrews for $3 — can't beat a good beer and nerdy women. Tuesdays are Taco Tuesdays, which tend to get crowded. Cheap Mexican beer and tacos abound, and there's usually a DJ who's keeping the crowd energetic. Wednesdays and Thursdays rotate between a number of events, which have included Open Mic, Seattle Spit (queer poetry/spoken word), Burlesque, and Karaoke. Fridays and Saturdays usually feature a DJ and are sometimes themed dance parties and are guaranteed to be an ass-shaking good time. Sundays the Rose has a great brunch, Happy Hour, and shows a few of the sports games, depending on the season.
The crowd at the Rose is as diverse as Seattle lesbians are, and that includes age. I've never felt unwelcome when visiting with groups of different people, including both my mom and my straight male best friend. As long as you're respectful of the staff and patrons, they'll respect you.
Jabu's Pub (174 Roy St- Lower Queen Anne) – Owned and operated by lesbians, Jabu's isn't an exclusively lesbian bar. However, before and after Seattle Storm games, it's the place to be if you're a lady who likes ladies. Jabu's is located in lower Queen Anne, a quick two block walk from the Space Needle and Key Arena (home of the Seattle Storm WNBA team). Jabu's is super friendly and has a great selection of local beers and tasty food.
OutWest Bar (5401 California Ave SW- West Seattle) –  Located in West Seattle, OutWest Bar is a newcomer to the bar scene, catering to an older crowd that calls West Seattle home. It tends to have a good mix of genders and feels like a neighborhood bar. Wednesday is Lesbian night with karaoke, which draws a fun and friendly crowd.
Tommy Gun Seattle (1703 Olive Way- Capitol Hill) –  Touting itself as "White Collar Drinks at Blue Collar Prices," Tommy Gun Seattle is an awesome low-key bar with friendly staff, good drinks, and Truffle Popcorn that is to die for. Very casual environment with a good mixed clientele.
+
+
Where To Get Your Girl On
While Seattle doesn't have any dedicated lesbian clubs, there are a few dance clubs on Capitol Hill where a queer lady will find lots of other queer ladies and have an ass shaking good time.
R Place (619 E Pine St- Capitol Hill) – This three-story dance club is the place to be on Friday and Saturday nights if you're looking for a drag show, dancing, and lots of eye candy. This place is the essential "gay bar", with scantily clad Go-Go Boys in cages and a pole in the middle of the dance floor. Despite their obvious towards young, gay males, they do have a few lesbian bar tenders and I've never felt unwelcome here. A word to the wise though — this bar tends to attract bachelorette parties, so if you're not willing to deal with annoying straight girls trying to kiss you to mark off a bullet on their scavenger hunt, avoid this place during wedding season. Also, their drinks are SUPER STRONG so beware!
Neighbours (1509 Broadway- Capitol Hill) – Similar to R Place, but more house music, less gay women, and a little bit sketchier crowd. Can be a super fun place to go dancing with your friends; just don't touch the walls, as there tends to be a lot of random male sex happening here. One cool thing about Neighbours is that it stays open until 4am for dancing, and after 2am (when the liquor goes away) it opens to the 18+ crowd.
Cherry (1114 Howell St- Downtown) – Held at ReBar once a month. Cherry is the place to be in Seattle if you're young, lesbian or bisexual, and hip. Held once a month, this dance packs Re-Bar, a divey space in downtown to the brim with hot young (and young at heart) women. Cherry has rotating DJs who usually spin whatever is most popular at that time. This is definitely the most popular to meet other ladies to hook up with. Cherry hosts super popular parties on New Year's and during Pride which are always a good time. Check Cherry's Facebook page for details on the exact date for each months dance.
Lick: Held randomly throughout the year at Chop Suey. Lick is the more diverse, more trans-friendly, and much more hipster cousin to Cherry. Held at Chop Suey on Capitol Hill, Lick is a hugely popular dance party that is often a launching party for new queer things, including "Put This On the Map", "Original Plumbing" and "Team Gina." Get here early as it tends to sell out fast.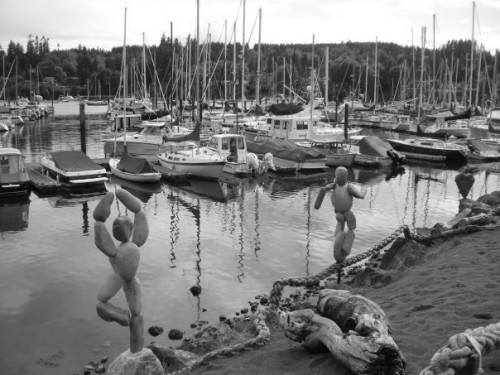 HotFlash/Inferno: Hosted once a month at Neighbours. Touting itself as "the party for women who like women but are too old for the 20-something bar scene," HotFlash/Inferno (the dances go by different names, depending on the month but are for all essential purposes the same event) is the place to be if you're an older lesbian in the Seattle area. The DJs play a variety of music from the recent (and not so recent past) which keeps the dance floor going strong. This dance strives to make everybody feel welcome, so you might see women your mom's age out on the dance floor getting their groove on, but hey, who doesn't like to have a good time?
+
Eating and Drinking (Coffee)
Over the past few years, Seattle has experienced an explosion in awesome new restaurants, cafes, and dessert spots. I'll highlight a few of my favorite, but in all honesty, your best bet is to check Yelp, see what looks good, and just be adventurous.
Capitol Hill is hands down the center of the new foodie experience in Seattle, located just a short walk from downtown and serviced by a million buses. All the vendors listed are almost guaranteed to be staffed by a member of the GLBTQ crowd, and more likely than not, your fellow diners will be family too. Other neighborhoods also feature great eats- Seattle is not known for its plethora of chain restaurants so whatever you find, it'll most likely be good.
Breakfast Spots:
Glo's Café: Best cheap breakfast spot on the hill. Open late nights, too, for your drunken breakfast food cravings.
Oddfellow's Café: A little more upscale, but serves great local food and has some of the best espresso around. Cool interior design and great bloody marys.
611 Supreme: Best crepes around- both savory and sweet. Add delicious French press coffee and you've got a winner.
Meanderer's Kitchen: This hidden little gem in West Seattle serves the best vegetarian biscuits and gravy I've ever had. They serve as much local products as possible, are a no-fuss type restaurant, and only take cash. This place is getting more and more popular, so come early (or late at night) to beat the crowds.
Chaco Canyon Café: With 2 locations, one in the University District and one in West Seattle, Chaco Canyon is a 100% vegan and organic café. They offer a number of raw foods and gluten free options, and are usually staffed by lesbians.
Lunch:
Marination Station: Born out of a Korean/Hawaiian food truck that took home the "Best Food Truck in America" award from Good Morning America in 2010, this is their brick-and-mortar stand. Kimchi fried rice, sexy tofu tacos, and Aloha sliders make this some of the best (and cheapest) lunch food in Seattle.
Rancho Bravo: Also a progeny of a food truck, this Mexican restaurant now lives in an old KFC location. Cheap and authentic, it's a good bet for a quick lunch.
Dick's Burgers: With locations all over Seattle, Dick's is a fun lunch stop with a big group. Super cheap and greasy, it's the best burger and fry you can get in Seattle for under $5.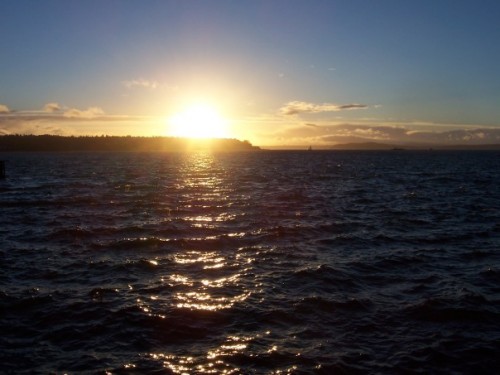 Dinner:
Plum: A vegan restaurant, Plum constantly redefines what is good in animal-free cooking. Their Mac 'n' Yease is to die for. A great place to take a date.
Machiavelli's: This little Italian restaurant feels like it's just out of New York — small, intimate, and delicious food at great prices. At the bottom of the hill, it's a great place to go before or after a show at the Paramount Theater, just down the street.
Late Night:
Hot Mama's Pizza: Directly across the street from R Place, Hot Mama's serves up fresh slices of pizza until 2am on weekends, perfect for after dancing and drinking.
Broadway Grill: Has a great late night happy hour and usually lots of eye candy.
Dessert:
Trophy Cupcake: Moistest cupcakes around. Don't be fooled by the other places — go here for good cupcakes.
Blue Bird Ice Cream: Fresh, handmade ice cream and named as one of MSNBC's top ice cream shops in the USA, Blue Bird is less well known than Molly Moon's Ice Cream, but definitely better. Their Imperial Stout Ice Cream is delicious, and they serve a number of local beers on tap. Beer float anybody?
+
Let's Go Sporting!
Seattle is home to the 2004 and 2010 WNBA Champion Seattle Storm women's basketball team. Key Arena is the summer hot spot and turns into the biggest lesbian bar in the city by default. There are tons of Pride discounts and a kid's dance troupe, so it's fun for the whole family.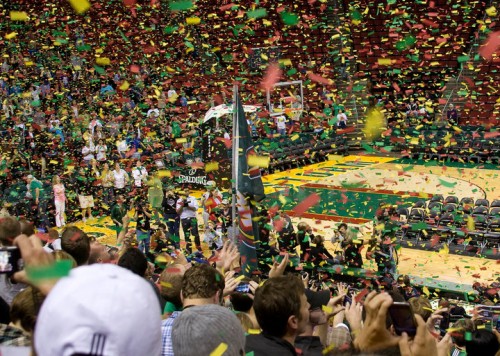 Seattle is also home to the Seahawks (football), Mariners (baseball), and Sounders (soccer) which are all fun to go to.
Locally, there are a number of LGBT sports leagues, most housed under the Rain City umbrella. Available sports include soccer, basketball, softball and volleyball. There's also both a men's and women's rugby team, running group, and swimming club that cater to our community.
One super queer-friendly sport that's huge in Seattle is Roller Derby. Home to the Rat City Roller Girls, Tilted Thunder Roller Derby and a number of other smaller leagues, you're sure to find a lady of your persuasion either on the track or in the stands.
+
Oh, College Girls
By far the biggest school in the area is the University of Washington, with over 60,000 students and staff. UW is known for its medical school, engineering and computer science, but it also has a great women's studies program, social work school, and law school. The UW funds a Q Center which provides support groups, resources, and a safe place for queer students on campus. UW also has a chapter of Delta Lambda Phi, a fraternity for gay, bisexual and progressive men and the ASUW Queer Student Commission hosts on an annual student Drag Show. The UW is basically its own city within Seattle, encompassing the University District which has lots of great food, coffee shops and bars.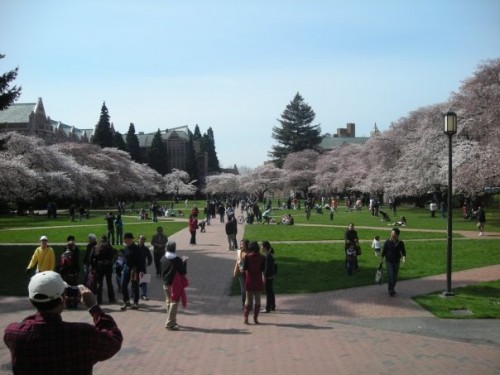 Other schools in the area include Seattle Pacific University, Seattle University, Pacific Lutheran University (in Tacoma), and a number of community colleges. Seattle Central Community College on Capitol Hill is a popular destination for many LGBT students and has a very diverse student body.
+
Nei/Gay/ghborhoods
Fremont – Billing itself as the "Center of the Universe", Fremont is a trendy hood located along the Shipping Canal. Lots of vintage stores and home to a huge Sunday Farmers Market/Flea Market, Fremont is up-and-coming for sure.
Wallingford – West of the University District across I5, Wallingford is where you'll find lots of 20 and 30 somethings that are not hipster enough to be on Capitol Hill (or are too smart to pay ridiculous rent prices on the hill). Lots of shared housing and co-ops dot this area that also has lots of young families.
Ballard – Occasionally in Seattle, you'll see bumper stickers reading "Free Ballard", a stalwart of their bid a few years ago to become an independent city. The effort failed, and now Ballard is just a neighborhood of Seattle- albeit a cool, industrial, fishing village type neighborhood. Lots of cool pubs and bars, Ballard isn't known as the gayest neighborhood ever, but you'll definitely be safe and have fun here.
West Seattle – Where gay people go to die…or just where we go after getting coupled up and having kids. Like a city within Seattle, West Seattle has pretty much everything somebody would need, including a strong sense of community. Cool shopping, a gay bar, and lots and lots of Momma-Mommy families, West Seattle has lots of affordable housing as well.
Columbia City – Located along the new light rail line, Columbia City is also an up and coming neighborhood that's currently full of lesbians and their subarus. Cheap and diverse, Columbia City is a good bet for funky restaurants and live music.
Beacon Hill – One of the most diverse neighborhoods in Seattle, Beacon Hill is a melting pot for all sorts of types of people. Cheap housing, lots of good cheap food, and great views make Beacon Hill a good choice.
Queen Anne – The fancy part of Seattle, Queen Anne has lots of rich people, expansive views of downtown and the sound, and boutiques. Great place to grab a bite to eat, and settle down if you've got half a million dollars for a house, Queen Anne is a destination within the city.
White Center – South of West Seattle, White Center is like a little sister to West Seattle. Lots of dive bars, a great roller skating rink (that hosts Pride Skate) and more Vietnamese restaurants than you can count, White Center is a gritty, unique hidden secret.
South Park – Right by the Boeing Plant, South Park is another hidden gem within Seattle that actually has affordable housing. Lots of queers make their home down here because of how affordable it is.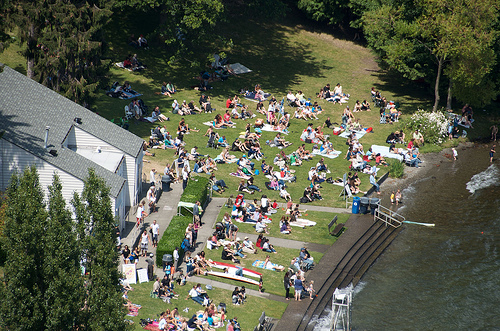 +
Support for LGBT Families
In Washington state, it's illegal to discriminate based on sexual orientation or gender identity, and most of the local municipalities have additional protections in place for the LGBT community. There are a number of openly gay/queer politicians on the City Council and in the state legislature, so overall, Washington, and specifically Seattle, is a pretty safe place to be. For family support specifically, there are a few groups that meet regularly including Feather Boa Fathers (for gay dads), Maybe Baby Seattle (support group for lesbian, gay, bisexual, transgender, and queer people who are interested in becoming parents), Mature Friends (a group for those over 40), and Rainbow Families of Seattle. The city also has an LGBTQ Commission to address issues facing the LGBTQ community within Seattle and then bring those issues to the policy makers in Seattle.
+
Seattle Gay Pride Yay!
Seattle Pride is held on the last weekend in June and has been a constantly evolving event. Hosted mainly by Seattle Out and Proud, Pride has gone through a little bit of an identity and financial crisis the past few years that included a move from Capitol Hill to the Seattle Center, a bankruptcy, and board change. Despite the internal politics, Seattle Pride is a super fun, community building event that is the highlight of the year for many people. Pride in Seattle (as in most cities) seems to be two-faceted: the public side of Pride, with its big parade and party; and the insider side, with its weekend full of binge drinking, hookups, and crazy dancing.
The Pride Parade held on Sunday is the biggest parade Seattle sees all year. It snakes through downtown Seattle, drawing over 200,000 spectators every year. The big businesses around town like to show their support, so you can always count on Microsoft, Amazon, Starbucks, Google, Boeing, and Alaska Airlines to have huge employee contingents marching, which we honestly love, of course. The parade ends at the Seattle Center, where you'll meet the biggest free Pride party ever, attracting over 500,000 people dancing and soaking up the sun (and running naked through the huge fountain when the weather allows). This event is great for people watching and relaxing after a long weekend of partying.
Wildrose/The Rose goes all-out for Pride, renting portable fences and taking over an entire street with their outdoor beer garden and stage. The party at the Rose runs from Friday through Sunday, with Friday featuring a wet t-shirt contest and DJs til the wee hours of the morning, Saturday looking at all-day bands and beer pong, and Sunday usually hosting a spectacular Butch contest with even more music. Check their Facebook page for exact details, but you're sure to have a good time at the Rose during Pride.
In the past few years, Seattle Pride has made a definite effort to expand the Pride celebrations to include those in our community for whom drinking isn't the main draw. To that end, they've created an all-day Saturday Broadway Street Fair. With the streets closed to traffic, you'll find lots of restaurants, vendors and bars throwing open their doors to us, complete with street dances, beer gardens and other live performances.
Seattle Out and Proud also hosts a Pride Idol singing competition. Recently (and for the first time), a number of churches and synagogues came together to host an Interfaith Pride Service on Saturday, which was well attended.
+
LGBT and Women's Health Services
Unfortunately, Seattle doesn't have a dedicated Lesbian Health Center, however, many of the doctors are very LGBT friendly. Seattle Counseling Services are specific for our community and have a number of resources for other service providers in our community, including addiction help and psychiatric care. Dunshee House provides emotional and other health resources to those affected by HIV/AIDS. The Capitol Hill Alano Club hosts a number of support meetings for those in recovery. Every year during Pride, there is also a Rainbow Women's Health Fair hosted at Gilda's Club.
+
LGBT Center
There is no LGBT community center in Seattle, however there are some resources especially for youth who are LGBT. Check out both The Lambert House and Queer Youth Space for LGBT community information for youth.
+
Welcome to the Gayborhood
Addressed earlier- Capitol Hill. But all of Seattle is pretty darn gay.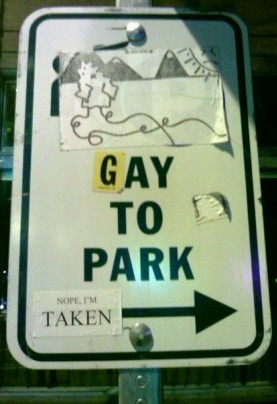 +
Places to Avoid
Only a few places to avoid in Seattle, and they're usually time-restricted. I'd advise avoiding Beltown and Pioneer Square after 10pm. Same with Greek Row by the University of Washington at all times. You probably won't run into any problems, but these areas tend to be hot spots for violence and have known to be frequented by assholes.
+
LGBT or Feminist Bookstores
As with many towns, lots of our local/independent booksellers are going belly up. A few strongholds where you'll find a large selection of LGBT and feminist material are Elliot Bay Books (Capitol Hill), University Bookstore (U District) and Half Price Books (Capitol Hill.) There is a great Gay and Lesbian Book Club that meets weekly at the Dunshee house, and is open to all in the LGBT community.
+
Dating Scene
The dating scene in Seattle is pretty good, depending on your age and what you're looking for. As one of the most queer cities in the US, you'll most likely find somebody who shares the same interest as you, whether that's partying, sports, nature, or arts. OKCupid.com has a fairly large Seattle crowd, and The Stranger and Craigslist often feature W4W ads. Compared to other parts of the country, Seattleites often come across as unfriendly or cold — this is just because we don't get enough Vitamin D on a regular basis. Offer us a cup of coffee and a friendly conversation and we'll be nice, I promise.
+
LGBT Events
Aside from Pride and the associated events, there aren't any huge LBT events in Seattle. Of note though, there is usually one or two Rainbow Wedding Expositions, and with Washington state super close to legalizing gay marriage, these are sure to increase.
+
Salons
The most popular and cheapest place for an alternative lifestyle haircut is definitely Rudy's Barbershop. The ultimate in hipster, Rudy's has 5 locations and is a walk-in only shop. They usually do a decent job and are pretty cheap. Lots of people have their favorite stylist at different locations — check Yelp for details.
Other popular salons for ALHs include Vain (downtown), ACME Barber Shop (Capitol Hill), and Zero Zero. Check Yelp for other ideas- or just ask that cute girl next to you on the bus where she got her hair done!
+
Tattoos
Just like hair salons, there are about a million tattoo and piercing shops in Seattle, all of which people swear by. My friends have gone to Deep Roots Piercing and Tattoo (U District), Laughing Buddha, Hidden Hand, Apocalypse Tattoo, and Lucky Devil Tattoo. Seriously though, do your research, find an artist you like, and enjoy!
+
Safety
Seattle is generally a pretty safe city to live in, especially as an LGBT person. As is to be expected anywhere, there are acts of violence, however, these do not tend to be targeted and instead are usually drug related. The police department has an LGBT liaison who works with us to address concerns as they come up.
+
Cost of living
Besides San Francisco and New York, Seattle might just be the next most expensive city in the nation. High rents, high cost of food — this place is expensive. Wages tend to reflect that reality, however, it can be hard to make ends meet for many people.
+
Diversity
Seattle isn't actually a super diverse city, as far as large cities go, but it's getting more and more diverse every day. Approximately 20% of residents are immigrants from another country, many from Africa and Asia. Unfortunately, the city is still fairly segregated, with the south ends of the city being more diverse in both racial and economic terms. In the last census, it was estimated that 10% of Seattle identifies as LGBT, with some neighborhoods self-identifying as up to 43% LGBT (Capitol Hill). There is a fairly large transgendered population as well.
Part of an ongoing series of Queer Girl City Guides.