This month in GQ, Kreayshawn came out as bisexual. Or something like that. The Oakland whitegirl rapper who, as a teenager, drew her name from the need to create (creation = kre-ay-shawn), first caught our attention over the summer when the video for her first single "Gucci Gucci" threw our gaydars into overdrive with her single feather earring-wearing, thick-framed glasses-sporting, denim-vest dawning swag, which, apparently was "pumping out her ovaries."
Kreayshawn surrounds herself with a diverse crew, among them her childhood neighbor, her Filipina personal assistant and Lady Tragik, her lesbian wingman who graced GQ with such pearls of wisdom as "I'm gay and I love Jesus Christ!" and "Poop thug life!" Kreayshawn, more or less, is to be handled with the same amount of seriousness as the emotion of angst: easy to indulge in if you're an adolescent, and after that, only appropriate to revisit only with a touch of irony. But in a lot of ways, you can't be mad. Kreayshawn is like a lot of 22-year-olds I know. She has fun, she has no filter, she smokes blunts and she does a fair amount of shit-talking.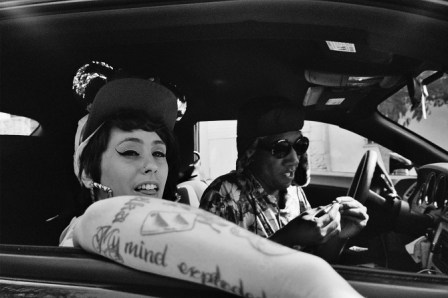 Snoop Dogg loves her, Azealia Banks hates her. The former has appeared on The L Word, the latter Banks recently came out as bisexual. Neither of these adds or detracts from the legitimacy of her sexuality, but her coming out in GQ is telling. The GQ writer says "Kreay told me she is bisexual, but not that bisexual."  Kreay herself says, "I'm like, a person who likes love. And I can find love in any type of person. I've dated girls, and I've liked girls. But they're usually straight girls, so it never works out. I'm not that gay, so I don't have the energy to convince someone else to be gay, you know?"
The mention of her sexuality in GQ is strictly parenthetical, and maybe that's because her persona is surrounded by so much peripheral weirdness that her sexuality is just sort of an aside. Her coming out may be labeled as bisexual, but the implications of "I can find love in any sort of person" hint at something more.
Kreayshawn's coming out — her Kreaysexuality, if you will — seems to point to a larger trend in the sexual fluidity among female rappers (but you should read Brittani's article on "bisexuality in hip-hop" for a more thorough breakdown of how exactly this seems to play out in that context.) I promised myself never to compare any of these women, and even at this point, it's still hard to say: Nicki Minaj announced her bisexuality and then renounced it. Azealia Banks came out as bisexual in the New York Times, but wrote it off as irrelevant to her musical persona. Kreayshawn came out as something other than hetereosexual — in a men's magazine no less. But female rappers have been asserting their sexuality since…well, since female rap has existed. For women in hip-hop it is absolutely imperative to assert control over sexuality before someone else co-opts it for you.
From "My Neck, My Back," to Lil' Kim bragging about making a Sprite can disappear in her mouth, women in rap have been responsible for owning and defining their sexuality, which is now more queer than it used to be. It's not your mom's sexuality, it's not yesterday's feminist's sexuality, it's our sexuality, and it refuses to be defined.
How seriously are we going to take Kreayshawn's sexuality? Probably as seriously as we take Kreayshawn. It probably won't play into any sort of esoteric discourse about the intricacies of female sexuality. It probably won't make it into any great academic papers of our time. This of course has nothing to do with a hierarchy of various sexual orientations — whether she identified as label-free, bisexual, queer, lesbian, pansexual or anything other than straight; she would still be Kreayshawn. But it is a segue into a discussion about female sexuality, and it is a conversation that we're always having. Are we invalidating sexuality that's unsure of itself or that refuses to define itself or addresses itself casually? It's something we need to think about.
When we analyze the stated sexual orientation of public figures in their teens and early 20s, we're not always entirely fair — she's 22, after all, and not having it figured out yet is pretty normal at that age. She doesn't represent anyone besides herself, ultimately.
Kreayshawn came out as bisexual or something, and we'll probably forget about it by the time 4/20 rolls around. And maybe what we have with Kreayshawn's coming out is just another fish in our lesbian sea. Her video for "Online Fantasy" features Kreay surfing an online dating site, which somehow results in a woman clad in lingerie emerging from the screen and immediately making out with her. This is a better outcome than any OKCupid date than I can ever imagine. And while I'm tempted to light a candle and blast "Online Fantasy" in a sapphic tribute to  who is apparently the newest member of our family, I probably wouldn't be able to hear it over the sound of a thousand lesbians sending tweets her way.