DID YOU KNOW: It's women's history month! And today is International Women's Day! There's even a google doodle to prove it:
Last year Carmen told you all about the history and importance of this very special day. Today I'd like to celebrate five woman who I think best embody the spirit of the celebration that is International Women's Day. So read on, and then maybe go to one of the many events around the globe marking this glorious day.
+
Russian Journalist: Anna Politkovskaya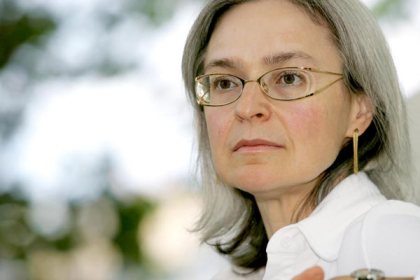 Murdered in 2006 at the age of 48, Anna Politkovskaya remains one of the few journalists brave enough to comment on the Kremlin which is startling considering the recent re-election of Putin to President. Political and investigative journalism in Russia can be basically nonexistent.
From The Economist:
[Politkovskaya] neither sentimentalised the Chechen rebels nor demonised the Russian conscripts—ill-armed, ill-fed and ill-led—who have crushed the Chechens' half-baked independence. She talked to soldiers' mothers trying to find their sons' corpses in military morgues where mangled bodies lay unnamed and unclaimed—the result of the Russian army's unique mixture of callousness and incompetence. And she talked to Chechens whose friends and relatives had disappeared into the notorious "filtration campswp_poststo suffer torture, mutilation, rape and death.
Few journalists, from any country, did that. The second Chechen war, which started in 1999 and still fizzles on now, made that mountainous sliver of territory in the northern Caucasus the most dangerous place on the planet for a journalist. Most Moscow-based reporters went seldom, if at all, and then only in daylight and well-guarded. Ms Politkovskaya was unfazed, making around 50 trips there, often for days at a time.
Read a collection of her final work in Is Journalism Worth Dying For? Final Dispatches.
+
Pakistani Politician: Benazir Bhutto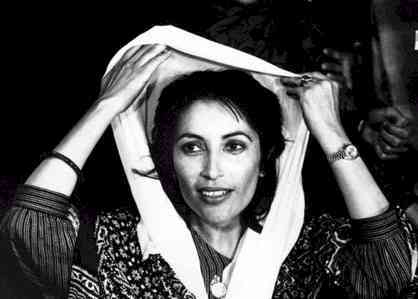 The first woman to head a political party in Pakistan, Benazir Bhutto, referred to as "The Daughter of the East," is a democratic socialist who served two non-consecutive terms as Prime Minister of Pakistan. She's renowned for her human rights work and her shrewd economic and national security policies.
She too was assassinated in 2007 while waving to a crowd of supporters. Reflecting on working towards peace she wrote:
Of trying to make peace, I know a little. To make peace, one must be an uncompromising leader. To make peace, one must also embody compromise.
Throughout the ages, leadership and courage have often been synonymous. Ultimately, leadership requires action: daring to take steps that are necessary but unpopular, challenging the status quo in order to reach a brighter future.
And to push for peace is ultimately a personal sacrifice, for leadership is not easy. It is born of a passion, and it is a commitment. Leadership is a commitment to an idea, to a dream, and to a vision of what can be. And my dream is for my land and my people to cease fighting and allow our children to reach their full potential regardless of sex, status, or belief.
Her life and death are documented in the film Bhutto.
+
Kenyan Environmental and Political Activist: Wangari Maathai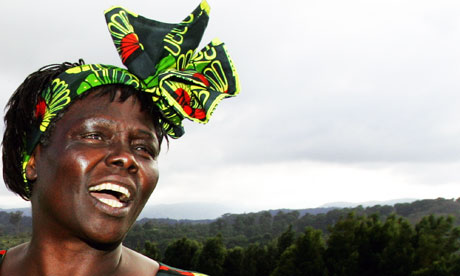 I first learned about Wangari Maathai when working at Lantern Books. We published Maathai's book, The Green Belt Movement, about the grassroots-level environmental work she did paying woman to plant trees to reforest the country. This remarkable woman is the first to earn a PhD in East Africa and in 2002, she served in Parliament as the Assistant Secretary for Environnment, Wildlife, and Natural Resources.   In 2004, she became the first African woman to win the Nobel Peace Prize for her environmental and social justice work. Sadly she passed away last year after a battle with cancer at the age of 71.
When receiving her Nobel Peace Prize, Maathai stated:
It is evident that many wars are fought over resources which are now becoming increasingly scarce. If we conserved our resources better, fighting over them would not then occur… so, protecting the global environment is directly related to securing peace…those of us who understand the complex concept of the environment have the burden to act. We must not tire, we must not give up, we must persist.
Read more about her work in her memoir, Unbowed.
+
American Organizer, Author and Political Activist: Charlotte Bunch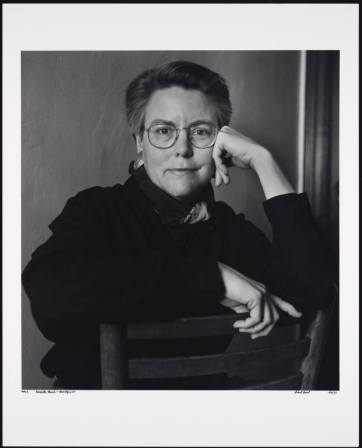 I learned about Bunch when attending a screening of the new movie about her life work, Passionate Politics ,at the International Gay and Lesbian Human Rights Commission last month. An outspoken lesbian and feminist, Bunch has been actively engaged in LGBTQ and human rights activism for decades. She was part of the lesbian separatist group The Furies and also dated Rita Mae Brown.  Her accomplishments as an organizer are many: she founded The Center for Women's Global Leadership at Rutgers and lobbied to push the United Nations towards recognizing women's rights and human rights, a four year effort which eventually led to the creation of the United Nations Gender Entity (recently renamed "UN Women").
+
Liberian Peace Activist: Leymah Gbowee
Leymah Gbowee, one of three women jointly awarded the Nobel Peace Prize in 2011, lead the women's peace movement that eventually ended the Second Liberian Civil War (as depicted in the award-winning documentary "
Pray the Devil Back to Hell.
"
) She founded the Women of Liberia Mass Action For Peace, a group which staged controversial protests like a "sex strike" and also gathered thousands of women  in Monrovia where they spent months praying for peace. She led a delegation of these women — always wearing white t-shirts to make themselves recognizable as a united group — to Ghana, where they demonstrated outside the fancy hotels occupied by the negotiators and eventually made their way inside to the meeting rooms, where they remained for several days with bold signs pleading for peace and arms interlocked. 
Gbowee said of the effort:
It is about an army of women in white standing up when no one else would – unafraid because the worst things imaginable had already happened to us. It is about how we found the moral clarity, persistence, and bravery to raise our voices against war and restore sanity to our land.
"Pray the Devil Back to Hell" is part of the PBS series "Women, War & Peace," which is all available online.

What women inspire you on International Women's Day?