You may have caught my interview last month with Astraea's executive director J. Bob Alotta. Those of you who commented were both excited and surprised to learn that, as Alotta wrote, "basically every heavy hitter in lesbian writing of the last 20 years" has been a part of their Lesbian Writer's Fund.
Stick to your plan to get more involved in your community this year and join fellow queers this Friday, January 11th, for an evening of readings, performances, and music celebrating Astraea's Lesbian Writer's Fund. Proceeds from the event will support the Global LGBT Art's Fund.
Writeous! will feature the words of Urvashi Vaid, Lenelle Moise, Staceyann Chin, and Jacqueline Woodson.  Quite an all star line up, this group includes both the fifth Poet Laureate of Northampton, Massachusetts, Moise; and  the Director of the Engaging Tradition Project at Columbia Law School's Center for Gender and Sexuality Law, Vaid.
In addition to these artists and activists, the evening will offer the music of vocalist and composer Imani Uzuri. DJ Tikka Masala, whom you may know from That's My Jam and deejaying the freaking White House, will DJ the event.

Please note the event has changed location to the Green Space!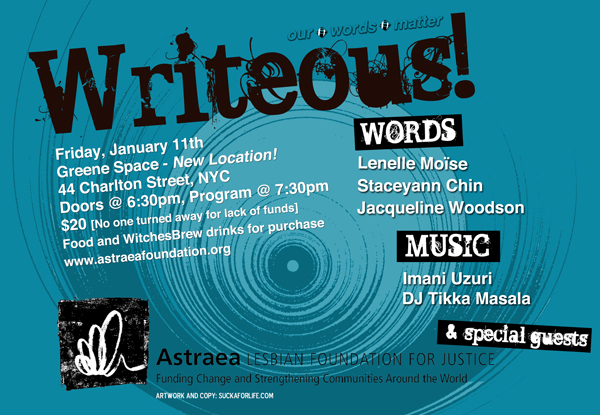 You can purchase your $20 tickets (no one turned away for lack of funds) at the door or online.
Venue is wheelchair accessible through ramp in rear courtyard. If you need any further information about accessibility, please email development@astraeafoundation.org