Astraea is a lesbian foundation for justice and you should know about it. Lucky for us, Astraea's Executive Director J. Bob Alotta answered some questions for me and the lovely Autostraddle community. I learned about the group when they hosted a screening party for the powerful movie Invisible War (streaming now on Netflix) along with several other non-profits earlier this year.
---
Everything about your organization excites me! A lesbian foundation for justice is a thing I want everyone to know about and be a part of if at all possible. Tell me everything.
Lesbian feminism is both an identity and an ethos, right? Every day we ask ourselves, "what does it mean to be the only public foundation born out of that ethos." As a lesbian foundation, we uphold, and we encompass, so many identities — we're feminist, queer, trans, and we're radical. Plus we are always working for racial, economic, social, and gender justice. We deeply hold all of this close to our hearts.
What does that mean in practice? It means that, as the world's only foundation that is exclusively dedicated to supporting LGBTQI organizations both in the U.S. and internationally, we privilege organizations and social change efforts that are led by lesbians, trans people, and people of color. We uplift organizations and individuals who work at the forefronts of LGBTQI movements around the world. This is how we are true to our core politic, and the notion that we're seeking a just world.
For the entirety of the 35 years that Astraea has been around, we've held this radical line. We act as a bridge to financial, capacity, and leadership resources that are critically needed for these incredible communities around the globe who refuse to compromise their stances. We see philanthropic advocacy — educating on the existence and ramifications of structural gaps for funding radical LGBTQI movements — as critical to our work. And we believe that if we work collectively, we'll have the power to eliminate these gaps. Just imagine what the world would look like if all the crucial LGBTQI work being done out there were well-funded.
So, yes, we're a lesbian foundation, and all of this is why it's absolutely possible for everyone to be involved. Including you!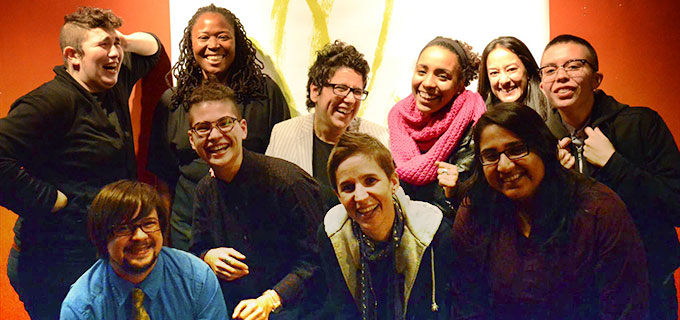 I love to see a small group of people making such large waves. Especially when the words lesbian and feminist are associated with said waves.
We really embody the spectrum of everything we want to envision ourselves to be: we are an international, multiracial, multi-gender, multiethnic staff; we come from the communities we serve; we span across generations and ideologies. It's quite a unique staff. This also makes for really interesting staff meetings, and great parties. But truly, we work across borders. What for others are boundaries, to us are lines of engagement.
We have a really small staff considering the tremendous amount of work we do. Our program team, which is comprised of four people, makes grants to hundreds of organizations across the globe. This year we awarded $1,310,624 in 152 grants to 113 organizations and 16 individuals across in 36 countries around the world.
We have a very conscientious grant-making process. Some prospective applicants submit letters of interest and, based on our criteria and priorities, are invited to submit proposals. We then work with a broad network of advisors & colleagues who provide insight and recommendations about applicant organizations, including country and regional context to the work. We engage artists in our arts funding process. For example, with the Lesbian Writers' Fund, we've had a group of four judges, who are themselves established lesbian writers, select finalists through an anonymous submission process. In this process judges do not see applicants' names or bios. They are asked to consider the quality and content of applicants' work as well as whether the applicants' values as artists connect to gender, racial, and economic justice movements.
In large part, what ignites our ability to support such a diverse spectrum of social justice work around the world is one of Astraea's core values: Philanthropy of Inclusion. We believe that everyone, regardless of income or giving amounts, is a vital part of philanthropy and fueling social change because everyone is able to play a different, important part in it. We have a diverse, informed, and strategic community of donors across the economic spectrum. And we connect the individuals and groups that make up the LGBTQI social justice landscape. Through education and relationship-building, we link activists, donors, and the LGBTQI global community.
Philanthropic work is arguably under-appreciated when it comes to social change. I feel like Astraea's work is an excellent example of why this perspective must change. Community-building and grassroots are appreciated as fundamental by many activists but the necessary philanthropy to make this sort of work sustainable is a crucial piece left out of the dialogue.
You raise a mutli-layered point. It's important to remember that philanthropy takes many forms from an individual giving her time to an issue, to an individual giving her financial resources. Both are equally important, especially if you are building a movement that requires sustainability within an era of competing resources and economic crisis. Philanthropy in of itself is not the exclusive answer towards movement building but it can serve as a catalyst to attract resources to bring new ideas forward.
Certainly Astraea has a critically important place in the social justice movement. I know that there are many groups who we fund that if we didn't they simply wouldn't exist, they would close. There is dire need for the resources we provide. And often Astraea specifically provides those resources first, and takes risks to fund groups others won't.
I think part of problem is that often philanthropy isn't seen as collective action but an elitist one. We aim to shift that. For us, our core funders are connected across the community. Philanthropy is about meaningful engagement. We are a public foundation, meaning we raise all the money we grant. Our funders are committed to our work and everyone who gives to us gives a meaningful sum, whether that's five dollars or five thousand dollars. So I do think we and a few others are unique in that way because as a public foundation, we work in the service of a public vision. And that's different than other kinds of endowments. So actually, we're not only able but charged to take radical collective action. That's what we're doing. When you give to Astraea, you're inextricably linked to those acts.
Along these lines, Astraea's philosophy is to provide grants to organizations who are best able to identify the needs of lesbian and trans individuals. What are some of the projects you've supported?  I'd imagine there are many impressive candidates seeking funding during these tough economic times.
It's true, these are, in general, tough economic times, but for many people working for social change outside of the mainstream, they're even tougher times. While you can crack open a paper practically any day now and read an article about progress in obtaining same-sex marriage rights in the U.S for example, finding stories about the issues many of our grantee partners works on is an entirely different likelihood. Police reform, labor and economic justice, access to healthcare, for example, these are all critical issues for LGBTQI individuals around the world, and these are the issues our grantee partners work on, but they certainly haven't captured mainstream attention. So, yes, there are many impressive candidates seeking funding, and it's frustrating and challenging because you also know there are so few funding opportunities overall for these folks, but you really want them all to be able to succeed. As a community, both locally and globally, we need them to all be able to succeed.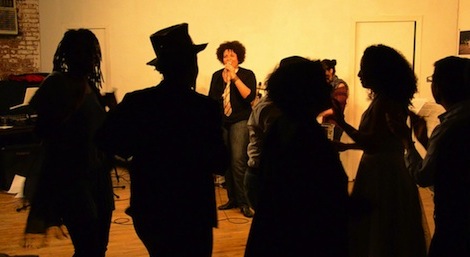 One of the really incredible things we've figured out is that if we organize all of our grantee partners into cohorts regardless of geographic location, we can help connect groups, fostering skill-building and awareness across borders and different regional and political contexts. For example, we have grantees working on economic rights in one cohort, and folks working on transgender justice in another cohort. They can all learn from each other, from their individual and collective successes. For instance, a very real and shared issue for many transgender people, whether in the U.S. or in South Africa, is matching gender presentation with what's on one's identification–birth certificate, driver's license. By organizing our grantees into cohorts, the folks in the U.S. who are working on safety issues around mismatched gender markers can learn from the people in South Africa and so on. It's a really powerful model, and what's profound about it is that it expands the capacity of each individual grantee to have that much more of an impact.
Astraea just celebrated an astounding twenty years of the Astraea Lesbian Writers Fund. Congrats!
Thank you! It's a phenomenal milestone because what was amazing for me was to look back at the roster of the awardees and judges, and it's basically every heavy hitter in lesbian writing of the last 20 years. It's a profoundly amazing list. It's like a typewritten list of our prophets and few things have made me prouder. I basically did a performative reading at our Writeous! event last year, calling those people into the room was astoundingly powerful: Audre Lorde , Dorothy Allison, Gloria Anzaldúa, Cheryl Clarke, Eileen Myles, Jewelle Gomez, Chrystos, Sharon Bridgforth. The list goes on… To be able to say, this is who we are, this is who has sustained us, these are the words we turn to while we fight the fight and do the work we do everyday.
It's very difficult to raise money for the arts. Astraea is very clear that our artists are activists and social justice cannot be attained without the voice and call of our artists and it's our job to support them. That's why we still have the Lesbian Writers Fund and that's why we support other LGBTQI artists through our global arts funding.
I'm hoping you can make it to Writeous on Friday, January 11th at the Brecht Forum? (NOTE: There is a new location for this event: Greene Space, 44 Charlton Street, New York, NY) It's going to be a great night. We will have readings and performances by Lenelle Moise, Staceyann Chin, Jacqueline Woodson, Urvashi Vaid, and music by Imani Uzuri. And we always end with a gorgeous dance party, this year with DJ Tikka Masala, so you probably won't want to miss out on this one.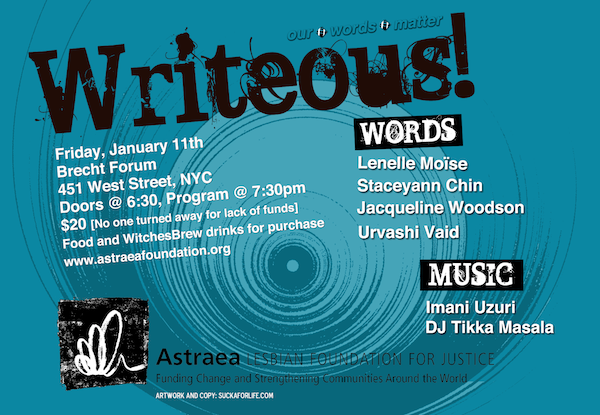 NOTE: There is a new location for this event: Greene Space, 44 Charlton Street, New York, NY
I'll definitely be there and I'm sure some of you will be too! Learn more about Astaea by joining their
Facebook page
and following them on
Twitter.