I just discovered my new favorite music video "Gucci Gucci" by Oakland rapper Kreayshawn. Not only is the song insanely catchy ("GUCCIGUCCI LOUIELOUIEFENDIFENDIPRADA") but Kreayshawn also fits a lot of lesbian stereotypes. Then again, she could just be a hipster trying way too hard. I'm torn. You decide.
The Gucci Gucci music video begins with Kreayshawn (sporting an alternative life style haircut) strolling/swaying confidently down the streets of LA. In the background a bouncy track plays something about bad bitches. She comes across another alternative lifestyle wearing lady and is immediately intrigued by her tattoos and rat-tail. We can tell she is intrigued because she looks rat-tail up and down then dances around her in some type of Californian dyke mating ritual I am not familiar with.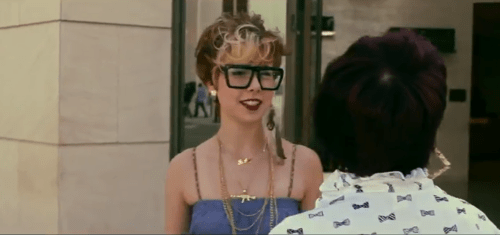 Rat-tail, who bears a striking resemblance to Napoleon Dynamite, smiles because she's into Kreayshawn's swag. Note her feather earring and enormous clear glasses. Totes unique.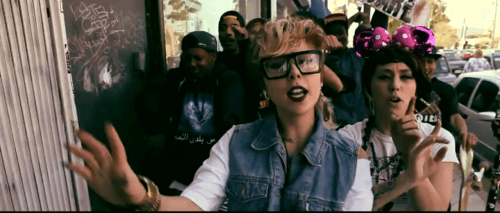 Much like the fabled pied piper, Kreayshawn's ballad enthralls a swirling mass of followers. You see, Kreayshawn has street cred and knows street cred means black men bopping around in your trail at all times. Oh and yes, those are pink mini mouse ears Kreayshawn is wearing.
After smoking blunts with her crew and what not, Kreayshawn reveals what she sells to be so legit. Is it smack? Meth? Blow? Crack? Molly? Moon Rock? Ex? Acid? Shrooms? Speed? Pot, even?
"See me at your college campus baggie full of Adderalls, call me if you need a fix, call me if you need a boost"…. Really? Adderall. Reallllly? Who doesn't sell Adderall? I'm drawing a blank.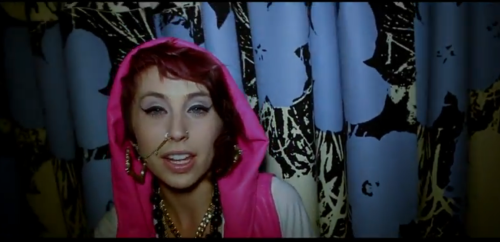 Facial piercing super gay but that thing is gonna get caught in someone's vag.
The video features a quick clip of two girls walking and holding hands while wearing beanies. So that's pretty gay. On the other hand they both have designer purses and this song is about not being into designers. I'm not sure what to make of this bit.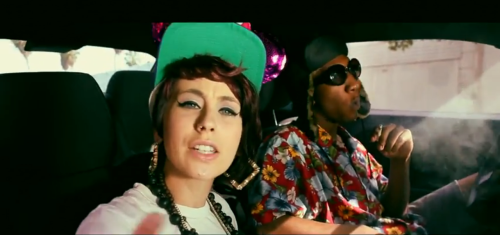 There are several references to cats – our lesbian familiars – in Gucci Gucci. First there are random "meow" noises throughout the song. Second, she raps "My pearl handed kitty cat will even press your noodle back" and my personal favorite "I'm rolling in my catnip and shitting in your litter". Presh.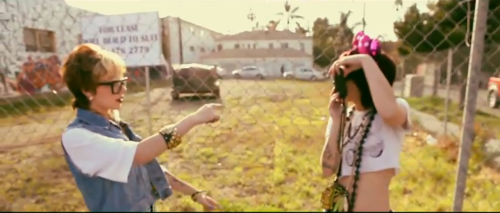 Here she takes faux candid pictures in an urban setting of rat-tail/Napoleon with a non-digital camera. No doubt they will look excellent in her obscurely titled subtly faded facebook album.
So is Kreayshawn gay or just trying really hard to be cool? I don't know. But I do know that GUCCIGUCCIFENDIFENDILOUIELOUIEPRADA will remain in my thoughts for a long time. Even she is straight, Kreayshawn is lovely and brimming with clever, original verses. After all, what other artist would rap, "I got the swag and it's pumping out my ovaries"?