As Skins barrels through the endless bender of its sixth season, The Guardian is reporting that Channel 4 has confirmed that the controversial series will die (probably in a car crash) in 2013.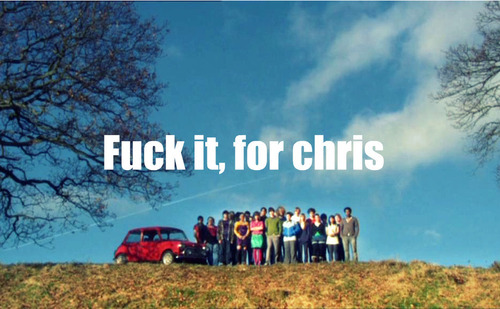 A Channel 4 spokesperson told The Guardian: "Skins is a brilliant show which has defined a generation and will go down as a truly iconic, game-changing piece of television but after seven series it is time for E4 to make way for the next generation of the bold, the new and the innovative." Next year three more episodes will air, and the Channel 4 Rep says, "We think Skins has gone as far as we can take it, but we know fans will be disappointed. So we think three episodes to really celebrate the series is a good send-off."
MSN reports that 2011 was a rough year for the franchise, saying that "the American version proved too controversial, and was axed after only a couple of episodes," which isn't actually true — MTV aired the complete season and then cancelled it, but the controversy if anything only amped up interest in the show. The American Skins' fatal flaw was that it totally sucked. Like it sucked so bad it needed a whole new word for "suck."
In the UK, Skins' ratings have been rolling gallantly downhill all season. MSN, apparently very short on fact-checkers yesterday, said that "last night's finale" (It wasn't the finale, it was only Episode seven of a 10-episode season) "was seen by just 630,000 people, a loss of over 40% of its launch audience." They also report that Season Six debuted to the show's lowest ever overnight average — a huge loss for a show that premiered in 2007 to 1.7 million viewers.
MSN theorizes: "Over five years in, and it seemed as if the writers were running short of the kind of fresh ideas that made the first couple of series so watchable. In this day and age, it's perhaps difficult to appreciate just how groundbreaking Skins was when it first premiered. However, in its prime, it was a groundbreaking show for young people, devised by young people and played by young people."
But is that really it? Now that the ground has been broken, we're no longer moved by Skins' central concept? I don't think so. There are definitely elements of the show's premise less suited for a 2012 audience than a 2007 one, and I'll get to those later, but perhaps MSN is the most accurate when they suggest "the new cast – including the likes of Dakota Blue Richards, Alex Arnold, Sean Teale, Freya Mavor and Jessica Sula – polarised fans. Some were enamoured with them, others weren't."
Obviously the new cast never shone quite so dirty-bright as the previous two but Season Five had its moments — more specifically, it had Franky.
In Season Five, Skins unexpectedly found a way to break new ground with Franky; a delicately beautiful girl with nervous eyes, a wild angry vulnerability and a distinctly androgynous style. Although Franky never used the word herself, many viewers immediately identified her as "genderqueer," which we don't see on television, really, not ever. When asked whether she's into girls or boys or both, Franky responds — with a rare assuredness for her — "I'm into people."
Franky, who was bullied at her old school, is quickly harassed at her new one, too, but by Season Five's end had meshed into a new gang and a new love triangle — or dodechahedron, really — dominated by Matty the Emo Brooder and Franky's new best friend, the bitchy-because-she's-needy Mini.
It was thrilling, that unexpected sexual tension with Mini, and it made perfect sense, it really did, that Mini's initial twatdom towards Franky was rooted in internalized homophobia. Although I'm holding out hope that episode nine, "Mini & Franky," will basically be the two of them on ecstasy in bed making collages in their underpants, thus far last year's sexual tension has vanished into the ether along with Franky's Oxfords.
Season Six debuts with the gang, clearly unfamiliar with photographs, telephones and TripAdvisor.com, vacationing in Morocco at a hotel situation that lacks beds, water, a functional pool, toilets or anything they'd allegedly paid for. When Franky and Matty, now officially together, pulled up in their Jeep, my eyeballs fell out of my face, mostly because I had no idea Dakota Blue Richards had such an impressive rack…
…but also because she didn't look like Franky anymore.
S6's stylist: "[This season] we'll see [Franky] take control of who she is. Gone are the button up shirts, Franky has started to embrace her sexuality and she's not afraid of exposing some flesh and finally being noticed by all."
This is how Franky's style was described last year: "Her sartorial experiments defy all gender expectations and she'll plunder from all ages of fashion if it feels right, from old-man trousers via romantic tail coats to Teddy Boy's brothel creepers."
"I liked [Franky] better when she might or might not be lesbian."
– Mini, Episode 601
Yeah, me too. How did we go from this…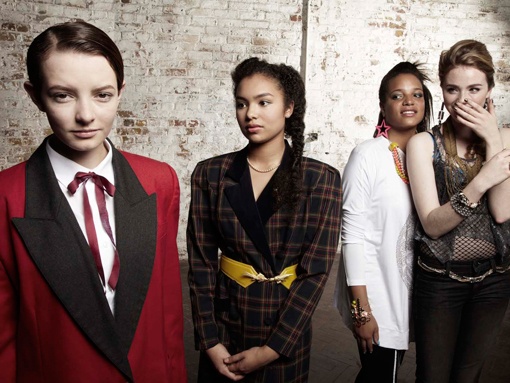 To this?
There's nothing implausible about Franky's turnaround, but it's super-disappointing, and Skins' insistence that her new style reflects new confidence is both confusing and problematic. If S5's Franky was confident about anything, it was probably her outfits. She wasn't throwing shit on to cover herself up, she was a Dapper Fucking Q, that woman. She clearly had a passion for a certain kind of fashion.
See, part of what made Franky so fun and revolutionary and compelling was that she disregarded the "femme = sexy" hierarchy and when peers suggested her style reflected insecurity/discomfort, Franky insisted otherwise — no, it was just her. When she felt peer-pressured into wearing makeup and a girly tank top to school in Season Five, she quickly broke down over it: "I tried today and now I feel kind of less like me, and I'm not exactly over the moon about being me in the first place, but now I think I kinda like it less when I'm trying NOT to be me. Because I just wanna like, be."
We admired her deviance and weirdoness, which seems to be subsumed this season by a self-destructive streak that begins pre-Death-of-Grace, although its root is never truly fleshed out. Real talk: They're trying to make Franky into Effy. Right? I mean, they've just sort of stuffed a bunch of Effy into Franky's body and are running with it. Couldn't they have picked someone else?
Also, as of Episode Seven, Franky's already slept with three guys and has yet to fingerfuck Mini in a dirty city alley. So Franky joins the ranks of "female characters who are theoretically attracted to all genders but only actually date men in practice" which's shitty for her queer-lady following and by that I mean ME.
Franky's episode was probs the season's best, although it was totally fucked and if I'd seen it as a teenager and if high-speed internet had existed when I was a teenager, I would've watched it ten times and had lots of confusing and ultimately self-destructive sexual feelings about it. But a part of me knows that's not a good thing, and presenting all that physical violence between Franky and Luke without context — like when he aggressively fucked her while twisting and smashing her head into the bed with his hand completely covering her face — seemed sloppy and felt like shock for the sake of shock rather than a genuine desire to tell that particular story. Like the story about the girl named Franky from last season's finale. .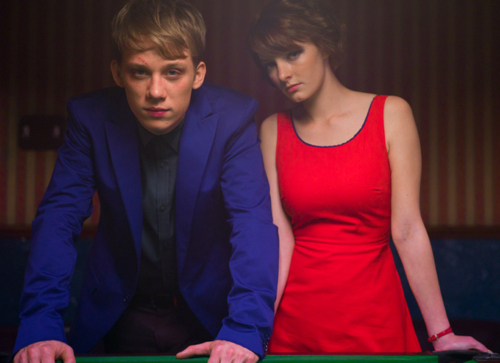 But it's not just Franky who's fallen out of favor this year, it's everybody! Last season, Nick made me wanna take a nap and this year he makes me wanna smash a truck into a mountain of cocaine and slip into a seven-year coma. He's suddenly in love with Franky now? Really Papi, Really? Fuck me in the ear.
I never fancied Alo or Rich but I appreciated the newness and distinctiveness of their characters, but this season I'd really like Alo to ride his tractor off a cliff. Their quirks have been muted in favor of repetitive storylines (Alo + Mini = Sid + Michelle = ~JJ + Emily) and pointless subplots like Grace LITERALLY DYING IN THE SECOND EPISODE and Alo hooking up with a 14-year-old named Poppy and getting arrested for it. That being said, Poppy is fucking awesome, get that girl a spin-off.
But like everyone this season, selfishness abounds in fists for these boys, beyond anything the first two generations suggested. These rascals are slightly more unkind, less ambitious, more arbitrarily rebellious.
AND, despite Mini pinging so hard last season that she nearly fell into Franky's vagina, this season that's all over. In fact, she's pregnant (like Jal!)!
Let's be real here — fucking up isn't new. Skins has made some epically stupid storylines over the years (for example: Sketch) and it's probably just more apparent this season because the protagonists themselves haven't captured us on their own merits.
There are some tropes replayed this season, like Skins' most consistently irritating plot device of entangling its young comrades with unseemly gang members and drug dealers, situations which always lead to tense piles-of-cash-related confrontations in dark side-rooms followed by a fight, a car/foot chase or a round of sadistic sexual torture.
The "parents are gone, let's throw a party and invite all the extras!" game is another repeat, but this season seemed especially fucked 'cause who the fuck throws an epic gigantic rowdy property-destroying party in their girlfriend's house while she's in the hospital following a car crash that was actually indirectly caused by the same friends throwing the party? I'll tell you who — ASSHOLES.
It's had its moments, sure — Franky's heart-to-heart with her Dad made my heart swell and my eyes water, for example — and don't get me wrong, I still prefer it over just about any other show on television. But I'm Skins' permanent niche, this show is so far up my alley that it nearly ran over the neighbor's cat (his name is Pablo and he is ALWAYS in the way). But I guess it's just me and the other diehards left, which's why it's getting cancelled.
So then there's the question — entirely separate of this cast, has the series itself simply played itself out? After last year's youth-led riots throughout Britain, it's possible that drunk nihilistic authority-questioning kids have lost their charm, or that their teenage self-obsession seems particularly idiotic with so many real things to be upset about.
As I've said before, Skins succeeds because it always goes for the jugular, steering its narrative into the deepest cesspools of teenage desire and fear, the murky hideaways where adolescence is at its most wretched and hard-fought. Skins characters have never been the clear-skinned perfectly-haired impeccably-dressed stick-thin plastics of 90210 or even Pretty Little Liars: they're not people we look up to, they're people we unfortunately sometimes are — fucked, reckless, alienated, confused. And even at its worst, Skins refuses to let you disbelieve it, and even at its most ridiculous it still feels honest and maybe that's because it's never sentimental, not ever.
But Skins maybe could've benefited this season from acknowledging the world around it, which's as rife with terror as it's ever been, especially for teenagers. You can write off the intense heedlessness of the first two generations as one part personality and one part familial fate, but by the third generation we're a little more curious why, exactly, these bright young things crave oblivion besides that they're characters on a show called Skins and that's what Skins is about. I mean, shit sucks — parents are in debt, income inequality's at its savage peak, higher education is now a gamble rather than a ticket — a person can fuck up their entire life these days without leaving the couch, which makes those who tempt that fate so desperately even more compelling — I mean, they must be the products of some fucking incredible backstory. But where is it?
I don't think this show needed to end, I don't think it's run its course, and I still like watching it 'cause it always surprises me. But there are so many new stories to tell these days and one of those stories is about queerness and about sexuality and about gender and Skins started telling that story with Franky and Mini and then stopped. I'm so biased I probably should eject myself from my own conversation, but the thing is that I trusted Skins to tell that story in a way I don't trust many franchises to tell a story. You should've been braver, Skins. You should've been brave and wanted me back.