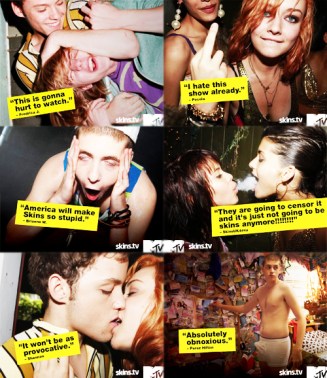 ETA 1-22-11: H&R Block, GM, Taco Bell and Wrigleys have now also pulled advertising from skins. MTV said they're confident that advertisers will work with Skins and that not every company is right for every show. Then they released a trailer that contains a lesbian kiss.
Sofia Black D'Elia, who plays Tea The Lesbian, has said:  "It's what teens are doing. It's the way teenagers believe, I think, especially you know in certain situations when you come from home lives where your parents don't really support you or really listen to you. That's what most of these kids are going through. And so, um, the drugs and the sex, they're vices, and that's what teenagers have."
At HuffPo, Tina Wells points out that parents should teach their children, they shouldn't let MTV teach their children for crying out loud. It's good, you should read it. The Los Angeles Times reminds parents that monitoring the TV is their own job.
++
When the credits rolled after the first episode of Skins MTV (which debuted to fairly impressive ratings, drawing the most 12-34 viewers than any other MTV series launch), the very first reaction that came into my head, and, consequently, the thing I immediately said out loud: Man I can't wait for allllll the parents to flip their shit over this.
Lo and behold, they have.
Acording to Deadline Hollywood, the Parents Television Council is "calling on the U.S. Senate and House Judiciary Committee and the Department of Justice to open an investigation for possible child pornography and exploitation" on MTV's Skins (a remake of the British show), which many of you disliked for other, and often entirely opposite, reasons.
To some degree, the pressure has worked — Taco Bell has pulled its ads from Skins and the PTC is now encouraging its members to target GM next. The Hollywood Reporter also reports that The New York Times reported that "a number of executives met on Tuesday over concerns the show could violate pornography laws" although MTV would not confirm this.
The PTC is concerned with sexual content on the show involving cast members "as young as 15" and "42 depictions and references to drugs and alcohol in the premiere episode alone."
In the past week, the Parents Television Council has been the target of derision from snide television "critics" and representatives of the entertainment industry – all because we dared to suggest that MTV's new show Skins was not suited for viewing by children. But any objective viewer – that is to say, one whose livelihood does not depend on manufacturing corrosive programming, delivering children's eyeballs, hearts, and minds to advertisers, or fawning over the entertainment industry in print – would be forced to conclude that the PTC is exactly right in its estimate of the show. For its exhaustive, soul-crushing portrayal of high-school children obsessed with drugs and sex, MTV's Skins (10:00 p.m. ET) is the Worst Cable TV Show of the Week.
The Parents Television Council Highly Subjective "Worst Cable TV Show of the Week" column (done in a jarring "recap" style with sentences like, "Snooki" notes, "I look like a hooker." Whatever "Snooki's" other flaws – and they are ample – at least she is capable of honest self-evaluation), zings Skins like so:
– Like Dawson's Creek, Gossip Girl, and dozens of other shows before it, Skins is a ludicrous caricature of what teens wish life was like…or more accurately, what pathetic, sex-obsessed middle-aged network programmers going through midlife crises wish their teenage lives had been like.
– Tony's obsession with his friend's virginity borders on the pathological. Is any teen really that concerned about whether or not his friend is a virgin?
– After some more hilariously overblown "hip" dialogue (despite the show's alleged "authenticity," Tony certainly talks like a character in a scripted drama. Well, a really poorly scripted drama)…
When BBC America aired Skins, the Parents Television Council regularly rewarded it with its "Worst Cable TV Show of the Week" Award, saying Skins "makes Gossip Girl look like an ice cream social."
Season 3, Episode JJ: "…in the Skins universe, everyone in high school is having sex with everyone else – all while high on pot or stoned on pills (preferably both at once). Just like real life!"
Season 3, Episode Thomas: "Though initially sweet-natured and obedient to his parents, a few days experiencing the depravity of the psychotic Skins gang turns Thomas into yet another pot-smoking pervert."
Parents Television Council 101
So first — for those of you unaware — a little background on The Parents Television Council, the fine human beings responsible for 99% of FCC complaints.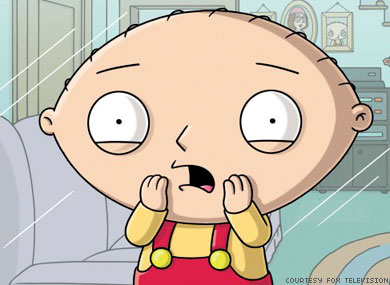 The PTC (Parents Television Council), whose supporters have included Charlton Heston, Billy Ray Cyrus and Joe Lieberman, identifies as "non-partisan" and was founded in 1995 by L Brent Bozell III, a douchebag conservative writer & activist and head of The Media Research Center, which we LOATHE and which seeks to "expose liberal bias" with an annual operating budget of 10 fucking million dollars. 
The Council basically launches campaigns to hold advertisers and networks and cable companies accountable for television content the Council deems as harmful to children.  They hate Dawson's Creek and Will & Grace, they love Sunday Night Football and Seventh Heaven.
Things the Parents Television Council have rallied against include The World Wrestling Federation, Bono saying "fuck" at the Golden Globes (the FCC received only 234 complaints, 217 of which came from the PTC), someone saying "fuck" during an episode of Big Brother, masturbation in That 70's Show, Janet Jackson's nipple, a "teen orgy" scene in Without a Trace, a live broadcast of the unedited line "who the fuck are you" in The Who's Live 8 performance, female nudity in NYPD Blue, Paris Hilton's Carls Jr ad, "Dick in a Box," and The Gossip Girl threesome.
In 2009, The Parents Television Council pushed its members to complain to the FCC and ABC's Dick Clark Productions about Adam Lambert's "oral sex stimulation" scene in the 2009 American Music Awards broadcast.  In October 2010, The PTC called the Britney Spears episode of Glee "an endorsement of narcotics abuse, public masturbation, and school-sanctioned burlesque."
+
Is Skins Bad For You?
Jace Lacob has a good piece in The Daily Beast called Skins Is Not Kiddie Porn in which he breaks down the laws and explains why Skins isn't breaking them and also mentions that in next week's episode, Tea will be masturbating to a poster of Aubrey Hepburn. He also speculates as to why these concerns are being raised now, as opposed to during the development process:
The more cynical among us might wonder whether the story in The New York Times was intended by MTV to generate controversy and bring more viewers to the series in the first place by playing up the more salacious aspects of the show. Which, if true, is extremely troubling, if not vile.
He goes on to say that the real problem with Skins MTV is that there is "a washed-out quality to everything," and that it "seems calculatedly obsessed with the filth factor, pushing that content front and center while failing to realize that the original was so successful because it mined the rich interior lives of the lads and lasses of Bristol for narrative effect."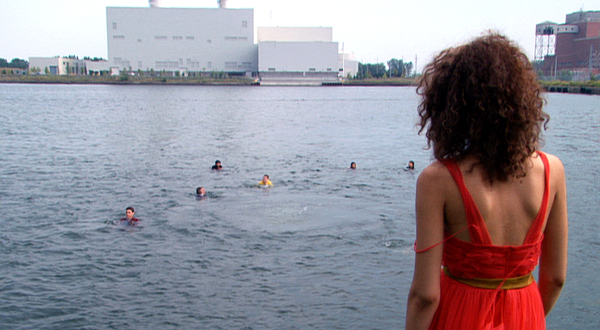 +
Speaking to The Today Show, psychologist Dr. Jennifer Hartstein said the show "does start to show the not-so-pretty side of all this stuff" in future episodes and could be "a launching pad for conversations betwen teens and their parents."
"I think this is what's happening. I think we have to start to think about the fact that a lot of kids, as the clips showed us, they're having sex, they're drinking, they really are getting pregnant. They're doing things that we don't want to talk about."
+
What Do We/You Think?
We discussed some of these issues earlier this year when parents in France started freaking out that their kids were having "Skins-themed parties." TV clearly does influence teen behavior in a myriad of negative ways. But I consistently endeavor to suggest that blatant drug use, sex and cursing is far less damaging to a tender child's psyche than the secret, insidious messages buried below the surface of all television programming everywhere. With sex and drugs on the table, a conversation becomes necessary and the materials are at the ready and ripe for parental discussion. We SEE these things, and then we can talk about them.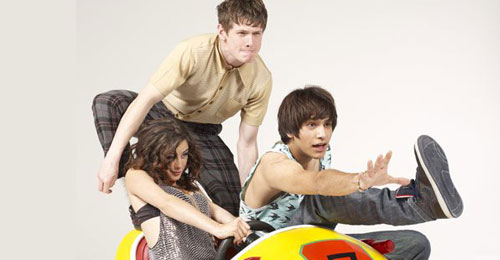 But it's the things we DON'T "see" and therefore rarely discuss or acknowledge that really fuck up kids — like the symbolic anihilation of GLBTQ persons and people of color on TV, or the stereotypical ways in which those minorities are portrayed or the rampant misogyny that cornerstones most successful programs or how TV values commercialism, superficial things and consumption above all else. I'm more worried about how underweight the cast of 90210 is than that "Oscar" has sex with an older woman or that a wasted Naomi describes "sex" as "a random physical act."
For example, the PTC attacks an epsiode of Two and a Half Men for its repeated references to erections and masturbation, aka "strong sexual content." Now I HATE TWO AND A HALF MEN. Reading the PTC recap inspires wrath in me as well, but not 'cause Alan spends most of the episode jerking off — because the plot and language is, per ushe, deeply misogynistic, homophobic, sexist and — just for funsies — ageist! Masturbation is an easy thing to point to and an even easier thing for concerned parents to address though I don't know why they'd care as masturbation is totally natural and fine.
ANYHOW.
Rest assured few parents will sit their kid down and explain how biphobic it is on a show which NEVER SHOWS GAY PEOPLE OR INTELLIGENT WOMEN to have a "bi-sexual" one-off character who left her girlfriend for her male roommate after the three shared a series of threesomes and has a job providing sex shows on her webcam.
Sorry PTC, but when I want to bitch about how television and movies are sending damaging messages, I'm gonna turn to Bitch Magazine, GLAAD, the NAACP, AfterEllen and Jezebel.
Is Skins problem-free? Of course not. Which is why parents (a whole entire Council's worth, even!) shouldn't let their kids watch Skins if they think it's damaging. DUH.
But insofar as it displays at-risk behavior, it certainly shows consequences of this behavior — Skins kids fail out of school, die at alarming rates, get hit by cars and consequently paralyzed, get pregnant, get expelled, go crazy, lose friends, fuck up relationships, pass out, become homeless, go to jail, are unusually depressed, have heightened emotional conversations that might be a little smoother if everyone weren't on coke, and get in trouble constantly.
In Conclusion
So, the PTC is announcing victory today because Taco Bell has pulled out as an advertiser on Skins MTV as of yesterday.
So basically it took Taco Bell four days to decide to pull it's advertisements from a 10pm TV show blatantly advertised as being raunchy.
In other news, it took Taco Bell FIFTEEN YEARS, culminating in a four-year boycott initiated by The Coalition of Immokalee Workers to respond to Union pressure about unethical treatment of its immigrant farm workers in Florida and commit to paying ALMOST LIVEABLE wages and to "ensure that indentured servitude is strictly forbidden."
Just saying.