Feature image of Zoe Kravitz and Taylour Paige via Zoe Kravitz's Instagram
At approximately 11:56PM Eastern Standard Time, I was in the middle of a multi-step face washing routine (remember gays, skin care is self care!), binging some Netflix in my underwear and minding my own damn business, when Autostraddle writer Drew Gregory texted me a direct link to Zoe Kravitz's Instagram with no commentary just seven (yes SEVEN) exclamation marks! Why you might ask? Because this!!!!!!!
According to at least one gorgeous sunlit selfie next to some enviable blue water and equally blue skies, Zoe Kravitz is in a heart-eyed "thing" with actor Taylour Paige (you know her from the upcoming film Zola that everyone — it's me, I'm everyone — can't stop talking about and also recently as Ma Rainey's girlfriend Dussie Mae in Ma Rainey's Black Bottom).
Now being a Black queer woman who has dreamed of Zoe Kravitz having a Black girlfriend since the dawn of time began, of course I did the extremely reasonable, mature thing and immediately ran to my Twitter:
ZOE KRAVITZ IS NOW DATING TAYLOUR PAIGE!!!!!!!!

I am not taking questions at this time!!! On the account of death!!! pic.twitter.com/vL2CwklqYe

— Carmen Phillips (@carmencitaloves) April 18, 2021
Autostraddle Culture Editor Shelli Nicole, however, took the journalistic route, tweeting "I need some gd confirmation!!" And you know what? Fair.
We've been waiting for Zoe Kravitz to smash her face in a gay way with a cutie forever — let alone with someone as talented as Taylour Paige — so this is worth a proper investigation. And now here I am, in the middle of the night, doing the internet deep dive research so you don't have to. Here's what we know:
+ On September 15, 2020 iO Tillett Wright's photography book Self Evident Truths: 10,000 Portraits of Queer America was released, and among these queer portraits include a casual photo of Zoe Kravitz listed simply as "Zoe, actor, 26". The series was shot over a ten-year period, but write ups about the project upon the book's release last fall appear to be the first time Zoe Kravitz is listed as a queer human publicly.
+ Then right at the top of 2021, Zoe Kravitz rang in the New Year by filing for divorce from her ex-husband Karl Glusman (the papers were filed on December 23, 2020 but the news broke publicly around January 3rd). At Autostraddle we are devotees of the venerable gay divorcée and the robes that they wear, and so we respect this energy.
+ An Update — this breaking news comes from Autostraddle commenter Kristin, but it seems that Zoe Kravitz has taken up quite a regular role in the comment threads of Taylour's Instagram posts lately. Including a post from just yesterday where Taylour sits in the grass with her hair down and looking off to the side, pout in full effect, with the caption "I'll take care of you if you want me to" to which Zoe responded, "YES PLEASE AND THANK YOU" (all caps PLEASE AND THANK YOUs are gay. Politeness in direct response to a thirst trap is gay, did I just make this rule up? Yes I did). Last week, Taylour posted a candid of herself laying on her back against a concrete slab while on her phone, to which Zoe responded with the supremely chill: 🔥 🔥 🔥 🔥😍 😍 😍 😍 😍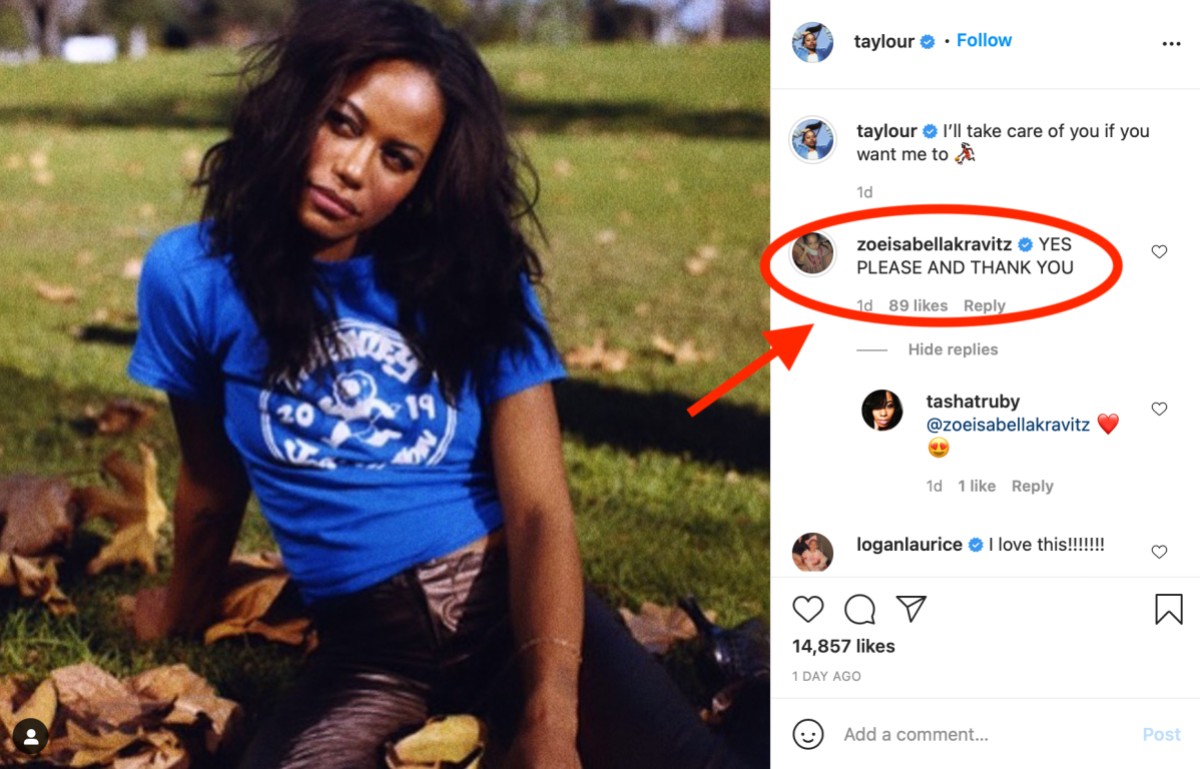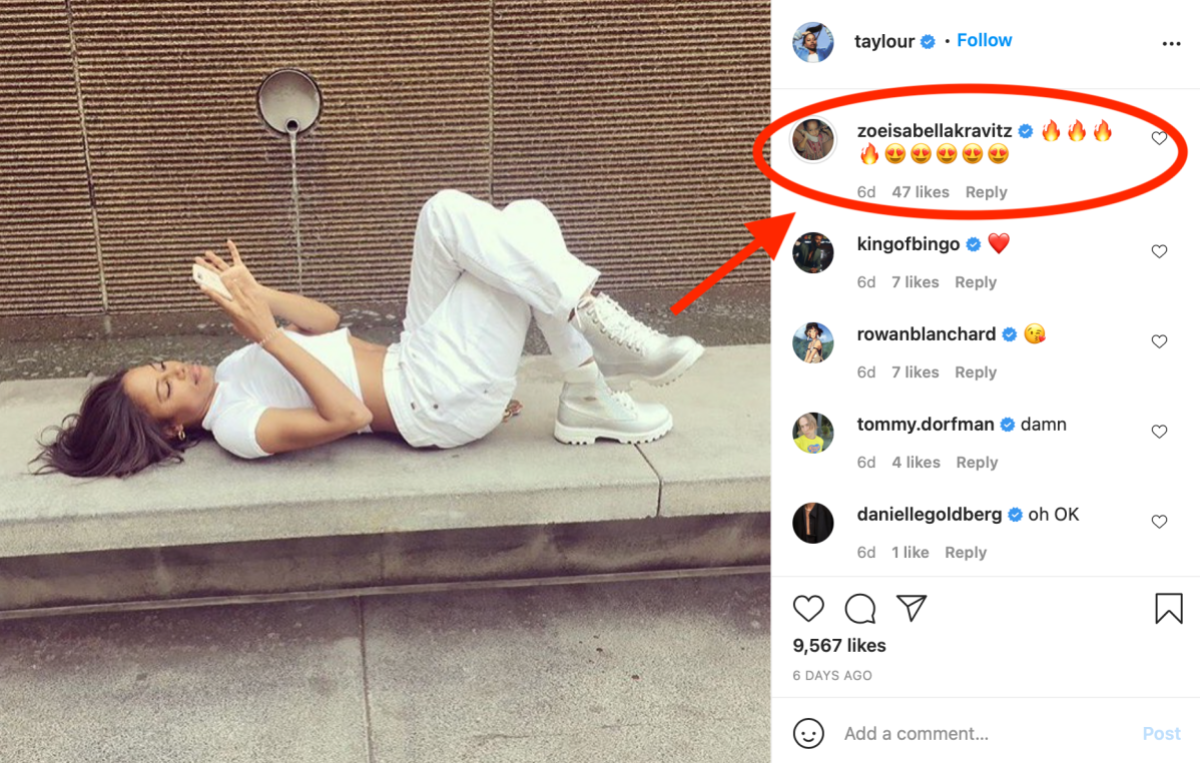 + OK! We know that Zoe is queer + Zoe is single and a dedicated fan of  the fire emoji, so far things are looking up, right? Well, here comes the snag in our delicate quilt of gossip. Taylour Paige has been dating Grey's Anatomy actor Jesse Williams for a few years, and as recently as February 2021 the couple gave a joint interview together in GQ dedicated to the "balancing act" of their celebrity looooove. That's less than two months ago! It's true that you're only in a relationship until you're not (#LoveIsALie) — but, despite neither Taylour or Jesse posting about each other in months, including no mention of the aforementioned GQ article on their social media, I've found no actual public evidence of a break up.
Where does this leave us? Are Zoe Kravitz and Taylour Paige dating — or not? My friends, I have no idea.
The photo and caption last night definitely seem promising, and we know for sure that Zoe Kravitz is the most recent member of the Hot Queer Divorcée Club with a serious IG flirt game. If you're like me, you'll look at the dossier in front of us and say at least 2/3rds of it point to "This Is a Couple" with the sureness of water being wet or me having blueberry pancakes this morning for breakfast. However, there will be those among our flock who choose a different path. Those of us who have been burned by hot fires of celesbian gossip one too many times. Those of us who will not settle for anything less than a bonafide Sure Thing. And for you, I hold up two fingers to the skies as tribute in these Hunger Games and wish you well upon your journey.
Now please excuse me while I fire up High Fidelity for the hundredth time in my Hulu queue.
* This post will continue to be updated with new information as it drops