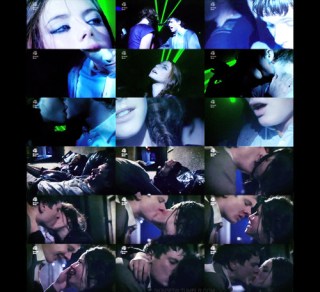 The Independent has reported a new trend sweeping France: Skins-themed parties! It's where underage teenagers gather around to do blowbacks and have philosophical discussions about what happened to Freddie. No, not really. The Rascally Children of France are playing homage to everyone's favorite f*cked up fictional teens via well-organised large-scale parties which "embrace free love." At these parties, "drink and drugs flow freely, the dancefloor is for kissing, and the garden is an overflow boudoir for when things get extra-steamy."
Furthermore,  "The freedom is inspired by the TV show. The foreignness of the series is very fashionable and attractive to French teenagers."
I get skeptical any time the activities of teenagers are reported by adults for the media — especially when a trend alert is declared. How many parties must happen for us to call it a trend? 5? 50? 500? Just your friend's Mom's cousin's kid who's always in and out of jail and that sketchy girl down the block? Nevertheless, it's interesting to imagine one of my favorite TV shows inspiring wild parties across the entire country of France. But is it surprising?
The article goes on to point out that Skins-level debauchery is probably just the way that we live:
But surely drinking, drug-taking and snogging are teenage party staples? So what's unusual about a Skins party? And why do French teens need British TV to show them how to misbehave?
It's no secret that the hard-partying, drug and sex-fuelled lifestyle depicted – and somewhat glamorised – by Skins is attractive to teenagers displaying the usual levels of hormones, curiosity and rebellion. Hence the show's initial success. And it definitely wouldn't be the first time that kids have emulated their fictional TV peers. How many séance-themed parties were you invited to after all your friends watched The Craft? How many girls did you make out with after watching But I'm A Cheerleader? TV has an amazing ability to take unusual behaviour and make it seem usual, and so we feel more free to replicate it in our own lives.
The Independent reporter, Holly Williams, notes that while Skins-themed parties do exist in the UK, they're not as prevalent as they are in France. She quite bravely suggests that "maybe British teenagers take a more sceptical view of on-screen antics… (arguing it's not) a realistic portrayal of youngsters' lifestyles. Or maybe the tables have turned – and it's now the French taking their sexual cues from the Brits." Zing! At times this article made me feel like I'd walked into the middle of a foreign turf war, there were one too many potentially shit-stirring questions about why French kids are blindly allowing the British to teach them how to party.
I can't give you any insight into whether – or why – the French have chosen to emulate British TV's underage partying culture. The only French behaviours I'm familiar with are the ones I learned from the girl in D.E.B.S, and she is probably not a realistic portrayal of a French person. If you read between the lines, you might say that the writer implies these French kids are not aware that Skins' 'on screen antics' do not really happen in Bristol, England. But kids are smart, you know? If the British kids have that level of awareness then my gut says that the French do as well. Likely the difference is that the French just don't care.
Luckily, a photographer who had spent time in the field could answer this question:
"The most incredible thing was people being sexual in front of everybody – you didn't see too much though, because the security guard would ask them to go out into the garden. It's completely free: 'no limits, no limits', they're always saying. The freedom is inspired by the TV show."
Freedom, you say?
The influence of the TV show can also be seen in guests' outfits. Mimicking a scene from the series, dancers don masks, preserving a degree of anonymity that perhaps makes total abandon a little easier.
But while Doury says that most partygoers "like to hide themselves", there's also plenty of flesh on show. Some girls wear just knickers – Doury snapped an appropriately Union Jack-patterned pair – and flimsy dresses are popular. "It was very practical: they know what to wear so they are not completely naked, but so they can touch each other."
If there's one thing that kids absolutely love, it's going through painstaking lengths to plan out precisely how it is that they intend to go free? They're each paying 20 Euros to attend a party that is:
i) is themed
ii) requires a costume
iii) is supervised by security guards
iv) has enforced separate designated areas for kissing and for f*cking.
To me it sounds more like a school prom that's permitted and then regulated drugs & sex.
While I find the concept of Skins parties and structured freedom amusing, articles like this do make me worry about how this show is influencing teenagers. At the risk of sounding like a killjoy, knowing that there's a nation of children running around with a motto of 'no limits' concerns me.
I had no limits when I was a teenager either, and now that I've obliterated my brain cells I'm really starting to see the value in living a healthy lifestyle during your formative years. And it's not like the Skins kids ever made it out of their bad behavior unscathed. Also, the visual of intoxicated French kids groping each other in dark rooms or rolling around naked in rose gardens is not an overly appealing one, I mean they probably don't look nearly as cute as Naomi & Emily.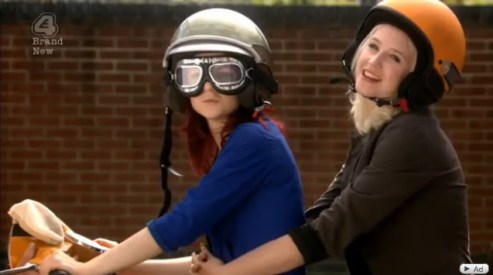 On the other hand, in order to stay true to what happens in the show then I assume that many of these kids would feel like a Skins party would be an environment where same-sex making out would be okay. It would be safe and accepted because Maxie, Tony, Emily, Naomi & the dead girl did it, and they've clearly become the neighbourhood heroes here. Also the idea of lots of little French children running down cobblestone streets shouting "Le Skins party!" in their adorable French accents totally kills me. So chacun son goût!
What do you think? Is there a difference between a Skins party and a normal teenage party? What kind of theme is Skins? Is there a difference between an East Coast Party and a West Coast party 'cause a West Coast party don't stop? Do parents/journalists just not understand?