Goodness me, it finally happened: A couple of ladies smooshed their faces together on Once Upon a Time. No, it wasn't Emma and Regina. Or Mulan and Aurora. But it was something.
---
Wynonna Earp
Fridays on Syfy at 10:00 p.m.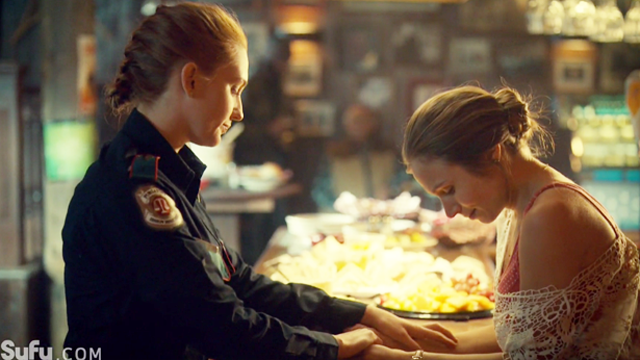 I think one of the reasons queer women are still so into subtext — aside from being conditioned from birth by Xena, of course — is that lady-on-lady love stories on TV are so often paint-by-numbers. It's almost robotic. There's no push or pull, no will-they or won't-they. Here's a girl and here's the girl she's gonna kiss, and just thank your lucky stars if they both stay alive. But man, where's our Pam and Jim?
I can't say for sure if Wynonna Earp's going to be that, but the last two episodes have made it very clear that Officer Haught is hardcore into Wavery Earp, and Waverly's all flummoxed about it. Their chemistry is so good and even the way it's filmed when they just touch hands is all swoons and breathlessness. Will they? Probably! But it's gonna be a slow burn.
Waverly's got a boyfriend, remember; that washed-up cowboy whose actual name is Hardy Champ. This week he almost gets possessed by a couple of the Revenants because that's a thing those guys can do, just some general body-snatching. They get their hands on one of Wynonna and Waverly's father figures and Wynonna ends up having to shoot him in the face to kill the demon inside of him.
Haught comes to the bar to tell Waverly she's sorry for her loss, reaches right across and grasps onto her hands. Waverly is so open and so sad and so relieved Haught is reaching out to her (both literally and figuratively), but then stupid Champ swarms the scene and Haught jerks her hands away. He puts Waverly in a chokehold, basically, smooching all over her face and promising to never leave her side again because of all the bad guys in town (as if she and her sister can't take care of them a billion times better than him). Waverly tries to talk to Haught some more, to thank her, but Haught backs away and drops her head and leaves.
Hey, but Waverly said thanks! She tells Detective Dolls about it, about how Waverley said thanks. You can't build a life on that, but you can build a dream on it. And that's just what Haught is going to do.  Every lesbian falls in love with a straight girl, from time-to-time. Straight girls, though? They don't look at you like that.
---
Once Upon a Time
Sundays on ABC at 8:00 p.m.
Written by KaeLyn
Does anyone other than me still care about Storybrook and saviors? The storyline has twisted and turned and upchucked all over itself even more in the second half of Season Five, but still I'm here, patiently waiting for that gay lady action we were promised. This past Sunday, it happened and I have to be honest, it was not the worst.
I was disappointed and annoyed when Mulan Rouge (Mulan and Ruby) slipped into the woods after some brief eye sex, a mere blip on the main storyline. I'd given up hope, until Ruby appeared in the underworld at the end of last week's episode. (Yes, we're in the underworld now, to save Hook. Barf. It's a long story that you don't need to know much about.)
As much as I backed the Red Warrior ship, I was pleasantly surprised to find that after journeying together through all of the midseason break, Ruby and Mulan's relationship is more lesbro than lovers. Through flashbacks, we learn that while Mulan was helping Ruby find her wolf pack in Oz, they came across Dorothy and Toto. Zelena stole Toto and Ruby and Mulan ended up helping Dorothy get her little dog back. Don't fuck with lesbians and our companion animals, Zelena.
Ruby and Dorothy bonded over their fucked up family issues and that familiar gal pal feeling came over them. For once, though, OUAT's writers didn't leave us with the love that dare not speak its name. They actually took those love feelings to their final conclusion.
In an actually really well-written scene, Ruby confesses her feelings for Dorothy to Mulan:
Ruby: I know we just met, but I have never felt like this about anyone before.
Mulan:: Don't make the same mistake that I did. Don't wait until it's too late to tell someone how you feel…
MULAN! With this great advice, Ruby goes to confess her love, but Dorothy is already gone. Zelena put her under a sleeping curse that can only be broken with—you guessed it—true love's kiss. Not knowing if Dorothy feels the same way, Ruby goes to Dorothy's side and takes the ultimate risk—potentially hitting on a straight girl. And in the heartfelt, over-dramatic final scene, Ruby saves Dorothy with a kiss on the actual lady lips. :balloon drop: :disco lights: :confetti:
It's not much, after so many seasons of skirting the issue and teasing us with Swan Queen and Sleeping Warrior. But in a month with more dead lesbians on TV than living ones, it feels like something good. A lesbian kiss saves the day. Three queer women in one episode, including one new one with a cute dog. Queer women overprocessing their feelings with other queer women. Our first real, actual, viable lesbian relationship. It's something.
I hope Ruby and Dorothy live happily ever after. As co-creators Adam Horowitz and Eddy Kitsis said in a statement about the episode, "…in a fairy tale, as in life, love is love." Now the only question is: what should the Ruby/Dorothy ship name be?
Jane the Virgin
Mondays on The CW at 9:00 p.m.
LUISA, COME BACK.