Pure Poetry Week(s):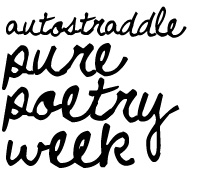 #1 – 2/23/2011 – Intro & Def Poetry Jam, by Riese
#2 – 2/23/2011 – Eileen Myles, by Carmen
#3 – 2/23/2011 – Anis Mojgani, by Crystal
#4 – 2/24/2011 – Andrea Gibson, by Carmen & Katrina/KC Danger
#5 – 2/25/2011 – Leonard Cohen, by Crystal
#6 – 2/25/2011 – Staceyann Chin, by Carmen
#7 – 2/25/2011 – e.e. cummings, by Intern Emily
#8 – 2/27/2011 – Louise Glück, by Lindsay
#9 – 2/28/2011 – Shel Silverstein, by Intern Lily & Guest
#10 – 2/28/2011 – Michelle Tea, by Laneia
#11 – 2/28/2011 – Saul Williams, by Katrina Chicklett Danger
#12 – 3/2/2011 – Maya Angelou, by Laneia
#13 – 3/4/2011 – Jack Spicer, by Riese
#14 – 3/5/2011 – Diane DiPrima, by Sady Doyle
#15 – 3/6/2011 – Pablo Neruda, by Intern Laura
#16 – 3/7/2011 – Vanessa Hidary, by Lindsay
#17 – 3/7/2011 – Adrienne Rich, by Taylor
#18 – 3/8/2011 – Raymond Carver, by Riese
#19 – 3/9/2011 – Rock WILK, by Gabrielle
#20 – 3/9/2011 – Veronica Franco, by Queerie Bradshaw
#21 – 3/10/2011 – Poems I Like, by Tao Lin
#22 – 3/12/2011 – William Carlos Williams & Robert Creeley, by Becky
#23 – 3/13/2011 – NSFW Sunday is Pure Poetry Edition, by Riese
#24 – 3/14/2011 – Charles Bukowski, by Intern Emily
#25 – 3/16/2011 – Rainer Maria Rilke, by Riese
#26 – 3/17/2011 – Lee Harwood by Mari
#27 – 3/18/2011 – Jeffrey McDaniel by Julieanne
#28 – 3/20/2011 – Dorothy Porter by Julia
#29 – 3/21/2011 – Sylvia Plath, by Riese
#30 – 3/24/2011 – Poems About Being a Homogay, by Riese
#31 – 3/28/2011 – Mary Oliver by Morgan
#32 – 3/29/2011 – Gertrude Stein + Mina Loy by Intern Emily

According to Mary E. Galvin, who wrote a book about Modernist queer writers which I used for my essay about Gertrude Stein and Mina Loy, who was not queer, Gertrude Stein is the most famous lesbian ever aside from Sappho (she wrote this before Ellen & Portia took over the world).
But Gertrude, who I affectionately refer to in my head as "Gerty Steinberg" (why??), was more than just a lesbian, obviously. She was a lesbian writer. She wrote lesbian fiction and lesbian plays and also lesbian poetry which is relevant to us because it's pure poetry week and we're gay, or something. Wikipedia says that Gerty was a Republican and in 1934 thought Hitler should be awarded the Nobel Peace Prize, but, like, I dunno, it's Wikipedia and I haven't read that anywhere else.
To be honest, the essay I wrote was not about Gerty's life, so I don't really know much about it. I hear she was a lesbian, and can't really talk about anything else. But I do want to talk about her poetry.
Gerty only published one book of poetry in her lifetime, called Tender Buttons. It's a fascinatingly weird thing, divided into three parts called Objects, Food, and Rooms. Gerty experimented with "verbal" cubism and prose poetry, and the result is a bunch of poems that look like absolute nonsense words relating to objects, food, and rooms, repeating themselves leaving you very confused.
For example, A Box:
Out of kindness comes redness and out of rudeness comes rapid same question, out of an eye comes research, out of selection comes painful cattle. So then the order is that a white way of being round is something suggesting a pin and is it disappointing, it is not, it is so rudimentary to be analysed and see a fine substance strangely, it is so earnest to have a green point not to red but to point again.
But a lot of Tender Buttons is about domestic space, and when you consider Gerty's domestic space, it's with another woman, so she's writing from a female perspective about a home with no husband. Pretty cool for her time, huh?
Gertrude Stein also wrote a lot of things laced with sexual imagery, specifically lesbian sexual imagery. Take this line from Objects:
Aider, why aider why whow, whow stop touch, aider whow, aider stop the muncher, muncher munchers.
(When I was doing research about this, someone suggested that 'Ada' was Alice's nickname (Gerty's partner), and 'Aider' is a play on 'Ada', as in, aid her, like, help her orgasm.)
I wish that I could find an online version of A Book Concluding With As A Wife Has A Cow: A Love Story because also according to someone whom I read while doing research, 'cow' really means 'orgasm'. Fun times.
Anyways, the point is that you should read Tender Buttons. Also, "tender buttons"? FEMALE EROGENOUS ZONES.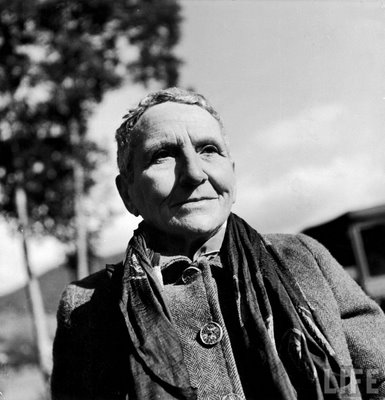 Now, moving on to Mina Loy. You might be wondering a) who is Mina Loy and b) why did I decide to stick her in a post with Gerty. Well, Mina Loy was also a Modernist poet (like Gertrude, though she was born later and lived longer), and she and Gerty were friends. Cool right?
In her time, Mina Loy was well known in North America and Europe, and now she is known nowhere. But you guys, Mina Loy was an awesome feminist single mother criticizer of the Patriarchy! She was popular with a lot of people, including one Ezra Pound who thought her work was so intelligent he invented the term 'logopoeia' to describe it.
Mina Loy claimed that she was "not a poet" despite writing over 300 poems. Unfortunately, most of them are not online. She also wrote a poem about Gertrude Stein, added in after her essay about Gerty:
Curie
of the laboratory
of vocabulary
she crushed
the tonnage
of consciousness
congealed to phrases
to extract
a radium of the word
She also wrote a poem about giving birth, which was a big Thing back in 1923. From Parturition:
Rises from the subconscious
Impression of a cat
With blind kittens
Among her legs
Same undulating life-stir
I am that cat
Rises from the subconscious
Impression of small animal carcass
Covered with blue bottles
— Epicurean —
And through the insects
Waves that same undulation of living
Death
Life
I am knowing
All about
Unfolding
The next morning
Each woman-of-the-people
Tiptoeing the red pile of the carpet
Doing hushed service
Each woman-of-the-people
Wearing a halo
A ludicrous little halo
Of which she is sublimely unaware
I once heard in a church
— Man and woman God made them —
Thank God.
Read all of Lunar Baedecker here, and if you have the chance, read some books with Mina Loy's poetry in them! It's kind of tricky since most of her stuff has been out of print since forever. The Lost Lunar Baedecker is a good place to start since it's a compilation of a lot of her work.
Mina Loy was a feisty woman and I feel very affectionate towards her. I feel like if she were alive today she would be a super woman who kicks Maggie Gallagher in the face. Also, poetry!