Pure Poetry Week(s):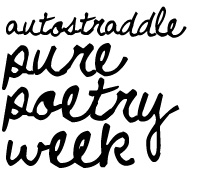 #1 – 2/23/2011 – Intro & Def Poetry Jam, by Riese
#2 – 2/23/2011 – Eileen Myles, by Carmen
#3 – 2/23/2011 – Anis Mojgani, by Crystal
#4 – 2/24/2011 – Andrea Gibson, by Carmen & Katrina/KC Danger
#5 – 2/25/2011 – Leonard Cohen, by Crystal
#6 – 2/25/2011 – Staceyann Chin, by Carmen
#7 – 2/25/2011 – e.e. cummings, by Intern Emily
#8 – 2/27/2011 – Louise Glück, by Lindsay
#9 – 2/28/2011 – Shel Silverstein, by Intern Lily & Guest
#10 – 2/28/2011 – Michelle Tea, by Laneia
#11 – 2/28/2011 – Saul Williams, by Katrina Chicklett Danger
#12 – 3/2/2011 – Maya Angelou, by Laneia
#13 – 3/4/2011 – Jack Spicer, by Riese
#14 – 3/5/2011 – Diane DiPrima, by Sady Doyle
#15 – 3/6/2011 – Pablo Neruda, by Intern Laura
#16 – 3/7/2011 – Vanessa Hidary, by Lindsay
#17 – 3/7/2011 – Adrienne Rich, by Taylor
#18 – 3/8/2011 – Raymond Carver, by Riese
#19 – 3/9/2011 – Rock WILK, by Gabrielle
#20 – 3/9/2011 – Veronica Franco, by Queerie Bradshaw
#21 – 3/10/2011 – Poems I Like, by Tao Lin
#22 – 3/12/2011 – William Carlos Williams & Robert Creeley, by Becky
#23 – 3/13/2011 – NSFW Sunday is Pure Poetry Edition, by Riese
#24 – 3/14/2011 – Charles Bukowski, by Intern Emily
#25 – 3/16/2011 – Rainer Maria Rilke, by Riese
#26 – 3/17/2011 – Lee Harwood by Mari
#27 – 3/18/2011 – Jeffrey McDaniel by Julieanne
#28 – 3/20/2011 – Dorothy Porter by Julia
#29 – 3/21/2011 – Sylvia Plath, by Riese
#30 – 3/24/2011 – Poems About Being a Homogay, by Riese
#31 – 3/28/2011 – Mary Oliver by Morgan


Mary Oliver writes poetry about nature. She's published an insane amount of poetry and prose and won a Pulitzer Prize. She takes long walks and lives in Provincetown, MA, which is on the same island where I grew up. She grew up in Ohio and skipped school to read Whitman and Thoreau in the woods.
Sometimes teaching yourself works out for the better.
Mary Oliver on poetry:
"…I learned from Whitman that the poem is a temple–or a green field—a place to enter, and in which to feel. Only in a secondary way is it an intellectual thing—an artifact, a moment of seemly and robust wordiness—wonderful as that part of it is. I learned that the poem was made not just to exist, but to speak—to be company. It was everything that was needed, when everything was needed."
She's a master of creating that "place to enter". Mary Oliver turns words into breathing shining nature, in the physical and philosophical sense.
Nature makes sense. We're nature! What we do, what we feel and who we love all comes down to following or rejecting nature, and nature is what drives nature to exist. Circles! Mary Oliver sees the points where nature (the will/feelings kind) parallels nature (the sticks/twigs kind), and puts those understandings into words. She stacks layers of subtlety in scenes of the natural world to create dreamy realities full of connections and epiphanies.
This poem is long, but I feel like it fits:
The Dogfish
Some kind of relaxed and beautiful thing
kept flickering in with the tide
and looking around.
Black as a fisherman's boot,
with a white belly.
If you asked for a picture I would have to draw a smile
under the perfectly round eyes and above the chin,
which was rough
as a thousand sharpened nails.
And you know
what a smile means,
don't you?
—
I wanted the past to go away, I wanted
to leave it, like another country; I wanted
my life to close, and open
like a hinge, like a wing, like the part of the song
where it falls
down over the rocks: an explosion, a discovery;
I wanted
to hurry into the work of my life; I wanted to know,
whoever I was, I was
alive
for a little while.
—
It was evening, and no longer summer.
Three small fish, I don't know what they were,
huddled in the highest ripples
as it came swimming in again, effortless, the whole body
one gesture, one black sleeve
that could fit easily around
the bodies of three small fish.
—
Also I wanted
to be able to love. And we all know
how that one goes,
don't we?
Slowly
—
the dogfish tore open the soft basins of water.
—
You don't want to hear the story
of my life, and anyway
I don't want to tell it, I want to listen
to the enormous waterfalls of the sun.
And anyway it's the same old story – – –
a few people just trying,
one way or another,
to survive.
Mostly, I want to be kind.
And nobody, of course, is kind,
or mean,
for a simple reason.
And nobody gets out of it, having to
swim through the fires to stay in
this world.
—
And look! look! look! I think those little fish
better wake up and dash themselves away
from the hopeless future that is
bulging toward them.
—
And probably,
if they don't waste time
looking for an easier world,
they can do it.
Mary Oliver's poems feel like lessons. They're a bit like fables set over landscapes. Her poetry feels both calm and important. It's unjudging and observant. It makes me want to plan and do great things and see everything and think.
Pure poetry to live by:
"Be good natured and untidy in your exuberance."
"there is still
somewhere deep within you
a beast shouting that the earth
is exactly what it wanted-"
"So quickly, without a moment's notice does the miraculous swerve and point to us, demanding that we be its willing servant."
"Doesn't everything die at last, and too soon?
Tell me, what is it you plan to do
With your one wild and precious life?"