Pure Poetry Week(s):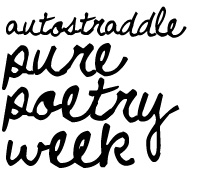 #1 – 2/23/2011 – Intro & Def Poetry Jam, by Riese
#2 – 2/23/2011 – Eileen Myles, by Carmen
#3 – 2/23/2011 – Anis Mojgani, by Crystal
#4 – 2/24/2011 – Andrea Gibson, by Carmen & Katrina/KC Danger
#5 – 2/25/2011 – Leonard Cohen, by Crystal
#6 – 2/25/2011 – Staceyann Chin, by Carmen
#7 – 2/25/2011 – e.e. cummings, by Intern Emily
#8 – 2/27/2011 – Louise Glück, by Lindsay
#9 – 2/28/2011 – Shel Silverstein, by Intern Lily & Guest
#10 – 2/28/2011 – Michelle Tea, by Laneia
#11 – 2/28/2011 – Saul Williams, by Katrina Chicklett Danger
#12 – 3/2/2011 – Maya Angelou, by Laneia
#13 – 3/4/2011 – Jack Spicer, by Riese
#14 – 3/5/2011 – Diane DiPrima, by Sady Doyle
#15 – 3/6/2011 – Pablo Neruda, by Intern Laura
#16 – 3/7/2011 – Vanessa Hidary, by Lindsay
#17 – 3/7/2011 – Adrienne Rich, by Taylor
#18 – 3/8/2011 – Raymond Carver, by Riese
#19 – 3/9/2011 – Rock WILK, by Gabrielle
#20 – 3/9/2011 – Veronica Franco, by Queerie Bradshaw
#22 – 3/12/2011 – William Carlos Williams & Robert Creeley, by Becky
#23 – 3/13/2011 – NSFW Sunday is Pure Poetry Edition, by Riese
#24 – 3/14/2011 – Charles Bukowski, by Intern Emily
#25 – 3/16/2011 – Rainer Maria Rilke, by Riese
#26 – 3/17/2011 – Lee Harwood by Mari
#27 – 3/18/2011 – Jeffrey McDaniel by Julieanne
#28 – 3/21/2011 – Dorothy Porter by Julia


After our first time
…we went to a Chinese restaurant
…and counted on our
……..charged fingers
the relatives
the friends
…who'd never be the same
we were breathless
in the high wind
of our secret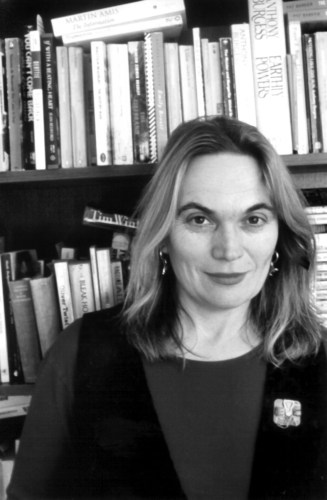 You really need to know about Dorothy Porter. She was an Australian poet, an out lesbian, and basically awesome. She was a highly influential poet on the Australian scene, and was also considered to be one of Australia's most influential lesbians. She sadly passed away in 2008 aged only 54 following a long struggle with breast cancer.
She wrote this about her long term partner:
"My At-Last Lover"
Your face sleeps
………illuminated
in the early morning
………warmth
…………..of my slack arm
you're my at-last sound asleep
…………..child
you're my cat
………with a dreaming paw
…………..flexing in my hand
you're my raw storm
…………..gorgeously spent
and what am I, darling?
Exhausted
and full of trapped bubbles
………like honeycomb
"Poetry's like sex – you can't fake an orgasm." Porter was a great advocate of simple, clear, concise poetry, and her own work is stripped back, bursting with striking imagery and natural themes and sometimes very funny:
"Style"
In love I've got no style
my heart is decked out
in bright pink tracksuit pants
Porter was a great advocate of the verse novel, a rare and difficult breed where the balance between poetry and narrative has to be just right. I think this is where Porter shines brightest.
Her verse novel, The Monkey's Mask is a noir-esque murder mystery featuring a lesbian private detective. In verse. It sounds impossible, but Porter pulls it off with aplomb, The Monkey's Mask is not only a gripping thriller, but it is full of excellent individual poems. Basically, Porter wrote a book that is stripped back so just the good stuff is left.
Speaking of the good stuff, Porter knows how to write a sex scene:
"First Move"
she's turning her hand
moist palm
…………..into mine
her skin
you could hear my heart
……..in Perth
she picks up my hand
I swallow my tongue
she brings my hand
to her mouth
and sucks my ring
…………..finger
'you're trembling'
she says
my other hand
floats to her
touches her throat
her perfume
her eyes
the hot tip
of her tongue.
They also made The Monkey's Mask into a movie, starring Susie Porter and Kelly McGillis. While it is in no way as good as the book and you should totally read the book instead of watching the movie, I feel that the poster is probably relevant to your interests: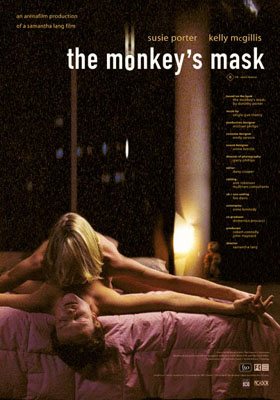 The dominant theme in Porter's work is love and passion, and it's no surprise then that the one volume that collects work from across her career is called Love Poems. This is another one she wrote for her long term partner:
The Bee Hut
There's a damp melancholy
in T'ang poetry
that smudges
the lovely jade
precision.
I love Walt Whitman's
spunky company
but under his bardic
whistling
I can hear his lonely heart
howling
at the turned back
of some deaf rough trade
So many poets
starve
in the cold faery spaces
between their frost-bitten ears.
How lucky I am
to hear you, darling,
coming up the stairs
to smell the coffee
floating ahead of you
like my favourite incense.