Pure Poetry Week(s):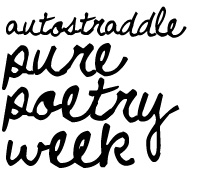 #1 – 2/23/2011 – Intro & Def Poetry Jam, by Riese
#2 – 2/23/2011 – Eileen Myles, by Carmen
#3 – 2/23/2011 – Anis Mojgani, by Crystal
#4 – 2/24/2011 – Andrea Gibson, by Carmen & Katrina/KC Danger
#5 – 2/25/2011 – Leonard Cohen, by Crystal
#6 – 2/25/2011 – Staceyann Chin, by Carmen
#7 – 2/25/2011 – e.e. cummings, by Intern Emily
#8 – 2/27/2011 – Louise Glück, by Lindsay
#9 – 2/28/2011 – Shel Silverstein, by Intern Lily & Guest
#10 – 2/28/2011 – Michelle Tea, by Laneia
#11 – 2/28/2011 – Saul Williams, by Katrina Chicklett Danger
#12 – 3/2/2011 – Maya Angelou, by Laneia
#13 – 3/4/2011 – Jack Spicer, by Riese
#14 – 3/5/2011 – Diane DiPrima, by Sady Doyle
#15 – 3/6/2011 – Pablo Neruda, by Intern Laura


I liked Pablo Neruda from the moment I heard that he wrote a book called "20 Love Poems and a Desperate Song." It was a while before I actually read any of his poems, but he was worth the wait.
Tus Pies

Cuando no puedo mirar tu cara
miro tus pies.

Tus pies de hueso arqueado,
tus pequeños pies duros.

Yo sé que te sostienen,
y que tu dulce peso
sobre ellos se levanta.

Tu cintura y tus pechos,
la duplicada púrpura de tus pezones,
la caja de tus ojos que recién han volado,
tu ancha boca de fruta,
tu cabellera roja,
pequeña torre mía.

Pero no amo tus pies
sino porque anduvieron
sobre la tierra y sobre
el viento y sobre el agua,
hasta que me encontraron.

Your Feet

When I can not look at your face
I look at your feet.

Your feet of arched bone,
your hard little feet.

I know that they support you,
and that your gentle weight
rises upon them.

Your waist and your breasts,
the doubled purple of your nipples,
the sockets of your eyes that have just flown away,
your wide fruit mouth,
your red tresses,
my little tower.

But I love your feet
only because they walked
upon the earth and upon the wind
and upon the waters,
until they found me.
Because the thing is, not all the good poetry is in English. People have said all kinds of beautiful things in thousands of languages. The good news is that we have translations. The bad news is that there are some things that don't travel well from one language to another.  For me, that means learning other languages, even if it's just a little bit. Por ejemplo:
Libro de las Preguntas
LXVI.
Echan humo, fuego y vapor
Las o de las locomotoras?

En qué idioma cae la lluvia
Sobre ciudades dolorosas?

Qué suaves sílabas repite
El aire del alba marina?

Hay una estrella más abierta
Que la palabra amapola?

Hay dos colmillos más agudos
Que las sílabas de chacal?

Do the o's of the locomotive
cast smoke, fire and steam?

In which language does rain fall
over tormented cities?

At dawn, which smooth syllables
does the ocean air repeat?

Is there a star more wide open
the the word poppy?

Are there two fangs sharper
than the syllables of jackal?
I know what poppies and jackals are, but I wouldn't have any idea what he was doing with the words if I didn't look at them in Spanish. Just because I like this poem, let's look at my favorite section.

XV.
Pero es verdad que se prepara
La insurrección de los chalecos?Por qué otra vez la primavera
Ofrece sus vestidos verdes?

Por qué ríe la agricultura
Del llanto pálido del cielo?

Cómo logró su libertad
La bicicleta abandonada?

But is it true that the vests
are preparing to revolt?why does spring once again
offer its green clothes?

Why does agriculture laugh
at the pale tears of the sky?

How did the abandoned bicycle
win its freedom?
Can't you just see the bicycle flying down the road? Other things you might want to know about Pablo Neruda are that he named himself that, he only wrote in green ink, he wrote odes to lots of things (his socks, the artichoke, big tunas), and he supported the Republican side during the Spanish Civil War. Spanish Republicans are not like American Republicans, they were the ones against Franco, who was about as oppressively right-oriented as you can get.
If you like what you see, don't stop with Mr. Neruda. I would recommend Gustavo Adolfo Bécquer and Wislawa Szymborska. The limits of your language don't have to mean the limits of your world.