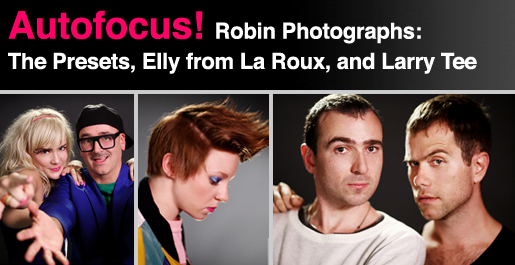 This Friday I photographed Larry Tee, La Roux and The Presets.
For those of you who do not know Larry Tee — he's the innovator behind the Electoclash movement — defined in the Oxford English dictionary as a "fusion of  new wave, punk, & electronic dance music" and defined by Tee as "electronic music with a rock 'n roll attitude." Tee is a DJ, promoter and producer who helped artists like the Scissor Sisters, Fischerspooner, and Peaches get their start.
He's also had lots to say about his BFF [and A;ex's number one feeling] RuPaul and 'Love Machine,' the epic drug-induced NYC party night of yore where a group of party-going 90's-smokin'-hot supermodels inspired Ru's mega-famous song "Supermodel (You Better Work)," which he co-wrote. He started the infamous DISCO 2000 party with Party Monster subject Michael Alig and DJ'ed at Palladium, Twilo, and the Roxy. Also, his song/video "Lickywp_postsfeaturing Princess Superstar is sort of amazing.
Here is Larry with DJ Roxy Cottontail and electro-pop performer Mel Merio. They both appear on his upcoming album Club Badd, and were all so fun to photograph.
Elly of the UK-based electo-pop duo La Roux may be a quiet, unassuming 21-year-old, but she's an amazing talent on the rise. I don't know about you but I get a bit of a gay vibe from the song lyrics … so lets just say she is very dyke-friendly. Also, she has awesomely bright spikey hair.
Carly has sent me the video for their first single, "Quicksand," several times, and I'm pretty sure she even wrote a Daily Fix about it.  I like it too.  I think you will as well.
One thing that stood out to me about the crazy talented duo The Presets was that they are ridiculously funny.  I mean, really, they made me laugh, like, a lot.  Also, anyone else think Jules is super hot?  A whole room of lesbians thought so.  We can appreciate, can't we? That Aussie accent doesn't hurt either.
Love this song and the video. Hmmm …. wresting in milk, huh? They admit that although they have a large gay audience, they are hetero, but they sure do a good job at keeping us guessing.
Later on in the evening, Carlytron and I went to their concert which totally rocked my universe. Their whole sound and performance was polished and dancey and crazy fun.
Here are Jules and Kim in all of their glory. I asked them to get "real closewp_postsfor some of these. They did the rest.
That's all for now.  If you want to talk photography, comment and/or send me a message!