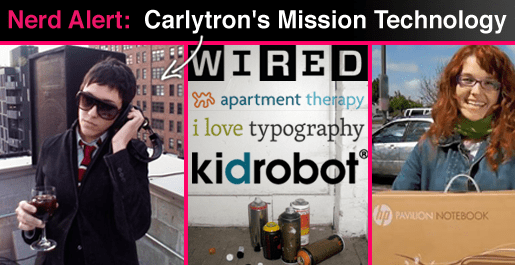 Recent Nerd Alerts
What's been going on in the world of tech and design? Well, for starters, Microsoft's "I'm a PC" ad campaign is starting to attack Apple where it hurts: price points. Macrumors has posted its the first ad, as well as the newest:
While I'm a huge Apple fan, I will be the first to admit that their prices are kind of ridic (though the advantage of a Mac over a PC, in my opinion, is the OS and the software so I will continue to pay more to be able to keep Microsoft out of my life forever). Also the people in those ads are paid actors, so whatever Microsoft.
Speaking of Apple, has anyone else's iPhone been SUCKING lately? My friends and I have all had really horrible service on our iPhones lately. Perhaps AT&T is slacking on the low end while upgrading their network to accommodate the hypothetical 3rd iteration of the iPhone (rumored to happen some time this summer, around the time that the 3.0 firmware is released).
Also, as I mentioned in the Daily Fix for March 31st, April 1st was the day that the Conficker worm was unleashed. Though it seemed like nothing happened, the problem might be far more serious than once thought. Gizmodo explains it all here, cause I have no idea what any of that stuff means.
Finally, in video game news, the Nintendo DSi just came out in the US. It has a camera, plays DS games, and can utilize apps, like an iPhone or Android phone. They're $170. I'm not really into videogames but I do enjoy playing some on my iPhone (also: anything Nintendo is inherently awesome). Check out a review here.

Ask Carlytron!
Now I will answer reader questions. If you have questions for next time, leave them in the comments or send them to me directly using the contact link.  Last week a reader posited this question to our team:
Q: I'm constantly destroying my cheap earbud headphones and needing to buy new ones. Is there a headphone brand/model which is relatively durable, has good sound quality (especially good bass) and isn't too expensive?
A:
Crystal: "My all-time favourite headphones are made by Microsoft. Which is really uncool. So Stef or Carly may have a more trendy suggestion for women on the edge."
Carly: "I have these crappy things i got off amazon, and they don't even sell them anymore. they work for me though. I think a lot of it is subjective when it comes to headphones. Also Gizmodo has just declared the new Shure SE115's the new top buds, so maybe check those out."
Stefanie: "I went through a lot of shitty headphones before I got my current pair, which are Sennheiser HD 202s.I knew Sennheiser 'cause they make microphones, and these were just expensive enough ($30 or $40) that I expected a good level of durability. They're AMAZING, wonderfully noise cancelling, and I've managed not to break them yet. Only downside is the large size and the long cord (which I think is for DJ'ing).  I guess you could wear them and pretend to be dating Lindsay Lohan?"

Q: I have been getting this question a lot since writing the first tech post: "What tech/design sites do you read regularly?" I read a whole bunch, actually, but here's a quick list of my favorites:
Generally Nerdy or Computery Things:
Gizmodo
Lifehacker
Macrumors
Unclutterer
Unplggd
Wired
Ars Technica
Design Sites:
Apartment Therapy
Smashing Magazine
Kidrobot
Cool Hunting
Hypebeast
I Love Typography
I don't read these regularly but you might enjoy them:
Think Geek
88bytes
Gizmodiva
Geekologie
Switched

Links for this week:
I Am Human Now, makers of the most awesome looking laptop covers I've seen in a long time, has a special edition stripey cover made by Paul Smith. ::swooooon::
I really hope this Laundry Pod becomes an actual product because OMG it would be very useful. The closest laundromat to my apartment is like 15 blocks away, which is a nightmare when you've got two giant laundry bags full of crap.
Spill water on your keyboard again? Drop your cell phone in the toilet? Check out the 11 Quick Fixes for Gadget Disasters and never let your beloved gadgets succumb to bad luck or your own clumsiness again! [Editor's Note: this one time A;ex dropped her phone in the toilet at a DJ Carlytron party — the first time I met Robin actually — and it wouldn't stop vibrating, and I was tickling DJ Carlytron with it, it was really funny, even though Team Drunk Carlytron doesn't remember this. It just kept vibrating srsly! This story has no point, I just wanted to say that.]
Finally, there's a totally fascinating interview with Corey Holms over at LetterCult. He re-created the Watchmen logotype for the film release from scratch.
Tech Questions for Carlytron? Ask in the comments or via the contact form.