"A purity test is a self-graded survey that assesses the participants' supposed degree of innocence in worldly matters (sex, drugs, deceit, and other activities assumed to be vices), generally on a percentage scale with 100% being the most and 0% being the least "pure". Online purity tests were among the earliest of Internet memes, popular on Usenet beginning in the early 1980s. However, similar types of tests circulated under various names long before the existence of the Internet."
The best-known purity test of all time is The Unisex Purity Test, written pre-1980 at the Massachusetts Institute of Technology Baker House. In 1983, Carnegie Mellon produced a 247-question version. Many revisions occured as the internet took off with a 2000-questions long version written in fall '95.
You may be familiar with the Unisex Omnisexual Purity Test, a 500-question version readily classified as the internet's most popular purity test.
We've been taking these silly tests since the 90's because it was really the only thing you could do online besides have cybersex with strangers. The questions range from "have you ever engaged in heavy petting above the waist" to "had your head inserted into a urinal or toilet bowl willingly?" or "shaved or shaped your genital pubic hair in a particular design (moons, hearts, diamonds, clovers, etc.)?" or "had sex, oral sex, or [mutual] masturbation with a single type animal more than once? (Alive or dead.)" It gets a bit nasty.
At an Oakland Autostraddlea meetup this weekend, the topic of purity tests came up and we thought it would be fun to write our own for Lezbos. We're going to stay away from some of the more extreme elements of the original test.
WARNING: Purity Tests are not PC. It's just for fun. It's nbd.
As this is a lesbian purity test, unless otherwise specified, the gender of your sexual partner is a person who identifies as a woman (whether cis or trans or whatnot). Use your own definitions. It's not a real test. It is whatever you want it to be, like drawing with crayons on a blank piece of paper.
++
LESBIAN SEX PURITY TEST
Give yourself one percentage point for every NO.
At the end of the test, your number of "nos" indicates how pure you are in the lesbian sexworld. It is possible to answer yes to every question or no to every question. Nothing is mutually exclusive.
The Basics
Have you ever…
1. Held hands or cuddled with a woman you were attracted to?
2. Held hands or cuddled with a woman you were attracted to who was also attracted to you?
3. Gone on a date with a girl?
4. Kissed a woman who identifies their sexual orientation as a lesbian or bisexual or another lady-liking persuasion?
5. Kissed a woman who identifies their sexual orientation as straight?
6. Kissed a woman who identifies as straight but is clearly not straight?
7. Kissed a man who identifies as either bisexual or heterosexual?
8. Kissed a man who identifies as homosexual?
9. Touched a woman from the waist-up in a sexual or intimate way? (clothed or otherwise)
10. Touched a woman from the waist-down in a sexual or intimate way? (clothed or otherwise)
11. Masturbated?
12. Masturbated with a partner? (Mutual masturbation)
13. Masturbated while thinking about Shane?
14. Masturbated while thinking about any other lesbian character on the teevee or in a movie?
15. Had a sleepover (in the same bed) with another lady?
16. Had a sleepover (in the same bed) with another lady which lead to sexual activities?
17. Had a sleepover (in the same bed) with another lady which UNEXPECTEDLY lead to sexual activities?
18. Been in a monogamous relationship with another woman?
19. Been in a polyamorous relationship with at least one other woman?
20. Had an orgasm?
Positons & Styles
Have you ever …
21. "Dry humped?"
22. Had sex?
23. Scissored?
24. 69'ed?
25. 69'ed successfully?
26. Had anal sex (giver or receiver)?
27. Given or received oral sex?
28. Engaged in sexual activities you would classify as involving bondage and discipline (B&D), dominance and submission (D&s) or  sadism and masochism (S&M)?
29. Used a strap-on or other sex toy during sex?
30. Worn a strap-on during sex?
31. Broken a strap-on or other sex toy during sex?
32. Fingerblasted or been fingerblasted?
33. Driven Hot Wheels over a woman's clit?
34. Been fisted or fisted someone else?
35. Been involved in a threesome with two other women?
36. Been involved in a threesome with a man and a woman?
37. Been involved in group sex or an orgy?
38. Had phone sex?
39. Had sex with a man?
40. Had an orgasm during partner sex or sexual activities?
Partners
Have you made out, had sex and/or oral sex with…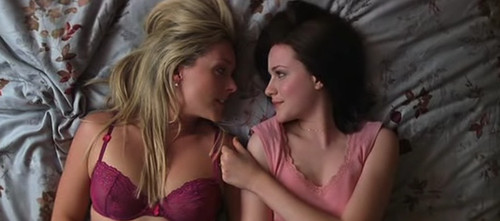 41 … someone in a position of power over you (teacher, boss, coach) or someone you are in a position of power over?
42 … a sports teammate or opponent?
43 … someone who was in the closet?
44 … a celebrity or a celesbian?
45 … a closeted celebrity or closeted well-known (locally, nationally or internationally) person?
46 … your straight best friend?
47 …. your lesbian best friend?
48 …. your friend's girlfriend or ex-girlfriend?
49 … a girlfriend?
50 …. more than five other women (not necessarily at the same time)?
51 … more than ten other women (not necessarily at the same time)?
52 … a stranger?
53 … an ex?
54 … someone married to a man?
55 … someone married/civil unionized/domestic partnered/commitment ceremonied to a woman?
56 … a current or former sex worker?
57 … Whitney?
Have you kissed, made out or had sex with someone you met…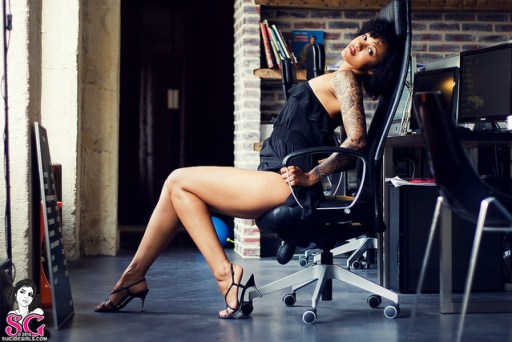 58 …at gay conversion camp or other event/gathering/school designed to "cure" you of your homosexuality?
59 … at an all-women's college?
60 … via Autostraddle ('cause they write for AS, 'cause you met commenting, or at an Autostraddle meetup)?
61 … via tumblr or any other kind of blog?
62 … before you knew you were gay? (as in: you first met this person when you didn't know you were gay, but hooked up with them later AFTER knowing you were gay)
63 … at school?
64 … at work?
65 … at a bar or club?
Watching & Listening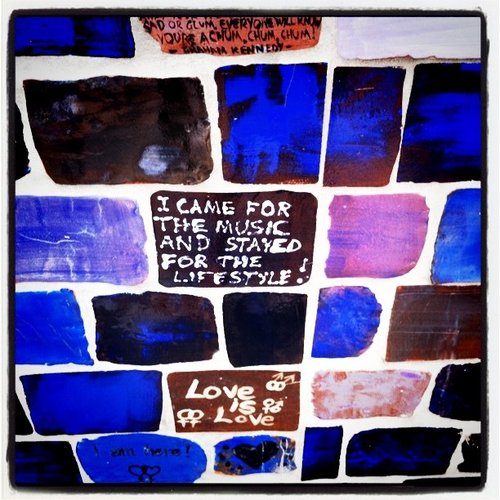 Have you had sex or made out with someone while listening to…
66 Tegan & Sara?
67 Radiohead or Portishead?
68 Ani DiFranco?
69 Ani DiFranco — on purpose?
Have you ever…
70 Watched straight porn?
71 Watched "lesbian porn" that's actually really just for straight people?
72 Watched queer lesbian porn made for/by actual lesbians?
73 Read lesbian erotica?
74 Watched porn with a sexual partner?
75 Watched The L Word, Bound, Skins, Gia or another lesbian movie/show with a girl you like in hopes that it will up your chances of getting some?
Location, Location, Location
Have you made out or had sex with someone:
76  … in a bed?
77 … in the bathroom?
78  …when there was a line to use the bathroom?
79  … and gotten kicked out of the bathroom for making out in it?
80 … in a religious building or place of worship?
81 … in a school or University building, whether you're a student, teacher or random civilian? (dorms don't count)
82 … in your parents' house? (whether you live with your parents or not)
83 … on a boat, cruise ship, train or airplane?
84 … at Dinah Shore, The Michigan Womyn's Music Festival or Rodeo Disco?
85 … on Pride Week or National Coming Out Day?
86 … in a car?
87 … on the beach or in the woods or anywhere that you put yourself at risk of getting dirt, sand or leaves in your ass?
88 … in a hotel or motel room garnered specifically for the purpose of having sex?
89 … while being filmed or filming yourself?
90 … in a body of water (lake, hot tub, etc)?
Etc.
Have you ever had sex while…
91 … you or your partner were on your period?
92 … you or your partner was pregnant?
93 … someone else was watching or having sex in the same room?
94 … in a foreign country?
Have you ever….
95 …had sex with two or more people in a 24-hour period?
96 … licked hummus or chocolate off another woman's nipples?
97 … had sex or sexual relations while intoxicated with alcohol?
98 … had sex while under the influence of marijuana or other drugs?
99 … had sex while pretending to be sober even though you were not sober at all?
100 … had sex with a car because you mistook it for another elephant?
+
HOW PURE ARE YOU? SHARE YOUR SCORE!

Assorted Links of the Day:
Why Lesbian Porn is The Best: "Lumpkin's porn doesn't feel dirty. Hot, yes, but dirty, no. And for each video, there is a clip from the actresses talking about their experience on the set. This gives the body parts a real face, the exact opposite of objectification." (@alternet) (we don't necessarily agree with all the points in this article but it's interesting nonetheless)
Why Mainstream Porn Isn't Ready for Real Sex: "Ladies, there's a big difference between vaginal grooming for production value and the outright homogenization of pussies." (@thedemoiselles)
The Twisted World of  "Ex-Girlfriend" Porn: "The inherent violation and lack of consent found in real "revenge porn" makes it some of the more disturbing wallpaper in the world of online porn — but even the fake stuff shines a light on the darker corners of the human sexual psyche." (@salon)
There's a fuck yeah Jiz Lee now, did you know? It's no fuck yeah autostraddle, but it's pretty rad just the same. (@tumblr)
Sex advice from pro-choice protestors (@nerve)
---
Before you go!
It takes funding to keep this publication by and for queer women and trans people of all genders running every day. And A+ members keep the majority of our site free for everyone.
Still, 99.9% of our readers are not members.
A+ membership starts at just $4/month.
If you're able to, will you join A+ and keep Autostraddle here and working for everyone?
Join A+