MARRIAGE:
Every day the House hasn't killed off the bill legalizing same-sex marriage in Maryland is a good day, amirite? The bill has progressed to the second reader by a vote of 12 to 10. The bill will now advance before the full House of Delegates, and after about a week of testimony it will undergo a final vote, at which will need a simple majority of 71 votes in order to pass.


Meanwhile, there have been 700 same-sex marriages in Mexico City since they were legalized almost exactly a year ago on March 4, 2010. With basically equal numbers of male and female couples and nine couples between the ages of 71 and 90 (awww!), the law seems to be an unequivocal success.
Marriage isn't the highest aspiration that we have as a community or a movement; it's not something we all need to be happy, or the only right we should be fighting for. But for people who have been waiting their whole lives to have their relationship with another person formally recognized, these are beautiful and important things, and worthy of celebration. Mexico City and hopefully later Maryland: we salute you!
COUNTERPROTESTORS WIN:
It's not often that the good news makes headlines, but this week it did: "Gay Themed Play At Neenah High School Draws No Protest." Students and community members of Neenah High put together a strong-counter protest to the WBC members that were rumored to be coming to their high school production of The Laramie Project, but no anti-gay protestors ever showed up. Instead, there were just over 100 pro-equality people there to hold signs, hug, and sing songs by Queen.
APOLOGY:
An Orthodox bishop whose anti-gay remarks incited violence after lat year's pride parade is being told to apologize by a Serbian human rights official. Bishop Amfilohije could face legal action if he doesn't.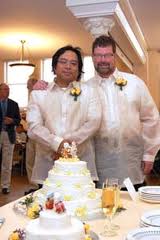 GAY MARRIAGE IN THE CHURCH:
A Presbyterian minister who married his partner in California in 2008 has been acquitted of charges of misconduct by church authorities. "Barron said the ceremony, which was in a Presbyterian church, was planned to avoid conflict with church law. It occurred after a church lawyer had given legal advice and the pastor got permission from the church's governing body to "solemnize" a civil marriage and then bless it. Barron said themarriage and the blessing were separated when the pastor stopped the ceremony and said the Presbyterian church had not recognized the union and that the church could only bless it."
LESBIAN AUTHORS:
And you thought wrestling in baby oil was the only thing lesbians did in Palm Springs! This weekend is the fifth annual Palm Springs Lesbian Book Festival, where the topic of "Beyond The Rainbow: LGBTQ Literature and Today's Audience" will be addressed. "More than 20 lesbian fiction authors from around the country are scheduled to appear, including Kim Baldwin, Xena Alexiou, Jane Fletcher, Clifford Henderson, D. Jackson Leigh, Justine Saracen, Radclyffe and Carsen Taite."
SUSHI:
The first restaurant with all-female sushi chefs will open in Tokyo. Although the owner will only hire chefs between the ages of 18 and 25, and the restaurant is in the same district of the city as the massage parlors, "it's a signal that change could be coming to one of Japan's most traditional professions."
NEKO CASE:
If you're not obsessed with her, it's because you don't know about her. The end. But now you have the chance to find out! Neko Case answered a bunch of questions about herself and her crazy awesome vintage car in the Jalopnik comments section, all for you.
WONDER WOMAN:
If you were already excited about the upcoming Wonder Woman movie, you may be even more pleased to find that the supervillain character played by Elizabeth Hurley will maybe be kinda lesbisexy!
OH AND ALSO: