Riese has been talking for a long time about Autostraddle hosting its own gay Emmy Awards. It was mostly just a pipe dream, until we turned around in 20GayTeen and realized that — for the first time ever — there were actually more than enough queer characters, shows, and actors for us to really do it. Seeing them all listed out in our voting announcement post was honestly a thrill, and we know you felt it too, because you told us so in the comments:
I'm just having a moment of gratitude for these nominations, and also, that Gillian Anderson is in the category that she's in. — Amidola
This survey was so rude – these choices were brutal. (but also, I love that we had so many options!) — Ellie
I am THRILLED to have so many options to choose from that many of these are genuinely difficult decisions. High school me is in disbelief at how much more representation there is now compared with a relatively short amount of time ago. It's wonderful and it makes me very happy. — rustytiffany
OK, how am I supposed to choose between all my faves? But also, such a good problem to have!!! — hiptobequeer
How can I possibly choose between my children??? But also this was great and I'm truly shocked & happy by how hard it is to choose in any of these categories. "Man we didn't hate" made me laugh out loud (and then was ALSO super hard to choose for? what the heck). — Laura R
For regular categories, the individual TV Team Votes were weighted more heavily than those of the TEN THOUSAND readers who voted. For fan favorite categories, the winner was 100% determined by reader votes.
Without any further ado, here are the winners of Autostraddle's inaugural Gay Emmys!
---
Outstanding Comedy Series
Other nominees: Jane the Virgin, Fresh Off The Boat, One Mississippi, Broad City
Before we get to this year's Outstanding Comedy winner, we must take a moment to honor the overwhelming strength of this category. Lots of winners will tell you "It's just an honor to be nominated." Here's the thing, this time it really is just an honor to be nominated. Out of the six nominees for Outstanding Comedy, a whomping three of them (One Day at a Time, Jane the Virgin, and Fresh Off the Boat) tied as our overall most nominated shows! With a record shattering SEVEN NOMINATIONS EACH! Brooklyn 99 came in just behind them, with five nominations. This category was stacked.
In the Emmys, the most anticipated race often comes from the Outstanding Dramas. Prestige dark hours about men (and, in a trend I'm excited for, increasingly women) behaving badly continue to fuel television's "golden era." Those type of critics' bait television shows largely continue to ignore queer women's stories. We find ourselves in other spaces. Spaces that often are left just outside the gates on the "Can You Believe They Got Snubbed?" list. The fact that Jane the Virgin and One Day at a Time continue to find themselves locked out of the Emmys Outstanding Comedy race year after year is more an indictment of the white, male majority of the Television Academy than it is about the quality of either of those shows.
At Autostraddle we are proud that our top three nominated series are all showrun by women. We're even prouder that our inaugural winner, One Day at a Time, is co-run by a woman of color, Gloria Calderon-Kellett, who is helming one of the most heartfelt, funny, poignant, and diverse half hours on television. — Carmen Phillips
---
Outstanding Drama Series
Runner up: Everything Sucks
Other nominees: Riverdale, Transparent, How to Get Away With Murder, Halt and Catch Fire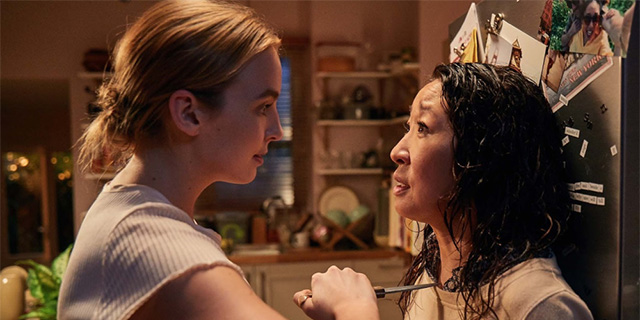 Crescendoing, relentless, all-consuming obsession fuels the narrative of Killing Eve, Phoebe Waller-Bridge's sexy, smart, distinctly feminine action thriller starring Sandra Oh and Jodie Comer as the toxic spy-assassin duo who can't stop thinking about each other. Watching Killing Eve feels exactly like that: seering obsession. This category was stacked with great, complex dramas, but there's something just purely intoxicating about Killing Eve that sets it apart. Though it's the phrase most often used to describe Eve and Villanelle's dynamic, "cat-and-mouse" hardly covers what Oh and Comer bring to these characters or what's even on the page. It's never quite clear whether they want to murder each other or make out. Hunting each other, longing for each other, Eve and Villanelle might be one of the most complex queer relationships on television. But beyond that dripping subtext, it's just a very good thriller with compelling twists and turns and sharp edges that refuse to be dulled. — Kayla Kumari Upadhyaya
---
Outstanding Sci-Fi/Fantasy Series
Other nominees: DC's Legends of Tomorrow, Marvel's Runaways, Jessica Jones, Orphan Black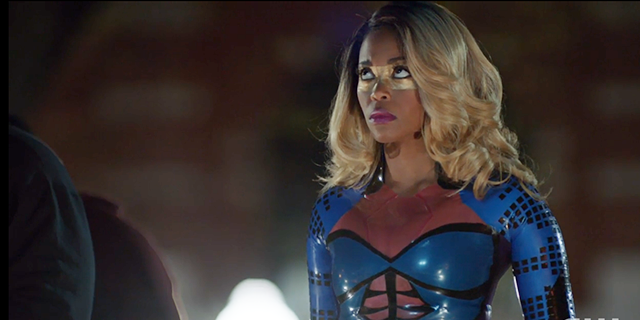 Anissa Pierce is the first black lesbian superhero on television, on a show comprised of an entire family of black superheroes. (She's also, as far as we collectively are aware, the first explicitly lesbian superhero on network television, period, which is a huge deal as it's very rare for the first lesbian anything to also be a POC.) That, itself, is enough to make it a shoe-in for this category, but Black Lightning is more than just the stats; it's a really good TV show. It takes all of the best elements of superhero stories — grappling with secret identities and their impact on relationships, how and when to use superpowers, the giant expanse between "good" and "bad" — and it does so without shying away from the fact that the Pierce family is black in Trump's America. Black Lightning even tackled Charlottesville in season one, centering an episode on a white supremacist confederate monument on Anissa's campus, and her struggle with containing her own fear and righteous rage (and the accidental manifestation of her powers) when she was provoked within its presence. There are few shows as relevant as this one right now, and even fewer that confront our culture with such triumph. — Heather Hogan
---
Outstanding Lead Actress Playing an LGBTQ+ Character in a Drama Series
Runner up: Sandra Oh, Killing Eve
Other nominees: Judith Light (Transparent), Jodie Comer (Killing Eve), Sherri Saum (The Fosters), Aisha Dee (The Bold Type)
Viola Davis is one Grammy — one small, tiny audiobook — away from being the second black woman to ever capture the EGOT; she already has an Emmy, an Oscar and a Tony to her credit. Judith Light is a celebrated actress with nearly 40 years in the business; she is one of just six performers to win back-to-back Tonys. Sandra Oh has a Golden Globe and two SAG Awards already and, whether she wins or not, her Emmy nomination for Best Actress in a Drama is already etched in the history books. There was once a time when actors avoided playing gay; today well-crafted LGBT characters attract our best and brightest.
Last year when we were making our Emmy picks, Heather wrote:
Viola Davis is one of the greatest living actors in the world, and the fact that we get to see her play a brilliant, glorious, complicated, tortured, triumphant, broken, beautiful bisexual woman every week on broadcast network television is frankly unbelievable. In lesser hands, How to Get Away With Murder wouldn't have made it a full season. She carries it all and elevates it to a place beyond anything written on a page or suggested by a director. She has deserved every award she's ever been nominated for, and plenty that she hasn't, and that includes this one.
Yes, including this one. — Natalie
---
Outstanding Supporting or Guest Actress Playing an LGBTQ+ Character in a Drama Series
Runner up: Madelaine Petsch, Riverdale
Other nominees: Nikohl Boosheri (The Bold Type), Sara Ramirez (Madam Secretary), Kimiko Glenn (Orange is the New Black), Alexis Bledel (The Handmaid's Tale)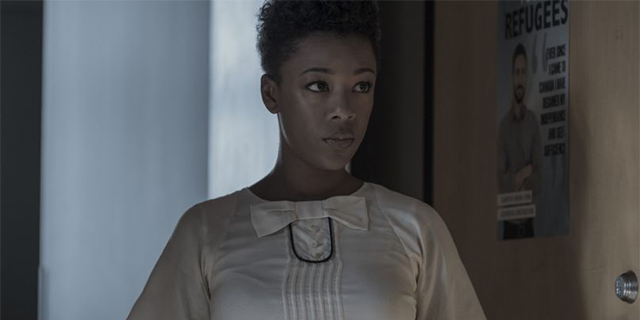 I'm almost tempted to just say, "Samira Wiley won this race in the Emmys just this past weekend, and that's all you really need to know."
Let's dig deeper. One of our decisions in creating the "Gay Emmys" was to build a space for acknowledgment and critique. Acknowledgement that the quality of the stories and performances we're finally receiving as LGBTQ+ women is growing and improving with every year, and Critique that those same performance remain woefully under-appreciated when it comes an Emmys season that's largely dictated by the tastes of white, straight, cis men. Samira Wiley's performance as Moira in The Handmaid's Tale is a perfect intersection of those two competing interests. She's one of the few actresses (along with Tatiana Maslany, Evan Rachel Wood, and Sandra Oh) who finds herself nominated in both our homegrown awards and the actual Emmy race. And get this, she won in both places! In fact, on Saturday night she made history as part of a first-time ever sweep for black actors in the Best Guest races. Samira's take on Moira has been emotionally raw. It's no small feat, considering how little screen time she's given. She commands the screen and squeezes the most out of every harrowing second. — Carmen Phillips
---
Outstanding Lead Actress Playing an LGBTQ+ Character in a Comedy Series
Runner up: Isabella Gomez, One Day at a Time
Other nominees: Yael Grobglsa (Jane the Virgin), Kristen Bell (The Good Place), Ilana Glazer (Broad City), Tig Notaro (One Mississippi)
If you follow Stephanie Beatriz on any social media, you know just how much this woman is acting when it comes to playing Rosa Diaz on Brooklyn Nine-Nine. Beatriz's energy is completely divergent from her character; she even transforms her voice for the role. But those are just really fine-tuned acting tools that most capable performers have, not necessarily the kinds of things that make one worthy of a comedic acting win, especially in a category as stacked as this one. Beatriz's humor is sharp, often physical but also harnessed in the way she punches every syllable, as with her line reading of "That's Nora Ephron, you idiot." Beatriz can bring out a softer side of Rosa when she needs to, but she never fully dials down that intensity. She's always on, even when she isn't the focus of a scene. She makes a character full of rage and contempt extremely likable (and not despite those characteristics but because of them). — Kayla Kumari Upadhyaya
---
Outstanding Supporting or Guest Actress Playing an LGBTQ+ Character in a Comedy Series
Runner up: Sheridan Pierce, One Day at a Time
Other nominees: Yara Martinez (Jane the Virgin), Luna Blaise (Fresh Off the Boat), Isidora Goreshter (Shameless), Alex Borstein (The Marvelous Mrs. Maisel)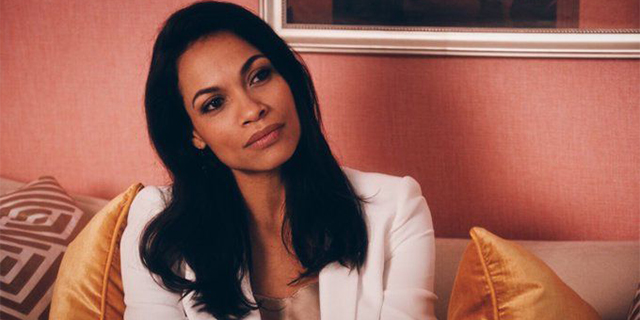 Put a group of 50 people in a room, ask them a question and you'll probably end up with 50 different answers, but, apparently, if you bring a bunch of lady-lovin' women together and ask them about Outstanding Supporting or Guest Actress, the answer is damn near unanimous: Rosario Dawson.
And that's not a slight on any of the other nominated actresses here — we were positively charmed by Sheridan Pierce's quirky portrayal of Syd on One Day at a Time; we saw ourselves in Fresh Off the Boat's Nicole (Luna Blaise) when she admitted she might like girls over chips with Eddie; we loved Isidora Goreshter's Svetlana on Shameless (some of us more than others). It's just the power of Rosario Dawson.
The moment Jane Ramos sauntered over to Petra Solano, hand extended with a cocky smirk on her face, and became Petra's lawyer, she had us… and Petra… and this award. — Natalie
---
Outstanding Lead Actress Playing an LGBTQ+ Character in a Sci-Fi Series
Runner up: Dominique Provost-Chalkley, Wynonna Earp
Other nominees: Nafessa Williams (Black Lightning), Lyrica Okano (Marvel's Runaways), Caity Lotz (Legends of Tomorrow), Chyler Leigh (Supergirl)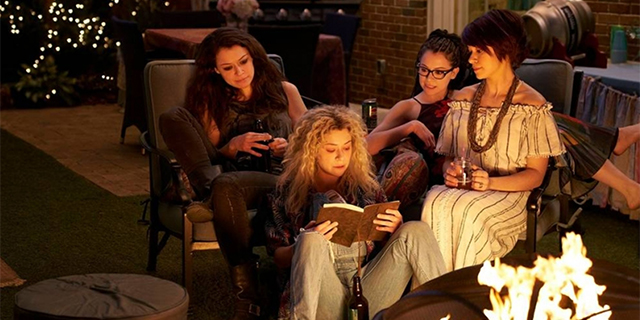 Though the industry was slow to realize it, the truth is finally out there: Tatiana Maslany is one of the best actors of her generation. Orphan Black was the perfect showcase of that truth, with Tatiana playing every Leda clone with astounding nuance. She never relied on wigs or wardrobe to differentiate them, instead giving each clone their own mannerisms, quirks and postures. She even layered those performances, having one clone mimic another, and it was always subtle and brilliant. In Cosima, we got a lesbian character who, in a pretty bleak landscape of queer rep at the time, was saying things like, "My sexuality isn't the most interesting thing about me" and "I'm not going to apologize for my heart, okay?" Cosima's relationship with Delphine was complicated and emotional and the strongest romantic through-line of the whole series, and Tatiana embraced it wholeheartedly, sometimes name-checking the "clonesbians" fans, and being an active, outspoken ally.
Sci-fi is too often not taken seriously, for reasons I will never understand — the "real" Emmys don't even have it as a category at all, making it extremely rare for even the best sci-fi shows to be nominated. Luckily, Tatiana's talent eventually broke through, and she's nominated this year for the third time, for Orphan Black's final season. I'm excited to honor her for this show one last time. — Valerie Anne
---
Outstanding Supporting or Guest Actress Playing an LGBTQ+ Character in a Sci-Fi Series
Runner up: Floriana Lima, Supergirl
Other nominees: Sara Serraiocco (Counterpart), Mayko Nguyen (Killjoys), Carrie Ann Moss (Jessica Jones), Jes Macallan (Legends of Tomorrow)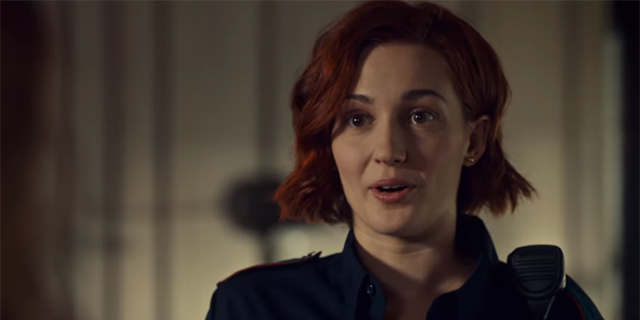 Oh are you surprised it's me, Valerie Anne, here to celebrate a Wynonna Earp win? I didn't think so. This win is great because Nicole Haught is such a special character. She easily could have been a caricature, just Waverly's hot cop girlfriend (I mean her name is literally a play on that) but as the episodes and seasons progressed it has become clear that she's important to this story and this show entirely separate of Waverly. Katherine Barrell brings a softness to what could have easily been a rough exterior, and when she's given the chance, she can give you comedy gold. The two episodes that featured Nicole and Wynonna getting drunk together (actually… both times it was Nicole getting drunk and Wynonna not so much), Kat delivered such smart comedic timing, it was truly a joy to watch. Not to mention every scene between Nicole and Waverly is crafted with such love and care, and Barrell's performance is so engaging, that the running joke is Haught turns into a heart-eyes emoji every time Waverly is in the room. — Valerie Anne
---
Outstanding Performance by a Straight Actress in a Straight Role
Runner up: Rita Moreno, One Day at a Time
Other nominees: Constance Wu (Fresh Off The Boat), Kerry Washington (Scandal), Issa Rae (Insecure), Justina Machado (One Day at a Time)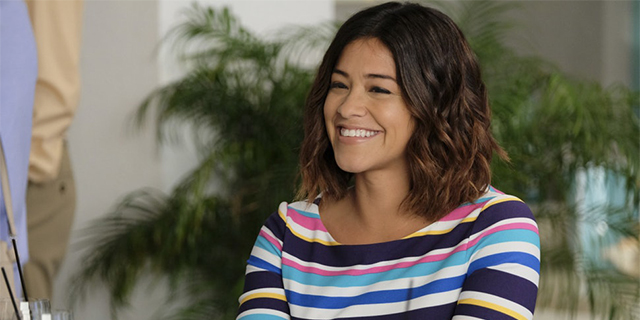 "Outstanding Performance by a Straight Actress in a Straight Role" is tongue-in-cheek. When we first brainstormed this category, we doubled over a bit in laughter. Then we narrowed down the nominations, and suddenly nothing was funny. How could we choose between Kerry Washington, Constance Wu, Justina Machado, or Rita Moreno?
Every queer woman reading this knows that eye-rolling moment where you see a straight woman on television, and you just want to save her from herself. You want her to not crumple in front of lackluster men who don't deserve her. You want her not to succumb to the pressures of patriarchy. Hell, you want her (or the actress playing her) to be a meaningful ally to the queer women in her life. More than anything, you want her to have the opportunity to be complicated, messy, emotional, but also dynamic and full and free to love.
So few women characters on television are allowed that kind of breadth. Particularly straight women on TV, who are often forced into the (haha straight and) narrow boxes of a "romantic lead." I'm so proud to award this year's "Best Straight" to Gina "possibly more bisexual than Jane" Rodriguez. (Although she does still identify as straight, which's why we included her in this category.) Not only does she continue to knock it out of the park as Jane Villanueva, a straight romantic lead who never loses track of her own self-worth or compass because of men, but her directorial debut behind the scenes gave us "Chapter Seventy-Four" – an episode nominated on its own merits this year for Best Episode with LGBTQ+ Themes. Now, that's how you do it! – Carmen Phillips
---
Best Episode with LGBTQ+ Themes
Fresh Off the Boat, "A League of Her Own"
Runner up: Brooklyn Nine-Nine, "Game Night"
Other nominees: Jane the Virgin, "Chapter Seventy-Four"; Madam Secretary, "Refuge"; One Day at a Time, "Locked Down"; High Maintenance, "Scromple"
As a 39-year-old lesbian who came of age in the '90s when the only queer character on TV was Ellen and she was getting annihilated for it, watching Nicole casually and successfully come out in 1997 on Fresh Off the Boat was a time-traveling balm to my closeted teenage heart. She came out to Eddie a few episodes before, but "A League of Her Own" found her joining the softball team for the local lesbian bar — the Denim Turtle — and coming out to her dad and step-mom. The episode was sweet and poignant and, like the rest of Nicole's journey to figuring out her sexuality, full of so many glorious '90s lesbian jokes. "Come to My Window" played at least three times! It was also the episode where Jessica, who has a notoriously broken gaydar, found out "it can go the girl way." Honey immediately supported Nicole, and it only took her dad nine innings to get there. — Heather Hogan
---
Best Coming Out Story
Runner up: Kate, Everything Sucks!
Other nominees: Nicole Ellis (Fresh Off the Boat), Cheryl Blossom (Riverdale), Ali Pfefferman (Transparent), Kat Edison (The Bold Type)
Ah yes, here I am, writing about Stephanie Beatriz again! But, more specifically, her character on Brooklyn Nine-Nine: the tough-as-nails and occasionally eratic (but secretly tender, especially when it comes to protecting and loving her friends) Rosa Diaz. I think it's safe to say that most of us got queer vibes from Rosa early on (and really just a compound of queer vibes from the VERY GAY dynamics between Rosa/Gina/Amy, if we're being honest), and there are few things more satisfying than picking up on subtextual queerness and then having the writers deliver. And wowza, did they deliver! It's still strikingly rare for television characters to identify explicitly as bisexual, to actually SAY the word out loud. But Rosa does so. She boldly claims the identity. And Brooklyn Nine-Nine doesn't just package this neatly in a single coming out episode and call it a day. Rosa's coming out feels like a genuine journey, like something that ebbs and flows. It's easier for her to come out to her friends than to her family. Ultimately, her coming out story is inspiring and hopeful, but it isn't without its complications either. — Kayla Kumari Upadhyaya
---
Outstanding Performance by an LGBTQ+ Actress in a Comedy
Runner up: Lily Tomlin, Grace and Frankie
Other nominees: Tig Notaro (One Mississippi), Abbi Jacobson (Broad City), Rosie O'Donnell (SMILF), Kiersey Clemons (Easy)
Yep!!!! It's me again, writing about Stephanie Beatriz!!!! Honestly, it's no surprise that she ended up dominating these super queer TV awards. It's not every day that the stars align so that an actor's own coming-out-narrative unfolds in conjunction with their character's, but there's something magical about it when it does happen. There's something strikingly authentic about Beatriz's portrayal of Rosa's bisexual identity. Beatriz, in fact, had some input in the way the character's coming out story was crafted and has vocally reiterated a lot of the points that Rosa's story brings to the surface. Rosa pushes back against her parents when they try to deny her bisexuality by saying that she'll probably end up with a man anyway. Beatriz has similarly called out any attempts to erase her identity, plainly stating that the fact that she recently got engaged to a man in no way negates her bisexuality. She's making her voice heard in front of the camera and in real life, too. — Kayla Kumari Upadhyaya
---
Outstanding Performance by an LGBTQ+ Actress in a Drama
Runner up: Samira Wiley, The Handmaid's Tale
Other nominees: Rutina Wesley (Queen Sugar), Alexandra Billings (Transparent), Laverne Cox (Doubt), Sarah Paulson (American Horror Story: Cult)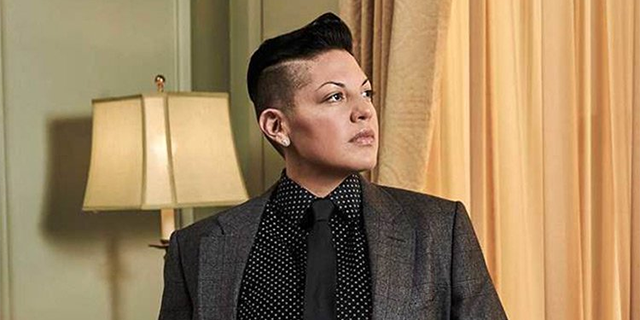 In the Comedy equivalent of this race, Stephanie Beatriz had a sweep! Yet, in the Drama category we found ourselves split between Ramirez (winning as Outstanding Performance by an LGBTQ+ Actress in a Drama) and Samira Wiley (who beat out Ramirez earlier in this very post for Outstanding Supporting Actress Playing an LGBTQ+ Character in a Drama). Clearly, both of these Julliard-trained women of color are incredibly talented.
It's not just that Sara Ramirez uses her celebrity platform to lift up those most vulnerable in our community, trans folks and bi folks of color who are often forgotten underneath the "rainbow flag." It's not just that she was vocal in the crafting of her character's coming out story this year (though as Kayla just noted, that type of behind the scenes advocacy is still critical when talking about queer and bisexual representation). It's not just that when approached by CBS about the role of Kat Sandoval, Ramirez told them in no uncertain terms that she was coming to the table as the butch icon she's quickly become, and not as the remnant memories of Callie Torres that they may have been holding on to. Or maybe, really, it's all of those things. In every moment, with every fiber, whenever and however she can, Sara Ramirez makes sure we know how much she loves us. She's triumphant. It's only fitting that we love her back with the same fervor. After all, if we don't take care of ourselves, who will? – Carmen Phillips
---
Outstanding Performance by an LGBTQ+ Actress in a Sci-Fi/Fantasy Show
Runner up: Maisie Richardson-Sellers, Legends of Tomorrow
Other nominees: Tessa Thompson (Westworld), Ariela Barer (Marvel's Runaways), Aubrey Plaza (Legion), Gillian Anderson (The X-Files)
The second season of Westworld was more polarizing than the first, but there's no denying that Evan Rachel Wood is a force to be reckoned with. A total 180 from sweet, meek Dolores, self-aware Dolores is fierce and rightfully pissed. I don't think I will ever, for as long as I live, forget Dolores being fired at and continuing to walk forward into the hail of bullets, unflinching. It was such a powerful image. Evan Rachel Wood carried her storyline with her head high this year, and even though her body movements were always quiet and controlled, her presence on screen was deafening. She more than earned this Gay Emmy, and I wouldn't be surprised if she won an Emmy Emmy, too. Which is extra awesome because she's so open about her sexuality and being part of our community that her full legal* name is Evan Rachel Wood Bisexual. – Valerie Anne
---
Outstanding LGBTQ+ Director / Producer / Showrunner
TIE: Lena Waithe, The Chi and Nahnatchka Khan, Fresh Off the Boat
Runner up: Rebecca Sugar, Steven Universe
Other nominees: Joanna Johnson, The Fosters; Katja Blichfeld, High Maintenance; Cameron Esposito & Rhea Butcher, Take My Wife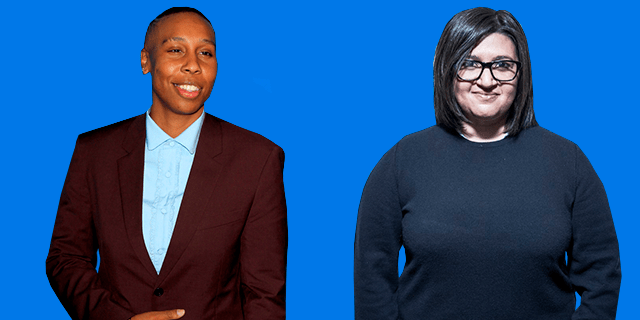 According to a recent report, more than 90% of the showrunners in Hollywood in during the 2016-2017 season were white and 80% were male. That diversity (or lack thereof) correlates strongly to who makes up writers' rooms — showrunners hire who they know, after all — and that dictates the stories we see on television. Hiring an LGBTQ+ director/producer/showrunner is a game-changer. It means we'll get to know more LGBTQ+ writers and see more LGBTQ+ stories being told.
Sometimes that means, we're the story — that our lives are the central focus of the show, as with Cameron Espositio and Rhea Butcher's Take My Wife or Joanna Johnson's The Fosters. Then there are times we are just allowed to exist, woven into the tapestry of other's stories, as is the case with this category's winners, Lena Waithe's The Chi and Nahnatchka Khan's Fresh Off the Boat. Whether the characters are front burner or side burner, LGBTQ+ showrunners ensure that stories get told with nuance. It's priceless.
That said, it's possible that I'm being too critical about this, and, really, you just voted for Lena Waithe cause you're still in your feelings about her haircut — which, I mean, SAME. — Natalie
---
Most Groundbreaking Representation
Black Lightning
Runner up: One Day at a Time
Other nominees: Steven Universe, Take My Wife,You Me Her, Transparent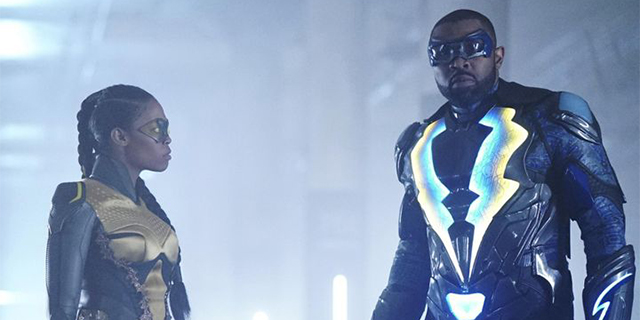 In a mid-season episode of Black Lightning, Jefferson (one of the best men on TV, for sure) is forced to tell Anissa: "All it takes is one cop! One cop to see your color instead of your humanity and decide, better dead than sorry. Look, you are a black woman, you don't have the luxury of being naive… I don't want to lose you because you went along with something that you should have walked away from."
What he doesn't know yet is that guns can't hurt her.
It's both of these things that make this show so groundbreaking. It refuses to shy away from the realities of being a black family in a country built on and sustained by white supremacy. It comments on police violence. It comments on confederate monuments. It comments on everyday microagressions. It also features a black lesbian character who, it would appear, cannot be killed. "I've said before that bullet proof black people is my favorite superhero trope," Carmen wrote in a season one recap, "but there is also something so sweet about a television lesbian who can't be shot." — Heather Hogan
---
Outstanding Male Character
Rogelio De La Vega, Jane the Virgin
Runner up: Captain Holt, Brooklyn Nine-Nine
Other nominees: Evan Huang, Fresh Off the Boat; Daniel "Hondo" Harrelson, S.W.A.T.; Jefferson Pierce, Black Lightning; Lincoln Rice, Broad City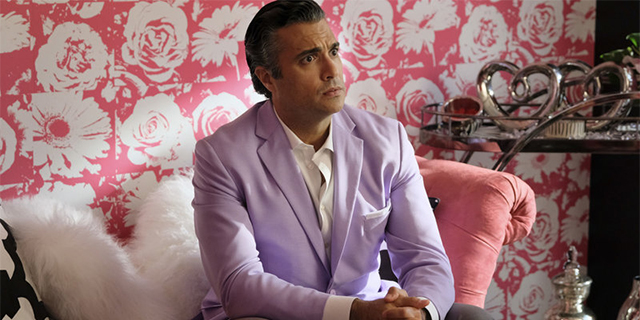 It's hard to live a day on Al Gore's internet without seeing someone utter those three special little words — men are trash — and 99% of the time, that phrase is uniquely suited to describe men and whatever misogynistic BS they've done that day. But on television, as in life, there are always a select few men who prove to us: #NOTALLMEN. You can be heroic, like Jefferson Pierce on Black Lightning and still recognize that you can't do it on your own. You can be a real leader, like Hondo on S.W.A.T. or Captain Holt on Brooklyn Nine-Nine, who works best by empowering the women around you. Or you could be Rogelio de la Vega, the winner of our Outstanding Male Character category, who works overtime to make the world more beautiful for the women in his life.
It's easy to get lost in Jaime Camil's portrayal of Rogelio. When he sits and cries with Jane or when he holds Xiomara's hand through her cancer treatments or when he builds "bro-mances" with Michael and Rafael or when he dons his favorite lavender shirt, Rogelio is quietly rewiring our thinking about masculinity and undoing some toxic tropes about Latino men in particular. We were just too busy laughing to notice. — Natalie
---
Outstanding Animated Series
Steven Universe
Runner up: Adventure Time
Other nominees: Danger and Eggs, Loud House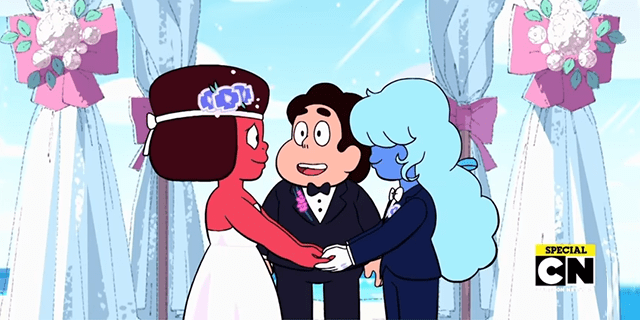 Steven Universe is just so many things! It's the first animated series to show two women kissing on-screen, the first animated series to show two women getting married on-screen, the only animated series on TV to feature almost all women of color as voice actors. It's got non-binary representation; it's constantly messing with gender presentation; it's forever destroying toxic masculinity; it's dealing with actual depression and actual trauma and finding ways to validate them both. It's also helmed by non-binary bisexual showrunner Rebecca Sugar, who we just found out is the person responsible for Princess Bubblegum and Marceline's whole gay deal on Adventure Time. It seems like she took what little she could do there, in terms of queer representation, and multiplied it times a hundred when she got her own show. Steven Universe has changed the game for queer characters on TV forever. — Heather Hogan
---
Outstanding Hairstyling for an LGBTQ+ Character
Runner up: Sandra Oh, Killing Eve
Other nominees: Cameron Esposito and Rhea Butcher, Take My Wife; Nafessa Williams, Black Lightning; Sherri Saum, The Fosters; Lyrica Okano, Marvel's Runaways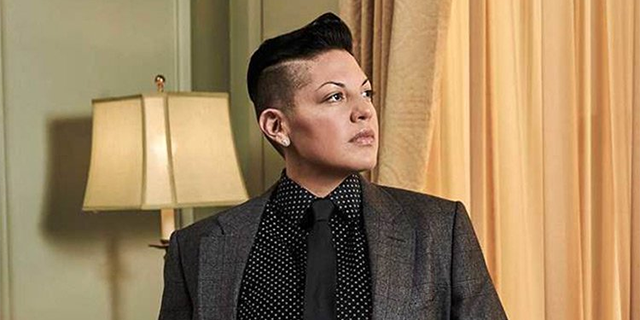 When Sara Ramirez tweeted out this promo shot of her as Kat Sandoval on Madam Secretary, she very nearly broke the queer internet. We were talking about it in literally every single channel in Autostraddle Slack. Twitter, too, was going berserk. All of it, of course, was especially about her alternative lifestyle haircut, which she'd been sporting since she came out as bisexual.
Autostraddle reader Another Rachel said it best: "I'm sorry, but IS THAT HAIRCUT GOING TO BE ON TV? That haircut. Haircut. The way her hair is cut. On tv." And yes, it was. And yes, it was glorious. (It's a bonus that when asked about her infamous new hair, Sara Ramirez name-checks black queer Brooklyn barber Khane Kutzwell first.) — Heather Hogan

---
Fan Favorite Couple
Waverly and Nicole, Wynonna Earp
Runner-Up: Alex & Maggie, Supergirl
I've already waxed poetic about Nicole, so let me tell you a little about why Waverly Earp is great. Her coming out wasn't one big reveal, it wasn't an epiphany or a secret she carried for a long time. It was an evolvement, a realization; and it wasn't JUST her queerness she was coming into as she became more herself. It was the totality of Waverly. She was realizing she was more than just a small-town gal, that she could embrace the learned-dead-languages-for-fun, bookish side of her, that she didn't have to be what everyone expected or wanted her to be. She could just be HER. And it just so happened that as she was learning this by way of realizing she could help her sister re: the Earp curse, that she also realized she deserved more than the boy she settled for who didn't appreciate her favorite things about herself. And it just so happened that during this realization, the hottest cop to ever grace the Ghost River Triangle strolled into her bar. And Nicole loves Waverly for Waverly, and whatever that means to Waverly is fine by her. It's no surprise to me that these two lovebirds made their way into so many of your hearts and that they won this fan fave category. — Valerie Anne
---
Fan Favorite Out LGBTQ+ Actor
Runner-Up: Kate McKinnon, Saturday Night Live
We had joked about calling these awards The Violas (for the reasons Natalie listed above) or The Mommis (for the reasons listed in perpetuity on this website) but maybe we should have called them the Beatrizes. She absolutely swept these things! — Heather Hogan
---
Most Devastating Cancellation
Runner-Up: One Mississippi
In the sixth episode of Everything Sucks!, Kate Messner sees her future — two women holding hands, dancing to Tori Amos' "Silent All These Years" and kissing — and she knows that she wants it. At that very moment, the fear that's kept her clinging to a fake relationship is outweighed by the desire to see that future realized.
"My whole life, I have been the freak. The girl who nobody picked for dodgeball. The girl who didn't have a mom. The girl who dressed funny because it was her dad buying her clothes," Kate admits. "And then, tonight I looked at these people, and I thought maybe there's a future where I don't have to be a freak. Maybe I can be who I am and that's okay."
Kate Messner gave voice to why representation is so important and, sadly, why the loss of Everything Sucks! is so profound. Kate Messner was to a Netflix audience what that Tori Amos show was to that character: a reminder that maybe you can be who you are and that's okay. Netflix took for granted that there are still so many of us who still need to hear that message. — Natalie
---
Fan Favorite New Show
Killing Eve
Runner-Up: The Bold Type
Queer women were always going to be into Killing Eve because queer women are very into Sandra Oh, but it didn't take long into the first season of BBC America's breakout show for queer women to become as obsessed with Killing Eve as Eve and Villanelle are with each other. This is a story we've never seen before, not like this, and damn the tropes we just want more! — Heather Hogan 
---
Fan Favorite Character
Runner-Up: Nicole, Wynonna Earp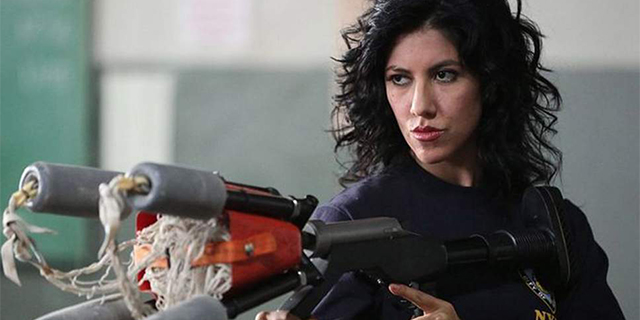 Surprise!
---
We'll be live-blogging the "real" Emmys next Monday night; hope to see you there!