Adventure Time's hour-long finale, "Come Along With Me," was everything I hoped for (and more) — it was weird and sad and silly and funny and harrowing and so quietly profound I'll be thinking about it probably forever. Which was really the point of it all. Yes, it was the end of the Ooo (kind of) (twice), and yes there were cameos and Easter eggs galore. Every major character had a moment, a coda, a semicolon ending. But mainly "Come Along With Me" said the thing Adventure Time's been saying all along: The stories we love will happen, happening, happened, and will happen again and again.
Nowhere was that theme more evident than in the interactions between Princess Bubblegum and Marceline, who — after dancing and laughing and bickering around each other for ten seasons about their past and their present and their past some more — FINALLY KISSED ON-SCREEN!
There are two major battles in Adventure Time's finale. The long-awaited Great Gum War between Princess Bubblegum and her Uncle Gumbald, which resolves pretty quickly with a dream-dive into everyone's anxieties and fears and with Finn pleading for both of them to see the other's humanity. And the much-alluded-to appearance of the being of pure destruction, GOLB, who starts smashing everything and everyone in sight as soon as he descends onto the planet. Princess Bubblegum is one of the many people (and bananas) who rushes at him, throwing her life on the line to save her friends and her kingdom. When PB gets conked on the noggin Marceline thinks she's dead, and she goes berserk. She shifts into a raging demon and beats the bjork out of GOLB's evolving form.
When Princess Bubblegum wakes up, Marceline rushes to her, wraps her up in the warmest embrace — even cradling her head — and says she was always afraid, when they were apart, that something would happen to Bonnie and she wouldn't be there to save her. She doesn't want to live like that anymore. And neither does Bonnibel. And so they smooch right on the lips, right there on the teevee.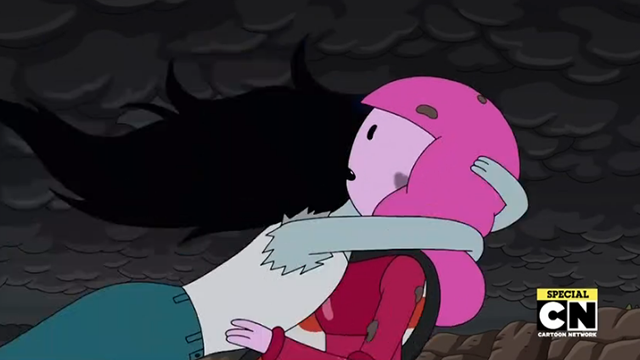 I honestly never thought it would happen, and the story of how it finally did is very good. Executive producer Adam Muto talked to TVLine after the finale and said the way it was going to play out was up to story-boarder Hanna K. Nyströmthe. The script said Marcy and PB "have a moment" and when Hanna boarded it, she drew them kissing. The only note she wrote on her boards for the entire finale was one in the margin next to the kiss. It said "COME ON!" with a giant exclamation mark. And so the show finally did the dang thing. (Another great tidbit in that interview is Muto saying Marcy and PB's relationship wasn't in the original show pitch, and that Rebecca Sugar nurtured it into existence.)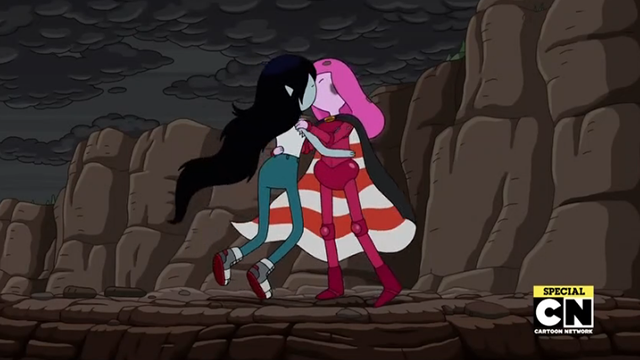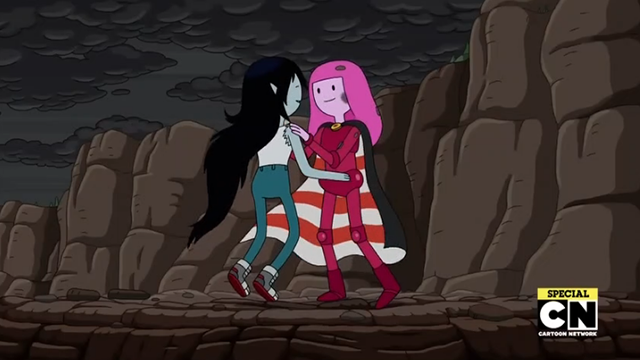 Everyone ultimately fails at fighting GOLB, except for BMO, of course, who finds Jake curled up in fetal position in the wreckage of the tree house, scoops him up, and says, "How about today you let me be the papa?" and starts singing. They're joined by Princess Bubblegum and Marceline who immediately sing along. It's the only thing that hurts GOLB. He's discord. They're harmony. "My art is a weapon!" BMO yells, shaking their fist. Everyone joins in on their song, in the end, and as her one final act, Betty sacrifices herself so that Simon (really Simon!) can live.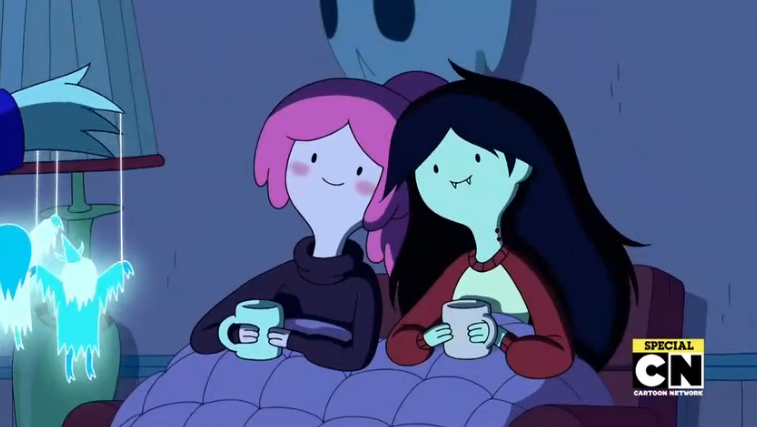 "Come Along With Me," itself, is happening, happened. King BMO is telling it to Shermy and Beth the Pup Princess, thousands of years later. I won't share everyone's last scene, but I'll share Princess Bubblegum and Marceline's — they're snuggled up in bed together: pajamas, cups of tea, watching a puppet show. I could say they lived happily ever after, but Adventure Time says time is an illusion. The Great Gum War and GOLB's attack, they were only pretty much the end of Ooo. The end of the Ooo we knew when we first met it. None of the characters on Adventure Time ever felt confined to the stories we saw them in; their journeys and relationships and feelings and failings stretched out behind them and in front of them, past the parameters of our TVs.
Shermy and Beth the Pup Princess want to know what happened to Finn (Phil) and Jake after the end? What happened to Princess Bubblegum? To everyone? BMO taps their fingers together, shrugs. "Well, they kept living their lives."