Gina Rodriguez, star of Jane the Virgin and leading lady of my heart, is on the cover of BUST magazine this month talking about so many things including but not limited to three concepts near and dear to our collective hearts: feminism, masturbation and bisexuality.
For example, does Gina Rodriguez relate to her character Jane on Jane the Virgin, who, like Jane, grew up in a Catholic household and felt pressured to conform to her culture's standards of sexual purity? Yes she does! Rodriguez tells BUST how her upbringing made her feel guilty for masturbating:
"In all honesty, I used to feel guilty for masturbating. Oh my god, this extreme guilt! And that lasted way too long. Or maybe I masturbated too much! It's OK to look back in retrospect and be like, it wasn't good that I felt bad about touching myself."
In other aspects, Rodriguez says Jane and her are different — like how Rodriguez thinks she's closer to being bisexual than Jane is (!!!):
For her part, Rodriguez says, "Jane with Michael was everything to me, and I really can't imagine Jane being with anyone else." But she's on board with the fans who ship her with Jane's frenemy (and Rafael's ex-wife) Petra, with the couple name "Jetra." Rodriguez says she sees that fantasy pairing online "so often," adding, "and so many fans ask me if Jane is bisexual. Jane is the furthest from bisexual — maybe Gina's a little closer than Jane is! — but I love that they want that. And I'm all about 'Jetra.'I love 'Jetra.'"
She goes on to say she would want to play out bisexual actress Stephanie Beatriz's fictional girlfriend on Brooklyn Nine-Nine. 
"I want to play her love interest so bad," says Rodriguez. "I really hope they make that happen."
Listen, I've been in love with Gina Rodriguez ever since she won a Golden Globe for Best Comedy Actress in 2015 for her role on Jane the Virgin, the second Latina ever to win in this category since the awards began in 1944. Her hella inspirational acceptance speech made me cry and moved her to the top of my fave celebrities list which is composed of only her. I've been following her career ever since and she hasn't disappointed me. Aside from being gorgeous and a super talented actress, she's an amazing advocate for Latinxs in Hollywood and media and a proud feminist. As far as I can tell from my scientific analysis of her Snapchat and Instagram stories, she's also super down-to-earth and someone who'd probably be down to share a bag of Hot Cheetos with me any day of the week.
Despite these strong feelings I've long harbored for Gina Rodriguez and although my gaydar is super on point when it comes to people I've met in real life, it has failed to ping for Gina.
However, over the last year, Gina has really been making a strong case that she is probably, possibly, maybe or definitely not entirely all-the-way heterosexual!
Last year, it was announced Rodriguez was going to play a lesbian paramedic in Annihilation, a new sci-fi film written and directed by Ex Machina's Alex Garland. Rodriguez went all in for that role and got an extra gay undercut which she brazenly showed off on the cover of Latina's October 2016 issue.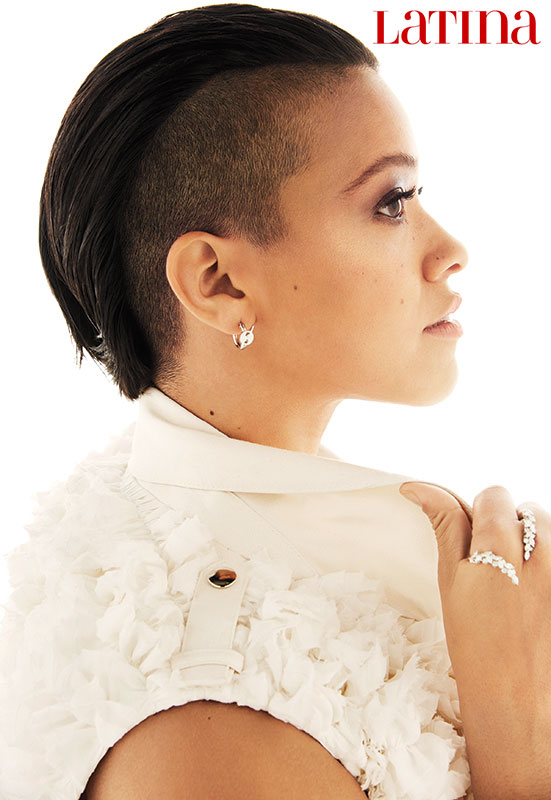 But the most promising piece of evidence was Rodriguez's answer to a fan's question asking if she identified as straight. Her response:
https://twitter.com/HereIsGina/status/745335294573051904
Like many actresses before her, Rodriguez said she doesn't feel a need to define her sexuality. "I love hearts," she said, which is probably the gayest thing anyone has said.
Rodriguez is currently dating Joe LoCicero, whom she met on the set of Jane the Virgin. As much as I'd selfishly like to see Rodriguez with a pretty lady by her side, they're very cute together and it seems they're really into each other.
In conclusion, Rodriguez is already a smoking hot trailblazer in Hollywood, forging a path for Latinxs on screen and inspiring others along the way. Regardless of what her orientation is or turns out to be, she's also a consistent supporter of LGBT issues. I can't wait for her to be in even more blockbusters and see her win more TV awards. I will take any excuse I can to write about Gina Rodriguez. And now that she's confessed to the world she's probably more bisexual than Jane, my love can truly only grow from here.