Pure Poetry Week(s):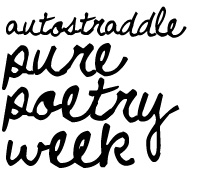 #1 – 2/23/2011 – Intro & Def Poetry Jam, by Riese
#2 – 2/23/2011 – Eileen Myles, by Carmen
#3 – 2/23/2011 – Anis Mojgani, by Crystal
#4 – 2/24/2011 – Andrea Gibson, by Carmen & Katrina/KC Danger
#5 – 2/25/2011 – Leonard Cohen, by Crystal
#6 – 2/25/2011 – Staceyann Chin, by Carmen
#7 – 2/25/2011 – e.e. cummings, by Intern Emily
#8 – 2/27/2011 – Louise Glück, by Lindsay
#9 – 2/28/2011 – Shel Silverstein, by Intern Lily & Guest
#10 – 2/28/2011 – Michelle Tea, by Laneia
#11 – 2/28/2011 – Saul Williams, by Katrina Chicklett Danger
#12 – 3/2/2011 – Maya Angelou, by Laneia


The word 'ubiquitous' gets on my nerves because it itself is ubiquitous. But if there's ever a time to use that stupid word, it's when discussing Maya Angelou. I feel like you either know all there is to know about her, or you just know that she delivered Clinton's inaugural poem and beyond that, you've written her off as being almost annoyingly ubiquitous and not really worth looking into.
I do that with NYT Best Sellers. Like, "Nah, I'll stick with this Hayden's Ferry Review, thanks; you can keep that Dan Brown."
Also I'd done that with Maya Angelou.
Then one magical night, I found myself glued to the television, accidentally watching Master Class on the Oprah Winfrey Network. Maya Angelou was telling her life story and I swear every word that fell from her her mouth was poetry.
Ok. I'm sold.
Try to live your life in a way that you will not regret years of useless virtue and inertia and timidity. Take up the battle. Take it up. It's yours.
-Maya Angelou, Master Class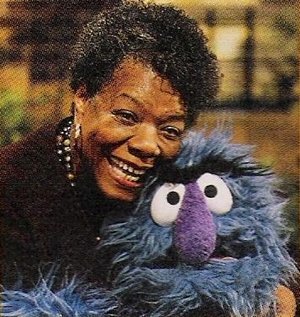 And I nearly broke my neck scrambling through tears and over pillows to find a piece of paper in my nightstand drawer so I could write that down. I wrote "take up the battle" across my mirror in block letters with a dry erase marker. I wrote it in the margins of the notebook I was keeping for a documentary post I still haven't finished. I want to tattoo it on my arm but I don't know where.
If Maya Angelou hadn't told me to take up the battle, I'm almost ashamed to admit that I might still be waiting for another human to notice that I needed them to say it.
But that's ok because sometimes people just need a push. Or a teacher. Or an introduction to a moment that bends the light, finally.
Maya Angelou has accomplished more than I can squeeze into this space. Learn more about her. Read her many, many books. The poems below can be found in The Complete Collected Poems of Maya Angelou.
The New House
What words
have smashed against
these walls,
crashed up and down these
halls,
lain mute and then drained
their meanings out and into
these floors?
What feelings, long since
dead,
steamed vague yearnings
below this ceiling
light?
In some dimension,
which I cannot know,
the shadows of
another still exist. I bring my
memories, held too long in check,
to let them here shoulder
space and place to be.
And when I leave to
find another house,
I wonder, what among
these shades will be
left of me.
Senses of Insecurity
I couldn't tell fact from fiction
—–or if my dream was true,
The only sure prediction
—–in this whole world was you.
I'd touched your features inchly,
—–heard love and dared the cost.
The scented spiel reeled me unreal
—–and found my senses lost.