Pure Poetry Week(s):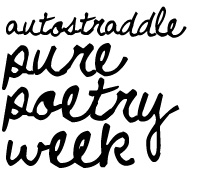 #1 – 2/23/2011 – Intro & Def Poetry Jam, by Riese
#2 – 2/23/2011 – Eileen Myles, by Carmen
#3 – 2/23/2011 – Anis Mojgani, by Crystal
#4 – 2/24/2011 – Andrea Gibson, by Carmen & Katrina/KC Danger
#5 – 2/25/2011 – Leonard Cohen, by Crystal
#6 – 2/25/2011 – Staceyann Chin, by Carmen
#7 – 2/25/2011 – e.e. cummings, by Intern Emily
#8 – 2/27/2011 – Louise Glück, by Lindsay
#9 – 2/28/2011 – Shel Silverstein, by Intern Lily & a 12-year-old boy
#10 – 2/28/2011 – Michelle Tea, by Laneia
#11 – 2/28/2011 – Saul Williams, by Katrina Chicklett Danger
#12 – 3/2/2011 – Maya Angelou, by Laneia
#13 – 3/4/2011 – Jack Spicer, by Riese
#14 – 3/5/2011 – Diane DiPrima, by Sady Doyle
#15 – 3/6/2011 – Pablo Neruda, by Intern Laura
#16 – 3/7/2011 – Vanessa Hidary, by Lindsay
#17 – 3/7/2011 – Adrienne Rich, by Taylor
#18 – 3/8/2011 – Raymond Carver, by Riese
#19 – 3/9/2011 – Rock WILK, by Gabrielle
#20 – 3/9/2011 – Veronica Franco, by Queerie Bradshaw
#22 – 3/12/2011 – William Carlos Williams & Robert Creeley, by Becky
#23 – 3/13/2011 – NSFW Lesbosexy Sunday Knows Sex is Pure Poetry, by Everyone
#24 – 3/13/2011 – Charles Bukowski, by Intern Emily


Charles Bukowski was an old man with a white beard and a pot belly. He drank a lot of beer and stared at girls' boobs and scratched his butt. Or at least that's how I picture Charles when I read his most of his poetry.
On the back of my copy of The Pleasures of the Damned, the "definitive volume of Bukowski's poems" (NYT book review), he is described as a "hard drinking wild man of literature and a stubborn outsider to the poetry world, [who] wrote unflinchingly about booze, work, and women, in raw street-tough poems whose truth has struck a chord with generations of readers".

The truth is that I'm just writing this because I don't want to write my essay. I'm actually not really sure if I like Bukowski that much (still deciding), but here are two Bukowski poems that I'm confident that I love a lot.
This is an excerpt from "Verdi":
then too
I sometimes think of a
less stressful kind of
love-
it can and should be so
easy
like falling asleep
in a chair or
like a church full of
windows.
sad enough,
I wish only for that careless love
which is sweet
gentle
and which is now
(like
this light
over my head)
there only to serve me
while I
smoke smoke smoke
out of a certain center dressed
in an old brown shirt,
but I am caught under a pile of
bricks;
poetry is shot in the head
and walks down the alley
pissing on its legs.
friends, stop writing of
breathing
in this sky of fire.
This is "when you wait for the dawn to crawl through the screen like a burglar to take your life away" a title which I love a lot:
the snake had crawled the hole,
and she said,
tell me about
yourself.
and
I said,
I was beaten down
long ago
in some alley
in another
world.
and she said,
we're all
like pigs
slapped down some lane,
our
grassbrains
singing
toward the
blade.
by
god,
you're an
odd one,
I said.
we
sat there
smoking
cigarettes
at
5
in the morning.