Pure Poetry Week(s):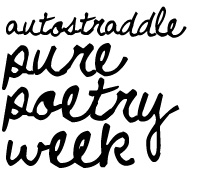 #1 – 2/23/2011 – Intro & Def Poetry Jam, by Riese
#2 – 2/23/2011 – Eileen Myles, by Carmen
#3 – 2/23/2011 – Anis Mojgani, by Crystal
#4 – 2/24/2011 – Andrea Gibson, by Carmen & Katrina/KC Danger
#5 – 2/25/2011 – Leonard Cohen, by Crystal
#6 – 2/25/2011 – Staceyann Chin, by Carmen
#7 – 2/25/2011 – e.e. cummings, by Intern Emily
#8 – 2/27/2011 – Louise Glück, by Lindsay
#9 – 2/28/2011 – Shel Silverstein, by Intern Lily & Guest
#10 – 2/28/2011 – Michelle Tea, by Laneia
#11 – 2/28/2011 – Saul Williams, by Katrina Chicklett Danger
#12 – 3/2/2011 – Maya Angelou, by Laneia
#13 – 3/4/2011 – Jack Spicer, by Riese
#14 – 3/5/2011 – Diane DiPrima, by Sady Doyle
#15 – 3/6/2011 – Pablo Neruda, by Intern Laura
#16 – 3/7/2011 – Vanessa Hidary, by Lindsay
#17 – 3/7/2011 – Adrienne Rich, by Taylor
#18 – 3/8/2011 – Raymond Carver, by Riese
#19 – 3/9/2011 – Rock WILK, by Gabrielle
#20 – 3/9/2011 – Veronica Franco, by Queerie Bradshaw
#22 – 3/12/2011 – William Carlos Williams & Robert Creeley, by Becky


IT'S STILL POETRY WEEK EVERYBODY. And today I've decided to bring you an all-sorts-of-modern-American triumvirate of William Carlos Williams, Robert Creeley, and Gareth Lee.
A high-school favorite, William Carlos Williams has a knack for saying so much with so little. While some of his most popular poems are short and charmingly accessible–
Red Wheelbarrow
So much depends
upon
a red wheel
barrow
glazed with rain
water
beside the white
chickens
–that does not stop them from sparking the figments in our imaginations and the kind of thoughts that cause us to think and rethink.
There are benefits to this of course, and the succinct succulence of his poems has been known to turn people on to the art of reciting poetry — being able to quote things can be stylish, too. Sometimes having something visual to say can be nice to hear.
All this is to say, really, that if you have not already memorized William Carlos Williams' "This Is Just To Say", I recommend you take the time to do so now:
This Is Just To Say
I have eaten
the plums
that were in
the icebox
and which
you were probably
saving
for breakfast
Forgive me
they were delicious
so sweet
and so cold
It comes in handy, if, like me, you need to write your roommate an apology note freshman year of college because you ate all of the 'community' gummy bears one painfully unsober night: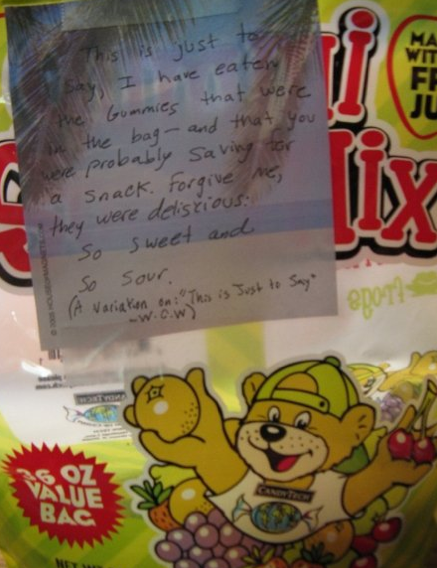 Don't expect it to always work, though. Especially if you misspell delicious.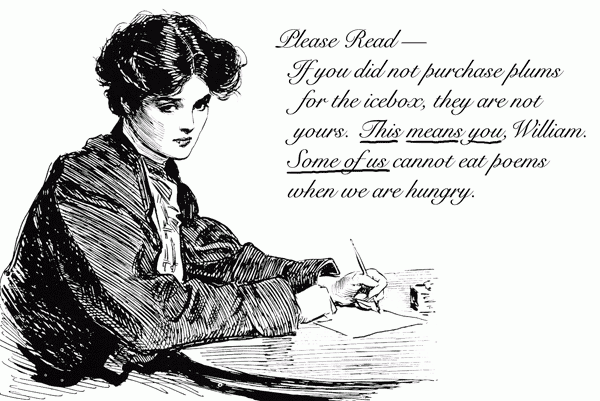 I want to eat poems when I am hungry, don't you? I bet they'd taste like Earl Grey tea and fried chicken. And plums. All in all, it's generally a good idea 1) not to eat other people's food and 2) to read William Carlos Williams poems.
He was also friends with cool people like Ezra Pound
Green arsenic smeared on an egg-white cloth,
Crushed strawberries! Come, let us feast our eyes.
–L'Art
and Charles Olson.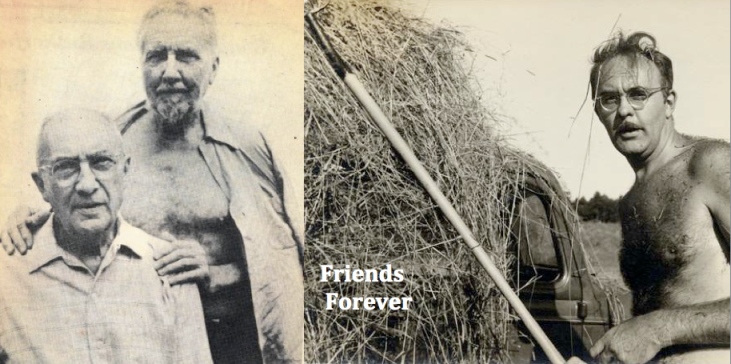 (L to R; WCW, Pound, Olson)
And corresponded with a young Robert Creeley: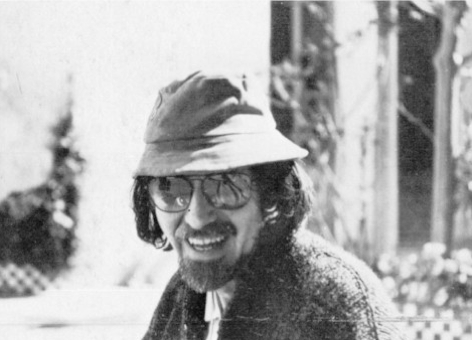 And even though Robert Creeley would lose in a google fight to Pound and Olson, I'm going to throw him some love. He wrote this:
A Warning
For love-I would
split open your head and put
a candle in
behind the eyes.
Love is dead in us
if we forget
the virtues of an amulet
and quick surprise.
and this poem called Yesterdays where he name drops a whole bunch of people with twinges of existential and transcendental goodness.
Robert Creeley passed away not too long ago in 2005, inspiring a young Gareth Lee to introduce Creeley's work to his English class. A mentor of sorts to me, Lee composed poems I enjoyed more or less 'hot off the press.'
PARANOIA IN THE N.
Suddenly the broadcast voice on the radio inflects a Southern accent. In this
context, we go out. It is morning on the hill. On the hill, there is a lucid incline. And a
freeze has cleared the atmosphere, and the light has cleaned us up, and we
abstract our general statement, brace the lucid incline, and slide.
The weather, with its breeze, is anesthesia. The weather excavates some snow off
the ground and invites us like ice. And so we go back in, where the broadcast
voices on the radio inflect Southern accents, where we lunch. Thus, with guacamole
dye, my shirt is stained. I am the slide, anesthetized, now dirtied
with guacamole dye. Now I never can be that lay male innocent with no need for
priestly help. Now I am done for. On the broadcast radio, the right wing invites the
left wing in for a clap. It is simple. It is symbolic. Over cards, I see your sloe gin and
meet it with tequila. We get drunk early. We listen intently.
We shut the caller up and determine our combat mode. We wave the Union flag
and napkins, our napkins, are stained with guacamole. The caller maintains his
broken household. The caller keeps the native base intact. I want to shut the caller
up and give the bastard his papa. I want to join him in singing a duet.
Lee has a way with words I will always appreciate. He moves them around and they move him around and I like reading them. Anyway, what's your favorite William Carlos Williams poem from high-school? Is it this one?
To a Poor Old Woman
munching a plum on
the street a paper bag
of them in her hand
They taste good to her
They taste good
to her. They taste
good to her
You can see it by
the way she gives herself
to the one half
sucked out in her hand
Comforted
a solace of ripe plums
seeming to fill the air
They taste good to her