Pure Poetry Week(s):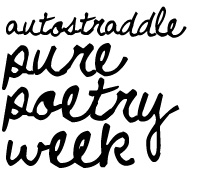 #1 – 2/23/2011 – Intro & Def Poetry Jam, by Riese
#2 – 2/23/2011 – Eileen Myles, by Carmen
#3 – 2/23/2011 – Anis Mojgani, by Crystal
#4 – 2/24/2011 – Andrea Gibson, by Carmen & Katrina/KC Danger
#5 – 2/25/2011 – Leonard Cohen, by Crystal
#6 – 2/25/2011 – Staceyann Chin, by Carmen
#7 – 2/25/2011 – e.e. cummings, by Intern Emily
#8 – 2/27/2011 – Louise Glück, by Lindsay
#9 – 2/28/2011 – Shel Silverstein, by Intern Lily & Guest
#10 – 2/28/2011 – Michelle Tea, by Laneia
#11 – 2/28/2011 – Saul Williams, by Katrina Chicklett Danger
#12 – 3/2/2011 – Maya Angelou, by Laneia
#13 – 3/4/2011 – Jack Spicer, by Riese
#14 – 3/5/2011 – Diane DiPrima, by Sady Doyle
#15 – 3/6/2011 – Pablo Neruda, by Intern Laura
#16 – 3/7/2011 – Vanessa Hidary, by Lindsay
#17 – 3/7/2011 – Adrienne Rich, by Taylor
#18 – 3/8/2011 – Raymond Carver, by Riese
#19 – 3/9/2011 – Rock WILK, by Gabrielle

I sat sipping a Bud Light at a square table waiting for the show to begin. The small crowd consisted mostly of poets waiting to perform their pieces. The host asked me to sign up because some of her performers had dropped out. I agreed and wrote my name on a list right above someone named "Rock WILK."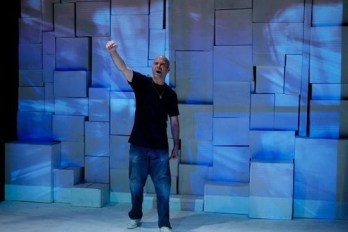 I dropped some new poems and did my thing. Another Bud Light was calling my name as they announced Rock WILK on stage. I discreetly attempted to head to the bar when I heard his voice. His voice was even more powerful than my desire for a fresh beer.
I stopped, immediately and felt literally spellbound and frozen in place.
Rock WILK is a fucking experience. His spoken word performances are life changing. With a soft voice and rapid fire-delivery, Rock solemnly refuses to release you back into your comfort zone until he's good and finished — until his words have cracked open your ribcage and slipped into your beating heart and his face is forever embedded in your mind — then, and only then, will you be set free.
Rock WILK is a NYC based multi-talented artist with a divine given gift for performing in front of an audience. And I'm not saying you gotta believe in God or anything, but go see Rock WILK perform and then tell me if you didn't feel the heavens shift slightly.
Ok, enough of me gushing — here's a video of Rock WILK performing a piece at the Nuyorican Poets Café about Sean Bell. The New York Pigs, oopse I mean Police, Department gunned him down in the parking lot of club. It was the night of Sean's bachelor party. Instead of walking down the aisle the next day, Sean Bell was laid to rest after 50 shots took his life.
Rock's Piece:
Rock WILK is currently on tour with his one-man show Broke Wide Open. Check it out
For a taste of Broke Wide Open, check out Rock's performance of "My Grandmother."
http://wilkmusic.com/blog.html/doubt__no_way_just_ask_my_grandmother/
Rock WILK shares his life through music, acting and performing spoken word. Join the Rock movement. Fall in to Broke Wide Open:
I'm BROKE WIDE OPEN
but honestly
sometimes I hate cryptic
someone said that I am a love poem
maybe that means I'm a metaphor
I am gunshots on 125th St in the summer
right after saying so
close,
you are nervous
a quiet window of opportunity
we're getting closer
and so you let me take you
Trust me, you will not regret it.
For more info on Rock WILK and to find out if Broke Wide Open is coming to your town, check out http://www.brokewideopen.com/