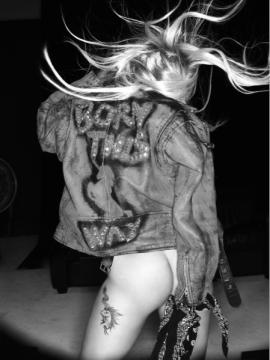 At a Buffalo concert last Friday, Lady Gaga called for Republican Senator Mark Grisanti, who has previously been on the record as ambivalent towards gay marriage, to change his mind.
"There's a senator here in Buffalo that's on the fence about whether or not to vote for this particular bill and I would like to give you all his email. His name is Senator Mark Grisanti."
Then, she did. Later, she also posted the following on Facebook, along with a photo of herself in fishnets:
"Buffalo, we need SEN.GRISANTI to help pass NY STATE MARRIAGE BILL email grisanti@nysenate.gov #IWasBornThisWay"
A statement released by Grisanti's spokesman in response read:
"Lady Gaga is a terrific world-renowned performer, entitled to her opinion. That is why our country is so great, because you have the opportunity to have your voice be heard, and reach out to your local representatives."
Whether Grisanti actually received Gaga's suggested 2,000 or so emails is unclear, however, he's meeting with a local chapter of Outspoken for Equality, and according to the spokesman, "we look forward to learning more about their issues and concerns with regards to same-sex marriage."
Which is obviously a good thing.
Lady Gaga has made it very clear in the past that she is more than willing to join the legions of pop stars with strong political opinions. But usually, it doesn't work out as nicely.
Celebrities getting absurd, inappropriate platforms is more or less an unfortunate fact of life. One example — possibly the example — of this is Bono. Remember that time he got really ridiculous New York Times guest columns and had opinions from nowhere on multinational corporations and was chronically unable to remove his sunglasses indoors while meanwhile U2 hasn't released a worthwhile album in years, not that I'm bitter? It also happened to Natalie Portman:
"In 2004, Natalie Portman, then a 22-year-old fresh from college, went to Capitol Hill to talk to Congress on behalf of the Foundation for International Community Assistance, or Finca, a microfinance organization for which she served as "ambassador." She found herself wondering what she was doing there, but her colleagues assured her: "We got the meetings because of you." For lawmakers, Natalie Portman was not simply a young woman — she was the beautiful Padmé from "Star Wars." "And I was like, 'That seems totally nuts to me,' " Portman told me recently. "It's the way it works, I guess. I'm not particularly proud that in our country I can get a meeting with a representative more easily than the head of a nonprofit can."
And, looking at Lady Gaga's own brand of celebrity activism, you get the sense that she isn't exactly proud of that either. Which is why making statements at concerts (which she has done before, at the Monster Ball in Arizona and when the Westboro Baptist Church protested outside a St. Louis concert and lots of other times) can be so effective: she's a pop star, concerts and music are her thing, and using them to tangentially support gay rights is also her thing, and it works. Supporting rallies and protests started by legitimate organizations also works (see also September's DADT protest, at which she was awesome). Like Bono and also the rest of the world, Gaga knows her status is perfect for Getting Things Done. And unlike Bono, she's figured out the best way to do it.