LADY GAGA:
On Saturday, Lady Gaga played in St. Louis, and the Westboro Baptist Church protested outside. We talked about her pre-show tweets warning her little monsters about the protests in Sunday Funday.
Now MTV reports that some St. Louis fans staged a counterprotest, bringing along signs saying things like "God Hates Figs," "For God and the Gays," and the extra-clever "Westboro Are Inbred."As usual, they far outnumbered the original protesters.
Someone made this montage of stills and video from the event. It's kind of like weird masterpiece theater at the beginning. If you want, skip to 1:50 for the video, which features a surprising number of boys in v-necks pounding Red Bull:
All this happened despite Gaga's request that everyone just ignore them:
Do not respond to any of their provocation. Don't waste your words, or feelings, no matter what you hear or see you are more fortunate and blessed than they are, and in your heart just pray for them. …Be inspired to ignore their ignorant message, and feel gratitude in your heart that you are not burdened or addicted to hate, as they are.
I'm with Gaga on this one. Westboro gets a crazy amount of attention, considering how few of them usually show up to protests. If everyone agreed to ignore them, they would just fade away. But that's not human nature.
During the show (which I attended), she mentioned the "hate criminals" a few times, contrasting them with the Monster Ball. And despite her earlier requests to ignore the protesters, her post-concert tweet indicated that she was still happy with how things went.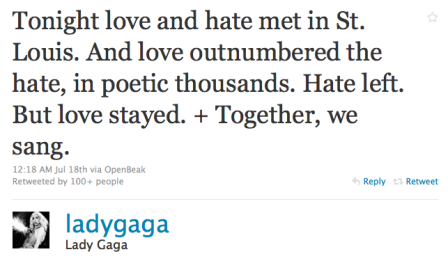 LINDSAY LOHAN:
This morning at 8:30 a.m., Lindsay checked into jail. First she got her SCRAM bracelet removed at the Lynwood County Courthouse and then was taken to jail. Robert Shapiro bailed and was not her lawyer after all, leaving Lohan furious that he'd used her just to promote his Sober Living house.
During a brief hearing, Judge Marsha Revel said, "At this time, she will be remanded to serve her sentence." Lohan stood, looking stern, and was cuffed behind her back. She was escorted quietly out a side door by four sheriff's deputies.
As she left the courtroom, her father Michael Lohan said, "We love you, Lindsay." Her mother Dina also was in court.
Despite the three-month sentence, legal experts say Lohan will probably serve between two weeks to a month due to the Sheriff's Department's long-standing policy of releasing nonviolent offenders early due to overcrowding.
ADAM LAMBERT:
Behind the scenes of Adam Lambert's new photoshoot with Lee Cherry! FISTING POWER!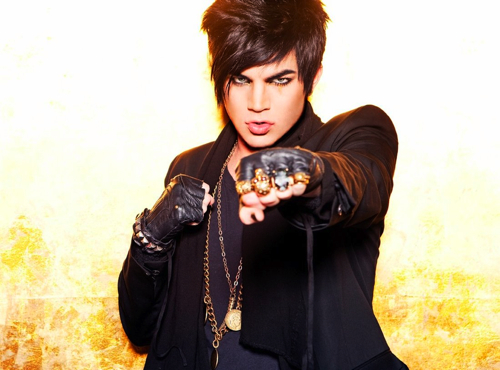 Behind-the-Scenes Video: