Lady Gaga spoke at the Don't Ask Don't Tell Rally held today at Deering Oaks Park in Portland, Maine and pretty much killed it. (That's a good thing.)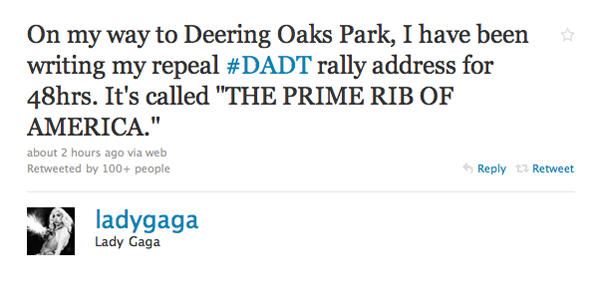 The summary, given in our earlier Daily Fix is:
Famous non-asshole Lady Gaga has been lobbying heavily in support of DADT's repeal, and is taking her fight to Maine, where she spoke at a rally in Portland today calling DADT "wrong, unjust, and fundamentally against all that we stand for as Americans." She was not wearing a refrigerator dress but was wearing really cute glasses.
I believe I tuned into the live stream of the rally (via Lady-Gaga.net) at around 4:45, anticipating Gaga. I'm glad I caught the tale-end of a speech given by a former soldier obviously discharged under the discriminatory policy. Basically the story goes: the army asked (and probed and violated his privacy), he didn't tell – DISCHARGED. Yay America.
Look! The video is now available! Lucky you:
+
After this, Gaga emerged wearing what I believe was an American flag tie and nerd (i.e. super sexy) thick-framed glasses. Basically I'm in nerd-love and she's about to stand up for our rights. I could've just died right there. Except I didn't because I would like to live to see DADT repealed and my equality given to me.
I wasn't ready for this speech, but I totally was at the same time. My notes are sporadic, just warning you:
"Equality is the prime rib of America, but because I'm gay I don't get to enjoy the greatest cut of meat my country has to offer."
She compares the defenders of the DADT policy to the defense of the murderers of Matthew Shepard. And they're serving life sentences now soooo… yeah.
Lady Gaga basically turns it around, flips it and reverses it: We should send home the straight soldier who's performance is affected by the gay soldier:
"Our new law is called: 'If you don't like it, go home' a law that discharges the soldier with the issue, the soldier with the REAL problem, the homophobic soldier that has a REAL effect on unit cohesion."
She's a great speaker. Like, really good, you guys.
She does that speechy-thing where she gets loud and the intensity crescendos and there's a build-up and the audience erupts in roars, cheers and a synchronized "GO! HOME!" It's powerful at that moment. And I felt it as I watch it from hundreds of miles away on a computer screen.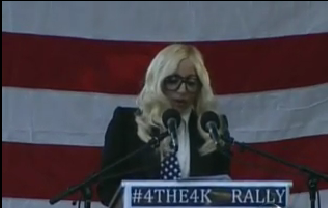 When listening to her speak about Don't Ask Don't Tell at this rally, I don't get "chills" necessarily… I would say that my heart flutters, is what happens. It's more emotional, like I'm going to cry or something. WHICH I WOULD NEVER DO. (Nothing makes me cry like gay rights. Seriously.)
At one point, she says her full name again. We all melt.
And as she goes on to talk about meat, I wondered to myself if she will bring it back around to the VMA meat dress. AND SHE DOES.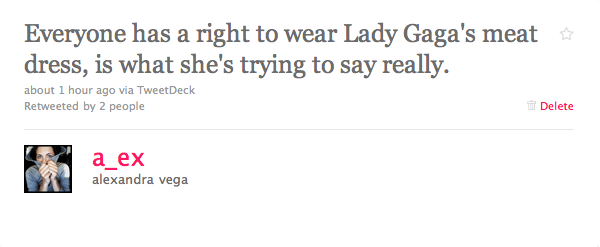 It all ends with chants of "GO! HOME!" in all it's amazingness. How can you not love this woman?
UPDATE: Here are photos from the rally, taken by corresponder/photographer of awesomeness, Sarah G.