Doctor Who begins anew on October 4th, and while a fresh Doctor is a pretty common thing — there've been 12 so far, after all — this time is extra special. Firstly because the Doctor will be played by a woman, of course. Secondly because this upcoming cast of companions is more diverse than ever. If you're already familiar with the wibbly-wobbly timey-wimey shenanigans of the TARDIS, you're probably looking forward to Jodie Whittaker's appearance with an equal mix of excitement and trepidation. If you've never even heard the phrase "wibbly-wobbly timey-wimey," you might be curious and confused. Well, don't worry; this guide is just for you!
---
Who is the Doctor?
The Doctor is a Time Lord from the planet Gallifrey who has taken a special liking to earth in his 2,000-year-long life. He travels through space and time saving the universe, sometimes doing wacky monologues and sometimes wallowing in the angst of all the things he's seen and done and the people he's left behind. He's silly a lot and cruel a little; he make a lot of impossible decisions. When the Doctor is close to death, he regenerates, which means he keeps living but in a completely different body and with tweaks to his personality.
So far there have been 12 Doctors. Jodie Whittaker will be number 13. The first seven Doctors happened during the show's "classic" run, which took place between 1963 and 1989. The eighth Doctor stood alone in 1996. And in 2005, the show rebooted in what we think of as the "modern" era, with the ninth Doctor. Most current fans of the show started watching with Nine, and everyone has a favorite Doctor (mine is Eleven — so far!).
---
What are Companions?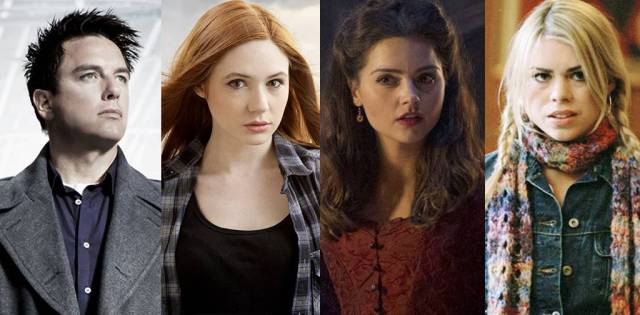 The Doctor is a lonely guy! You could argue that he makes most of his worst decisions because he's scared of being alone! (#Relatable) Every season the Doctor has a companion (or two or three) who travels with him. Some companions last multiple seasons, some last just a few episodes, some get their own spin-offs. It's not all fun and games being a companion; sometimes they die or get trapped in an alternate universe or get scarred for life or, worst of all, are deposited back on earth without any of their time-traveling memories and forced into lives of boring, tedious, patriarchal oppression. Hem hem. The Doctor also has a recurring cast of pals who show up from time to time to lend a hand. They make up some of the audience's most favorite characters.
---
TARDIS What Now?
TARDIS stands for Time and Relative Dimension(s) in Space. It's a blue police box and it's how the Doctor travels everywhere and anywhere that ever was. "The inside is bigger than the outside" is the longest running joke about the TARDIS. Someone says it at least once a season. We usually only see the control center of the TARDIS but there's loads of other stuff in it, like libraries and swimming pools and sleeping quarters. Like the Doctor's face and body, it gets an interior update every time there's a regeneration. The TARDIS also kind of has a consciousness; it's in love with the Doctor.
---
The Big Bads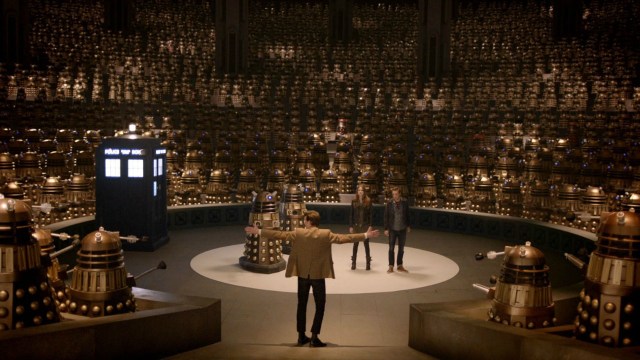 Like every superhero, the Doctor has a revolving group of villains who torment him. There are the Cybermen, the Daleks, the Weeping Angels, and some bigger bads too, like The Silence (just the Gentlemen from Buffy's "The Hush," to be honest) and The Master and the Time Lords. Sometimes the Doctor fights monsters like these guys. Sometimes he fights real world historical bad guys like Hitler. Sometimes he fights his own insecurities and fears and hang-ups and the decisions that haunt him. There's some serious KAPOW-ing in this series, and also some serious existential crises.
---
The Real World Timeline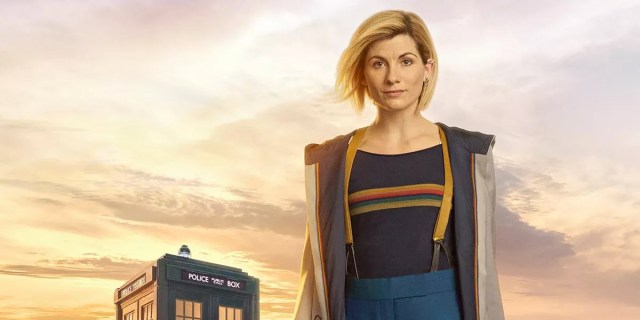 It would be impossible to explain the full Doctor Who timeline without a gymnasium filled with murderboard-style charts and graphics, so let's keep it real-world simple. "Classic" Doctor Who was mostly promoted as a family-friendly sci-fi show, with a side-dish of education. "Modern" Doctor Who came about in 2005. Russell T Davies (yes, the Queer as Folk creator) showran until 2010. That's when Steven Moffat took over; he showran until 2017. Chris Chibnall is the current showrunner. He worked on Davies' Who spin-off, Torchwood, and on Broadchurch, which is where he met Jodie Whittaker. Each showrunner brings a new vibe to the series. Both Davies and Moffat have come under — in my opinion, very fair and valid — criticism for sexist storytelling and playing into cliched gay tropes, and both have handled that criticism with unfortunate combativeness. It will be really interesting to see what Chibnall brings to the series.
---
But is it Queer?
Yes, Doctor Who is suuuuper queer. The Doctor has a queer sensibility as a character, just for starters, but there have also been several queer humans and aliens in an out of the TARDIS over the years. During RTD's run, he introduced Captain Jack Harkness, who ended up headlining Torchwood. He was played by very unapologetically gay John Barrowman and was himself very unapologetically pansexual. He had a serious relationship with one of his Torchwood colleagues named Ianto. (Ianto died, it was horrible.) Bill Potts was a lesbian companion of Twelve. She also died (but was reborn as sentient oil, which: same as being dead, honestly). Madame Vastra, a lizard woman from the dawn of time, is married to a Victorian badass named Jenny. Jenny died in a dream but was was resurrected in her human form and exists on the show still. They are beloved; every episode they're in is a gift. Companion Clara Oswald was bisexual; she said Jane Austen was a great kisser. And then there's River Song. The show's creatives have said she's bisexual and that makes an extra lot of sense now that the Doctor is a woman because River Song was (…is?) the Doctor's wife. Which means the Doctor also is legitimately queer.
---
Okay But Where Do I Start?
If you've never watched Doctor Who, you probably don't have time to get "caught up" before the premiere of the new season — but that's okay. BBC says it's going to be a great leaping-off point for new viewers. If you do want to be a completionist, though, just start with the modern era, which is labeled as Season One on Amazon Prime and Netflix. (But don't let anyone tell you you can't just pick up with this new season and enjoy it and still be a real fan! You absolutely can!)
If you have any specific questions, I'll keep on coming back to these comments to try to answer them! If you don't have any specific questions, I have one for you: How hyped/terrified are you for Thirteen?