feature image by Molly Adams
Summer is ending, which can only mean one thing: it's Halloween! Halloween is peak season for us witches. Whether you're in it for the aesthetics, the pop culture aspect, the community or the practices, it's got a lot going on. There are costumes, Halloween parties, Harvest moons, Samhain, and so much more. People stop making fun of you for wearing big hats, black clothes and capes all the time. It's really the perfect time to be a witch. I think Autumn might be my favorite time of year, and largely for this exact reason. Are you making your Halloween plans yet? I know I am! I might already have a couple plans actually, and a couple different costumes in mind!
I'm currently in LA and am working on going crystal shopping with a friend (hey, Keely). I'm super excited to see what kinds of options I have here in a big city. Where I'm from, there's really only one place to get witchy supplies like this. Now, I love my hometown crystal shop, but also sometimes they don't have what I'm looking for. Maybe if I had seen this article on how to become a witch using only subscription boxes I wouldn't have had such a strong desire to buy crystals in a new city. I honestly had no clue there were subscription boxes for witches, but I guess there are and that's cool.
Now, here's a roundup of all the wonderful witch content we've had here on Autostraddle. Heather wrote magically about the magic of Dolly Parton in what's maybe my favorite essay of all time. We talked about Cara Delivingne playing Enchantress in the movie Suicide Squad (which, honestly, I enjoyed and would like to see again). Beth continued to teach us amazing things in her Tarot column, Fool's Journey. I used my kitchen witch powers to bake this amazing freaking cake. And our queer horoscopes continued to call us out on our bullshit. We also debuted a new column, Aesthetic Rising, which is clearly my new favorite thing about Autostraddle and one of my new favorite things in the world. If you like horoscopes, fashion and accessories or just hilarious and fun writing, definitely check this out.
---
Playlist- City Witch
by Cecelia
---
Words With Witches
by Rachel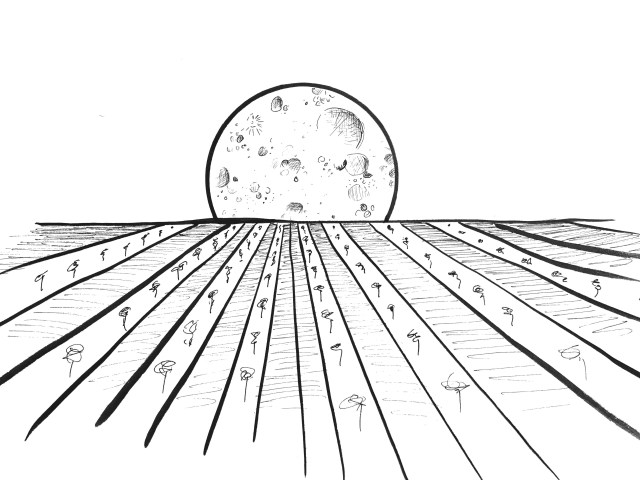 Harvest Moon: the full moon closest to the autumnal equinox before the equinox occurs; the moon immediately after the autumnal equinox is the Hunter's Moon. The names of individual full moons in the US are often said to be attributable to indigenous American nations; in fact, most of them seem to originate with colonial European naming traditions, although several early American texts, like the Farmer's Almanac and The American Boy's Book of Signs, Signals and Symbols claimed to be publishing "Indian month names." Particulars of the motion of the earth and moon in the sky mean that the Harvest and Hunter's moons appear to us to rise earlier in the evening than other moons throughout the year, with very little time between sunset and the moon being in the sky.
---
Witch/Craft: Spell Jars
If you were at the last A-Camp, and you went to the witch/craft activities that Cecelia and I led, you might've made one of these! It's a really simple and cheap spell that makes a great addition to your altar, your purse or a great gift! The idea behind this spell is just that you get a small jar or glass bottle and fill it with items that have energy or memories or emotions that are useful for whatever you want to accomplish with these jars. I usually give them to friends with the goal of helping them to have a happy and successful year. I like to gift them along with a list of the ingredients that I used in the spell.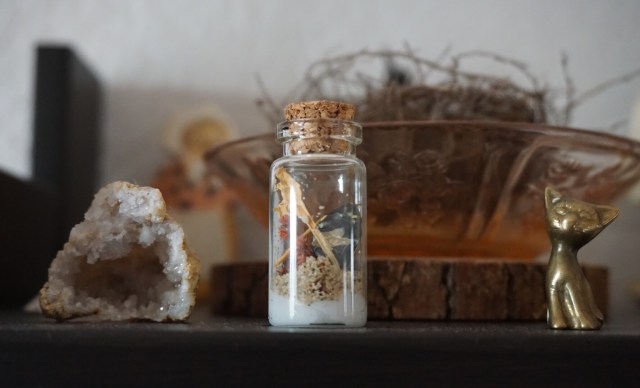 These spells have a lot of sentimentality in them, they're filled with memories of good things and items that not only represent love and positivity, but also give off loving and positive energy.
Here's just a small list of things you can put in your Spell Jars, but feel free to customize them however you want!
Hair from a witch's familiar (from your cat/dog/ferret's brush)
Straw from a witch's broom (your broom, because you're a witch)
Sand from an hourglass
Shimmer powder
Black eyeshadow
Sequins
Swarovski Crystals
Dried flowers (bonus points if they're from Mother's Day, a wedding or some other auspicious occasion)
Golden chain
Prayer beads
Paper Stars
Gemstones
---
The Digital Coven: Pt. 1
by Ashley
Sometimes it's hard to keep your daily witch practices in mind. It's even harder if you're not surrounded by other witchy people. Enter The Digital Coven, an online community that's perfect for the modern witch. While it originated as a Tumblr, the incredibly secret group has expanded to social platforms. Need to know which crystal to wear on your first day at a new job? Want help creating a sigil? Just want to make fun of your Gemini ex? The members of The Digital Coven are there for you right on your iPhone. Members of the Coven have helped me plan new altars and find ethically sourced witch supplies. Members range from long-time to brand new witches and astrologists. Some even run their own witchy businesses.
It's a community that makes space for queer people of color and doesn't stand for practices stemmed in appropriation. In order to keep the space inclusive, it's kept a secret. New members have to be verified by a current member and vetted by admins. So why am I snitching? Because I've never found a group that has made me feel so welcomed and safe in my practice. Growing up in a small town with Hot Topic as my main source of witchcraft knowledge, The Digital Coven is the closest I've come to feeling communal in my practice. Want to check it out? Feel free to send this witch a friend request!
---
Witchy Book Interview: Jailbreaking the Goddess
by M. Selavy
I love my witchy lit, but as someone reasonably up on what's up with the world, more often than not I open a book and brace myself for some 'ism or 'phobia in the name of the Goddess. In Jailbreaking the Goddess, self-described as "part magickal incantation, part intersectional feminist manifesta, part liberationist book of shadows and part how-to guide for the co-creation of our collective empancipation" Lasara Firefox Allen calls for a loving, inclusive, and passionate reimagining of worship and practice.
Jailbreaking the Goddess hinges on a new imagining of the Goddess, a Fivefold Goddess whose aspects and divinity don't hinge on biological processes, gender essentialism, or even the linear progression of time and growth. Femmella, the divine child, can grow up to be Potens, the warrior woman; at another time she may be Creatrix the artist and creator, Sapientia the wise woman, or Antiqua, the ancient woman embodying myth and history. The second half of the book calls for decolonizing our practice, respecting each other, and even–if you are brave enough–working alongside the Divine as an ally.
I learned and loved so much, and was thrilled when Lasara agreed to join us at Autostraddle and answer a few questions about the writing, process, and praxis of Jailbreaking the Goddess.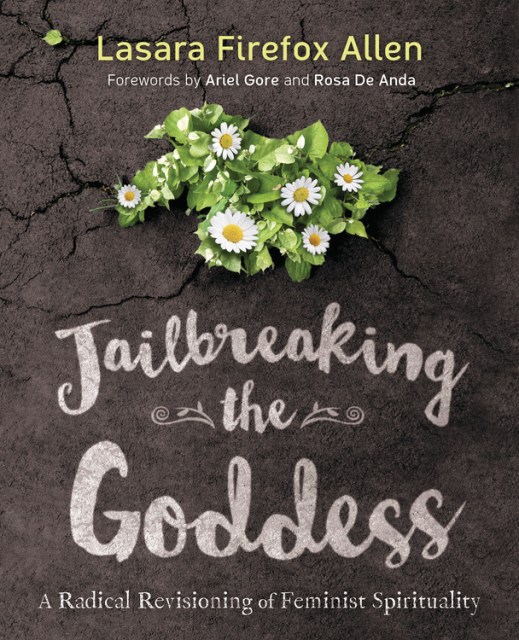 1. What did the process of coming up with Fivefold Goddess look like for you? Was it all study and research and drawing on your years as a Goddess-collaborator, or more like finding Femella raiding the cookie jar?
It was a mix of inspiration, channeling, research, and application of theory. Lots of application of lots of theories. Systems theory, differing feminist theories, intersectional theory. Rhizome theory. Rewilding.
My favorite moments were when the words just flew through me though. Sometimes I would just be swept up in a fury, typing like mad, laughing, crying, shaking, sweating. No joke. Writing is not always quiet and demure. Some of us write with all parts engaged.
I, thankfully, had space I could take over and have total privacy. No one wants to see that! Honestly though, I don't think I could have gone there if anyone was watching. That level of abandon is intense.
2. Your book is not just a reimagining of the Goddess, but a guide to decolonizing your magical practice, collaborating with compassion, and even developing non-hierarchical relationships with the deities themselves. How did you decide what to include in Jailbreaking the Goddess?
Thankfully my awesome editor at Llewellyn, Elysia, encouraged me to go deep with the material. To take it to where it wanted to go. I feel blessed to have been so supported in getting some really hard-hitting stuff in there. As to how I decided what needed to be in there, to me writing is a truly co-creative process. I was co-creating with the goddesses, with the spirit of the book itself, and with my community.
I also had a bunch of test readers who helped me to fill in my blindspots, and deeply address the areas that are more important to the community at the moment. Addressing race, ethnicity, and privilege. Addressing inclusion of our trans sisters and brothers, and our nonbinary sibs. I write to be read – not just to write. So the process of writing is, for me, an interactive one, for as much as it is so essentially solitary.
3. What exercise from Jailbreaking the Goddess is your favorite? I've loved remaking the Wheel of the Year (The final version of this interview will have a picture of the one I'm developing).
I'm so glad you enjoyed reworking the wheel! I am not sure if the exercise I loved the most is actually in the book, but it surely made the book what it is: my favorite exercise is asking for feedback. When I don't know for sure what the right answer is, I ask. And even if I feel sure, if it's a thing that may cause trauma to someone I will ask for feedback. Jailbreaking the Goddess would not be what it is without this practice. Nor would my life be what it is.
Had I not been willing to put my ego aside and ask for feedback, I wouldn't have the relationships I have. I wouldn't have the students and coaching clients I have. I wouldn't have the friendships that I have.
It's so easy to get stuck in our ego attachments. But life is so amazing when we realize that we don't know everything, and we don't need to know everything. Starting from, "I don't know. What do you think?" can be so very, very liberating.
4. As a cis femme lesbian witch, the new goddess and spirituality movement has broken my heart repeatedly by a resurgence of gender essentialism and biological determinism (which you delightfully railed against in your first book, Sexy Witch). Can you tell us how Jailbreaking the Goddess works to shatter these preconceptions which harm and exclude women?
Yes! This is such an are of cognitive dissonance for me! The whole leaning toward gender essentialism is so retrogressive! And so very unaware, in most cases.
Jailbreaking the Goddess is 100% about tearing that shit down! It's about examining the areas in which patriarchy has been inculcated into the foundations of contemporary Paganism, Witchcraft, and Goddess Spirituality, and finding ways to root it out.
One of the main areas we focus on in this way in Jailbreaking is in offering forward the fivefold model, which is based not in biology but in the experience of the feminal. Our biology is not all that we are! So this amazing insistence on womb-based theology is kind of odd. The fivefold model – Femella, Potens, Creatrix, Sapientia, and Antiqua – liberates us from the limitations of a biology based model of the feminal divine.
Free of this restriction, we no longer need to ask if trans women are welcome in the circle. All women are welcome. Your biology does not define you.
5. What do you hope readers of Jailbreaking the Goddess will take away when they've finished the book? What kind of impact would you love to see in the greater Goddess-collaborating community?
My hope is that all Witches and Goddess Worshipers find a model for the feminal divine that represents them, speaks to them, holds them. That every person who feels the feminal within them finds themselves seen, valued, and embraced. That as a community we can finally acknowledge, confront, and grow though the exclusions that are ongoing. That together we can find ways to acknowledge, honor, value, and embrace our differences.
Another dream for me is seeing us all find greater and greater integration in our spiritual practices. That our magickal and spiritual systems align and integrate with our political and social values.
We don't need to make excuses for systems that don't match out values. We can dream, sing, craft, build, and work new systems – aligned, integrated, liberated – into being.
Thank you so much, Lasara! You can find Jailbreaking the Goddess at your local indie bookstore, or your favorite online booksellers.
---
My Favorite Witch
by Alaina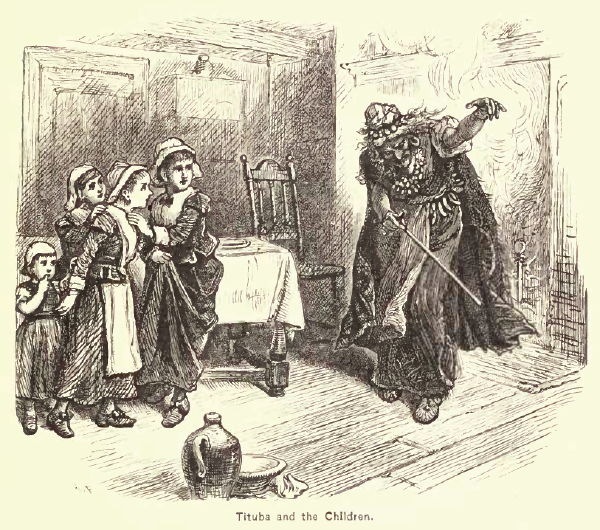 Tituba was enslaved by John Proctor and used as a pawn by Abigail and her jerk friends. In Arthur Miller's The Crucible we meet Tituba dancing in the woods with a group of girls. Let's break this down: an enslaved woman was probably forced by these girls to teach them witchcraft. Being a witch is an extremely personal and spiritual journey, not something one casually does. She gave a part of herself to these girls, and what did they do? They were thankless. They placed all the blame on her and she was the first to be punished. Tituba gets barely any stage time other than being forcibly interrogated. But she is strong, she doesn't lie to protect herself, and she is giving. Tituba gave a part of herself to those girls; she shared her craft with them. She's in an all around shitty situation and she shines. We don't think about Tituba enough and we should celebrate her. Despite her circumstances, Tituba is a witch we should all aspire to be like.