Welcome to Soggy Bottoms, where, lacking a tent in the British countryside, Autostraddle writers attempt to bake things inspired by The Great British Bake Off in their own homes, to varying degrees of success.
---
This is literally the hardest thing I've ever attempted to do.
I'm a very proud person, and when I do a good job at something just once, I think that I'm an expert at it. So since I've successfully baked some cookies and a cake and Hasselback Apples that have been hits at parties, I thought I was a great baker. I'm not. I thought "oh, this cake is cute. I'm a princess. I deserve this cake." Also, honestly, I wanted to bake something really impressive. I love impressing people and I love feeling good about myself, so I thought "this will be a great way to do that."
I didn't think "oh, I have to make sponge cake, custard, jam, whipped cream and marzipan including a freaking rose all from scratch."
Also, I had forgotten that in the actual episode where they make the prinsesstarta, they talk about how it's super difficult, first of all because it's 26 ingredients and 24 fucking steps. Paul Hollywood straight up says to Mary "I think you're cruel, Mary, I really do. This is a particularly difficult challenge," when they're talking about the cake. Oh well.
I used Mary Berry's actual recipe, the one they used in the GBBO episode for the technical challenge, but with a few tweaks. I accidentally didn't buy enough almonds, so my marzipan was a wet, sticky mess (Sue Perkins would probably make a cheeky pun about this). I had to add a ton of powdered sugar and even some flour to it in order to make it work. I also used modeling chocolate to make the rose instead of ready to roll icing and I caved and bought pre-made jam because my mom said this was already going to take all day (it actually took me two days). It took me forever and I didn't understand what I was doing a lot of the time, but I had a ton of fun.
Anyway, onto the cake! First I made the custard, because my mom wisely told me this should be a two day process. My first steps, before the actual start of the recipe, were to separate the egg yolks and to make the castor sugar. I'm already falling apart. I couldn't get the food processor to work. This is where I realized that not only is this going to be harder than I thought, it's going to be a lot harder than the harder that I thought it was going to be. It turns out I had the top on backwards. But I did find out that I'm actually pretty good at separating eggs! As I scooped vanilla seeds out of a bean that cost two and a half dollars I realized how ridiculous this all is. I felt like freaking Gwyneth Paltrow, which is not ever a feeling I want to have. I've spent an hour on this cake already and all I have is custard and ground almonds. But honestly, my custard is delicious and I feel like a freaking Star Baker already. Legit, Sue Perkins would come over, taste my custard and make a joke about it. We would laugh and it would be great. I'm already feeling like a Queen.
The next day I woke up and showered and ate some food and got back to baking. First I made the sponge, which was probably the easiest part (or maybe making the whipped cream was the easiest part because it was just whipping cream?). It also smelled ridiculously good and looked so gorgeous and fluffy that I can't believe I don't make these all the time! I think making the sponge and having it turn out so well really boosted my confidence and gave me what I needed to to make the rest of the cake. In the episode Mary says this is a difficult sponge to make, but I did a really, really great job. My mom even said "The sponge has a good consistency" when I gave her a slice of the finished cake.
While I was baking the cake, I started on the marzipan, which, like I said, I really struggled with. I took the ground almonds and added the sugar and eggs and stuff, but it took me a while of adding extra things to make it actually work. Also, I'm pretty sure on the show they had almonds that didn't have the skin on them? Because mine did and the marzipan was brown before I added the green food coloring and still had brown speckles in it afterward. But it still looked and tasted pretty dang good.
Assembling the cake was definitely the hardest part. I tried rolling out the marzipan but was again wildly unsuccessful (I think marzipan is my baking Achilles' Heel), so I had my mom step in and do it. It turns out, she's a total pro — and I'll admit that she did the hardest step for me. She found out that the trick is to cover the mat with sugar, not powdered sugar, and that way it won't stick. Still though, I honestly feel so freaking cool about the fact that I cut a sponge cake into three pieces, successfully stacked the layers and placed some marzipan over the top, with a pretty freaking nice modeling chocolate rose, all that I made myself. I'm fancy-ass.
I mostly just Gryffindored my way through a lot of this process, using my supreme confidence in my skills as my guide. They say cooking is an art and baking is a science, but I hate science, so I treat baking like it's an art too, and I seem to do pretty dang well.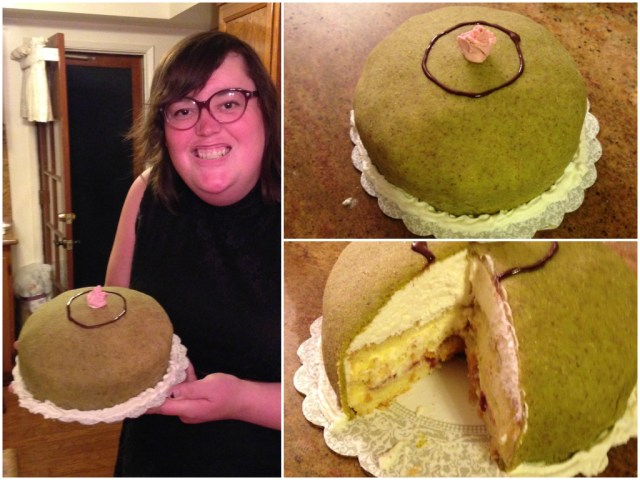 This cake was fucking delicious. I think I would've come in second place in this challenge, and that's just because my marzipan was made with almonds that had their skin on, so it ended up being speckled with brown. I mean, I know they only had two and half hours, so really it's no comparison, but I'm going to compare myself to them because that's the point of this whole thing. After I looked at my cake and tasted it, I thought about entering a TV baking competition and then that night in bed I seriously considered a career in baking. I know that there are like, a hundred steps and a hundred ingredients, but jeez, I did a great job.
Actually, now that I'm done with it, it wasn't that difficult at all. Like, sure, it took forever and had a million steps and took two days, but I feel like I kind of effortlessly aced it. But after baking this, I realized that I'd be a terrible GBBO competitor because every time I successfully did something I shouted out "I'm a fucking all-star!" or "I'm a boss ass bitch!" Ignore what I said at the beginning of this essay, I'm a fucking impressively great baker. I rule. I am a Star Baker and I'm pretty sure Mary Berry would be proud of me.
---
Before you go!
It takes funding to keep this publication by and for queer women and trans people of all genders running every day. We will never put our site behind a paywall because we know how important it is to keep Autostraddle free. But that means we rely on the support of our A+ Members.
Still, 99.9% of our readers are not members.
A+ membership starts at just $4/month.
If you're able to, will you join A+ and keep Autostraddle here and working for everyone?
Join A+