Netflix's reggaeton comedy Neon opens with its star, Santi (Tyler Dean Flores), on top of the world. He just performed his hit single "Exagerao" in front of a sold out crowd. He gets off the stage, heart pounding, only to have Daddy Yankee — at this point a godfather of the genre — call him on the phone to congratulate him. And the groupies! So many groupies! They are just waiting to sleep with him. Except wait, no… here saunters in Ness (Emma Ferreira), his best friend since childhood and manager.
Her melanin is shining, her Disney princess big brown eyes gleam, her curls are perfect, and she's wearing a crisp white button-down with a black tie and matching black shorts. Let's just say, those poor girls did not stand a chance. Ness walks a way with two of Santi's groupies on each arm. "We could SHAAAARE!" He yells in a last ditch effort as she looks back, winking over her shoulder as she escorts the women away and around the corner.
That's about when Santi wakes up in the backseat of the Toyota Corolla that's also about to double as his new living arrangements (he doesn't know that yet) while traveling from Fort Myers, Florida to Miami in pursuit of his reggaeton dreams. Yes, "Exagerao" is a big hit… on Youtube. Yes, Ness really is his manager… in training. And everything else is a wish upon a star. But it was nice while it lasted.
It's not a surprise that even in Santi's dreams, Ness always gets the girl. In a later episode Santi meets thee Jota Rosa (probably best known to you as a producer of Bad Bunny's multi-platinum selling Un Verano Sin Ti) and confesses that growing up: "This one was about a girl I met on spring break, and Ness was supposed to wing man me, but she ended up taking my girl…. That happened again recently, actually." My girl has a habit.
If I had one complaint about Neon, Shea Serrano's delightful, light-hearted and addictively quick binge, it's that I could have used even more Ness. That's actually saying a lot, because she's already one of three central protagonists (Santi, Ness, and their best friend Felix all share an Entourage-like limelight as Santi scrapes his way to fame) — and sure we could argue that I'm being selfish or greedy, after all how rare is it to see a queer Puerto Rican girl on television? Let alone one that is three-dimensional and fully realized instead of someone's pithy sidekick or one-liner? But I'd imagine it's impossible for anyone to watch Neon and not fall in love with Emma Ferreira's performance. As a comedy, Neon is not exactly laugh-out-loud funny (more of a enjoyable chuckle and vibe), but in Ferreira's hands Ness' warmth and goofiness finds perfect home.
Both times in the last two weeks that I watched the series front-to-back (I told you it was addictive), I found that Ferreira excels at balancing that warmth while never losing track of Emma's ambition. After all turning your best friend from living in the backseat of his car to the next great Reggaetonero takes grit and passion; Ness has both in spades. In their comedy-of-errors to the top, Ness, Felix, and Santi meet a truly impressive amount of real life reggaeton stars and producers — a benefit of the show being produced by Daddy Yankee, I'm sure — in addition to Jota Rosa, Jon Z, Jowell, and more make appearances. But there's one guest star in particular that… well, it's better I just get to it.
Halfway through the series, Jordana Brewster walks into Ness' life at an Art Basel party (because, Miami) and I had such a hard time believing that the lesbian classic D.E.B.S. icon had seemingly swooped in out of nowhere, I had to rewind it to be sure. But swoop in she did, and immediately she has Ness eating out of the palm of her hands. Without spoiling too much from here, Brewster plays Gina, a Miami businesswoman (*cough *cough drug dealer) with impeccable taste in suits and exquisite cheekbones. And really, doesn't "Jordana Brewster plays a lesbian drug lord who immediately turns the all women around her weak" sound like a perfect sentence, rolled off the tongue? When Brewster comes in close to whisper "tienes miedo?" Are you scared?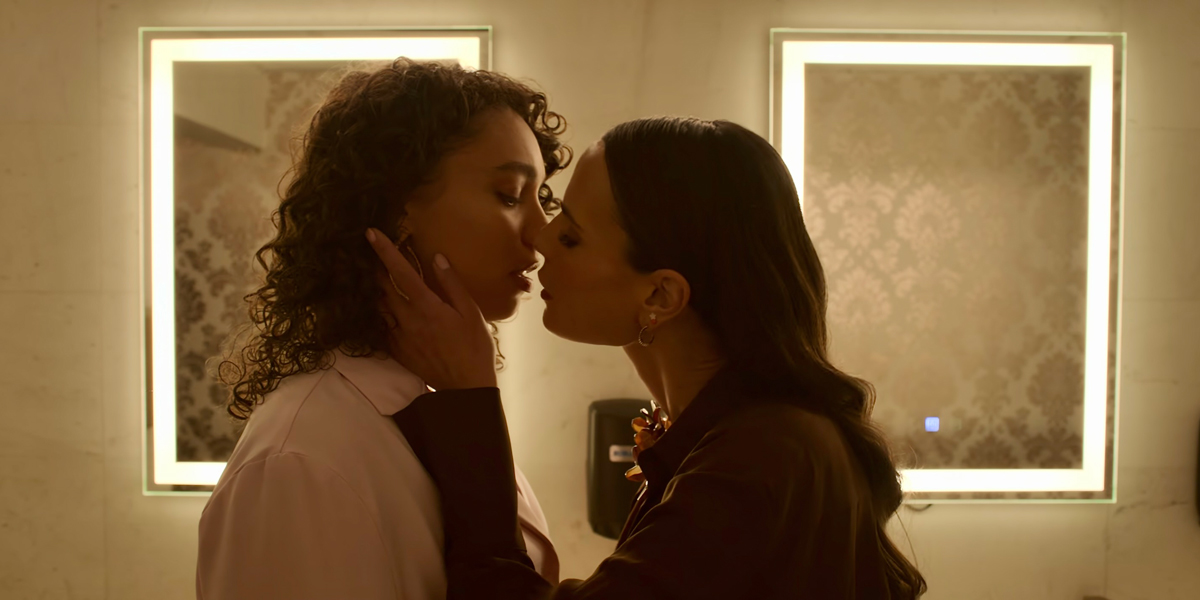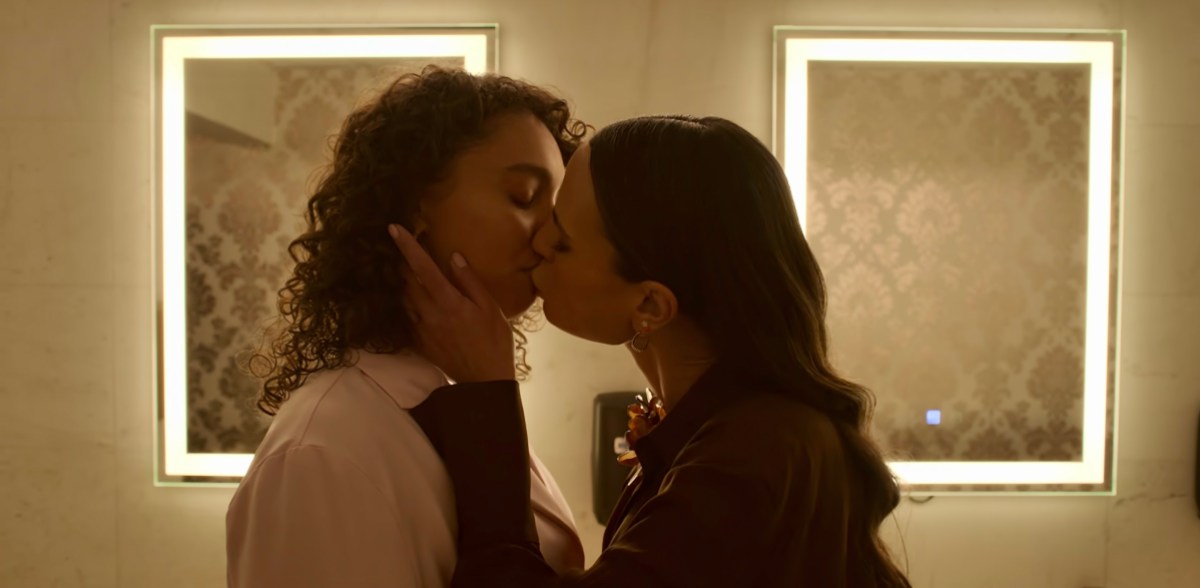 That about covers it.
I won't say that Neon is a perfect show. I wished Serrano and his team had slowed down some of the frenetic pacing of the middle episodes and trusted the believable intimacy between Santi, Ness, Felix to carry the show through to its end without some of the large scale stakes that get thrown in their way. In particular, a queer flashback to Ness' quinceñera is a memorable, bittersweet gut punch of emotion that I wanted to see more of throughout the series. But the Puerto Rican-inflected Spanglish is believable, the soundtrack bangs, the jokes hold their own, and heart overflows. I'm always going to root for the queer Boricua to do her thing, and thankfully Neon makes it easy to do.