As you may have heard, "Here Comes the Bride," a bridal shop in New Jersey, prohibited a lesbian from purchasing a wedding dress at their store, citing Alix Genter's same-sex wedding as an "illegal action."
The Proverbial "People" have reacted by yelping the hell out of HCTB's unit and Donna Saber, Alix's salesperson. Some are crying foul on this strategy, saying that's not what yelp! is for — but it's worth noting that the shop sucked regardless of homophobia to begin with Look, they're sizeist too!.
According to C-NET, yelp will be taking down the majority of these reviews because "while Yelp does not support any sort of discrimination, reviews of businesses on Yelp should be about the customer experience not the views of a business or its employees."
Hopefully comments like this will stay up, however: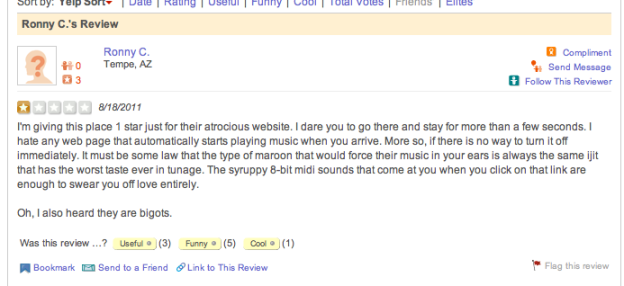 Regardless of how this pans out on yelp, New Jersey Law is pretty clear that Donna's the one committing an "illegal action" here:
Like many other states, including California, New York, Illinois, and Colorado, New Jersey bars sexual orientation discrimination in places of public accommodation.. Most statutes define public accommodations as places that are open to the public, such as a business, hotel, entertainment venue, restaurant, and doctor's office."
So, before yelp gets rid of all these wonderful supportive reviews, we've made a listling of highlights from people who gave "Here Comes the Bride" a rating of "one star".
+
Listling: Lines Pulled From One-Star Reviews of "Here Comes the Bride" on Yelp!
1. Who the hell would buy a wedding dress from a mall called "Acme-Kmart Somers Point Plaza"
2. They should be legally required to change their name to "Here Comes The Bride, Unless She's A Lesbian."
3. It was illegal in Hitler's Germany to help the Jews – and where did that get them?
4. A Bible-based marriage is between 1 man, 700 wives and 300 live-in whores for a grand total of 1000 vaginas. 1 Kings 11:1-3
5. Were you repeatedly dropped on your head as a child????
6. Donna pooped on my wedding dress before I got it!!! I couldn't believe it. On MY day! Actual POOP!
7. Some of the cutest women I've met were lesbians.
8. Odds are she hates Asians too.
9. i bought a dress from here and there was a MUMMIFIED MONKEY HAND SEWN IN. What kind of sick voodoo dress shop IS THIS PLACE!?!?
10. Homosexual Agenda: Spend Time with Family. Be Treated Equally. Buy Milk — Stop screwing up our plans!
11. Sadly, you will probably remain the same, pathetic, sad little person you are with a dead business due to your own ignorance until you shrivel up and die alone.
12. Taste the Rainbow!
13. The gay isn't contagious, Donna. You won't catch it from any of us, and trust me–no one wants the toaster we'd get for "converting" you.
14. Do your damn job. You sell wedding dresses next to a K-Mart.
15. Forget about politics, this store sells the kind of junky gowns you see the crazy brides on BRIDEZILLAS wearing.
16. When I asked to speak with the manager about their obviously intoxicated employees, the manager called me a c*nt and kicked me out of the store! Don't ever shop here!
17. You should try it sometime. Who knows, maybe you'd like it.*wink wink*
18. I bet at least half of the dresses sold at her shop are designed by who??? Gay and proud designers!!
19. There goes the bride….
20. Donna, two brides means TWICE the dresses sold!
21. Tried to find the place on a map, but apparently they're stuck somewhere in 1956.
22. I bought a dress here once and it had lice on it.
23. You really shouldn't be in this business if you do not have a full belief in the power of love.